Hiring Singapore translators to get accurate insurance claim documents translation  services at a low translation service price. Singapore Translators provide Insurance Claim Document Translation in more than 200 languages like Malay, Chinese, Thai, Korean, English, Spanish, etc.
Master linguists and experienced translators at SingaporeTranslators.Com offers translation services for insurance claim documents in the following areas, which are:
Home
Vehicle
Health
Accident
Travel
Sickness
Unemployment
Casualty
Property & Valuable Belongings
Life
Credit
Liability
Collateral Protection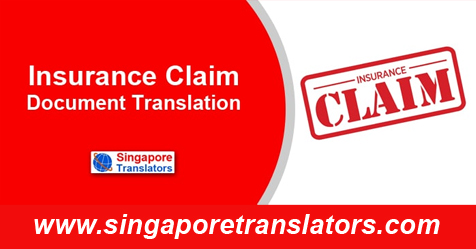 Translation of insurance claim documents is very important to get your insurance money back. Thus, you need to translate all your relevant documents which are required to claim your insurance money. In Singapore, you will get many translation companies offering services to translate your insurance claim documents. One of the most reputed companies to offer insurance claim document translation in many languages is SingaporeTranslators.Com. The experienced translators offer translation accurately and at affordable market rates.
Why Do You Need To Translate Your Insurance Claim Document?
There are many reasons why you need your translated insurance papers. These are explained as follows:
The need for Insurance During Travel At Foreign Country:   If you are traveling at a foreign destination like Egypt for your upcoming holidays, make sure that you carry your travel insurance documents and also its claim documents.
Moreover, if you translate it into the Egyptian language, then you can claim your travel insurance money at any of the branch offices in Egypt. Travel insurance claim document translation is needed for a translation into the language of a foreign country like Egypt. If an accident or calamity happens you can claim back your travel insurance money by submitting the translated insurance claim document to the insurance officials.
Loss of Valuables & Missing of Flights and Other Transports:  During one of your business trips or holiday trip if you miss your flights and trains, or even if your valuables are lost or stolen then you can still claim your travel insurance money. All you need is to translate your travel insurance papers into the language of the visiting country. If you present your translated travel insurance claim documents to the branch office of the visiting country, then immediately it will be processed and of course, you will get back your money.
Accident or Health Issues While Staying At Abroad:  While traveling as a tourist in a foreign place, or staying there temporarily for studies or jobs any unseen accident or sudden health issues might occur. These are some of the problems which come suddenly without any prior notice. So, while traveling abroad, you must prepare yourself in advance. You must take your health insurance papers along with its translated version with you while you are traveling abroad. These documents are very important to get immediate medical treatment and costly medical and hospital bills will also not bother you at all. Since translated health insurance claim documents are enough to have cashless treatment.
Get Fast & Accurate official notarization for ICA, MOM, MFA.
Insurance Claims For Big Theft like Cars:  Cars are regarded to be one of the costliest purchases of man. If he intends to take his or her car during one of the foreign travel, then car insurance claim documents and its certified translated copies are very important. Along with the original documents, you must take your car insurance claim document's translated copies with you. If your car is stolen at a foreign place, you can claim insurance money for your car.
Thus, these are some of the circumstances under which you need to make translation services for insurance claim documents. Please note that there will more circumstances and requirements which will compel you to take translated insurance claim documents with you everywhere you go.
What Are The Types of Multi-lingual Insurance Claim Documents Translated By Singapore Translators?
Insurance translation is often involved with translating proposals and claim forms, policy documents and marketing materials of that insurance. These are translated into multi-languages by experienced Singapore translators. The translation is done with the use of multi-lingual typesetting by the in-house typesetting professionals. Moreover, they also localize your insurance papers and claim documents in an accurate manner.
Moreover, the professional linguists and experienced translators also translate policy documents along with the internal communication or marketing materials of the insurance company from where you have taken insurance.
Hence, all the above-mentioned insurance claim documents are translated in multiple languages such as Chinese, Malay, Tamil, French, Indonesian, Spanish, English, Arabic, Italian, Russian, Polish, Portuguese, Latvian, Hebrew, Chinese, Hindi, Albanian, Japanese, Bengali, Bosnian, Croatian, Bulgarian, Czech, Dutch, Danish, Persian, Estonian, Finnish, Hungarian, Greek, Indonesian, Icelandic, Lithuanian, Korean, Lao, Lithuanian, Macedonian, Norwegian, Nepali, Punjabi, Pashto, Romanian, Portuguese, Serbian, Slovak, Swedish, Somali, Thai, Urdu, Turkish, Ukrainian, Vietnamese and many other languages spoken across the world.
What Are The Insurance Claim Document Translation Services Are Offered in Singapore?
At SingaporeTranslators.Com, you will get a top-quality and accurate translation of insurance claim documents. The experienced Singapore translators provide the best claim document services in areas of insurance claims. The offered translation services are as follows:
Translation of Certified Translation of Insurance Claim Related Documents:  The professional translators translate all the relevant and supporting documents that are needed for an insurance claim. The insurers will only accept those documents which are relevant, accurate and certified. The documents like tax invoices & receipts, police lost reports, etc are the applicable documents that need translation for an insurance money claim.
Moreover, the professional translators also offer translation of annual audit reports, information of the customer, insurance claim reports, insurance policy wording, and fact sheets. These documents are translated and certified by the certified Singapore translators for easy process of insurance claims.
Accurate & Timely Translation:  The translation agencies like SingaporeTranslators.Com offer to translate all the relevant documents of the insurance claim by the expert translators. They offer translation services with the right tone, right knowledge, and great experience. They are also in handing accurate translation of the whole spectrum of insurance policy and claim documents precisely. The translators also complete and deliver to the customers within the deadline.
Hire a Language translator for converting your legal & Other Documents.
Accurate Translation of All Types of Insurance Claim Documents:  The experts of Singapore translation industry has over 10 years of experience in accurately translating all types of insurance documents and insurance claim documents for vehicle, health, home, dental, accident, sickness, unemployment, life & casualty, liability, property, credit, travel, and collateral protection. They also translate Insurance proceedings documents and their related documents.
Avoiding Unnecessary Translation of Insurance Claims Documents:  The team of translators at SingaporeTranslators.Com advice and translates only those documents which are important to be submitted in support of claiming insurance money. They are experienced in offering translation services for insurance claim documents for the insurers, investigators and clients. They offer a full translation of all the insurance claim documents.
But, if you require translation for only selective insurance claim documents then the experienced translators first identify which documents are actually important for translation for your claim needs. After that, only relevant and important insurance claim documents are translated which are enough to receive your insurance claim.  In this manner, you will be able to save enough time and money by not translating unnecessary documents.
Strict & Precise Insurance Claim Documents Translation:  All the translation of insurance claim documents go through the 3 phases. First, is just the translation as per the customer's requirement. Secondly, the translated content will be edited and proofread for finding and fixing flaws, errors, and mistakes. And, thirdly, the project manager checks for quality before certifying it and delivering it within the given time period. This lengthy process is though time-consuming, but it is just to maintain the quality of your translated insurance claim documents.
We Are Trustable Insurance Claim Document Translation Service In Singapore
There are various genuine reasons to trust the translation services provided by the professional document translators at SingaporeTranslators.Com. The reasons are as follows:
Highly skilled translators who deliver all types of insurance claim document translation services accurately for Singapore's insurance industry.
Rapid advice & services 24/7 via calls, emails, messages, chat, etc.
Certified quality as per ISO standards and accurate document translation in areas of insurance claims.
Translation services by the native speakers for translating a document in the target language.
Insurance claims document translation by multi-lingual translators in more than 120 languages spoken across the world.
Strict protection of your identity and insurance data from any third party.
Conclusion
As a result, insurance claim documents are very important documents to claim your insurance money in a time of need. If you take up affordable translation services from the experienced translators at SingaporeTranslators.Com, then you will be able to get an authentic and accurate translation of insurance claim documents.
No 1 Online Translation Services for Document & Legal Translations in Singapore.
The insurance documents must be kept very safely both in paper and digital form. In Singapore, if you want to claim back your insurance for car, health or life insurance then you must submit a translated insurance claim letter and policy papers.
The translation services are offered in such a manner that the insurers after seeing the translated documents will process your claims and soon you will get the money that you deserve.
FAQs
Q 1. Can I get exclusive quality insurance translation services at an affordable price?
Yes, when you choose us as your insurance translation services provider, you can rest assured that we will provide you with an exclusive quality translation service at an affordable price. We never sacrifice the translation quality, even at low costs.
Q 2. What are your payment terms and methods for insurance document translation services?
We offer flexible terms and payment options to make things easier for insurance document translation clients, including credit cards, debit cards, and PayPal accounts. You can reach Singapore Translators directly by email at Info@singaporetranslators.com if you have any questions regarding payment terms or methods.
Q 3. Do your insurance document translations offer any kind of refunds?
No, our insurance document translation service package does not involve any sort of refund. This means once you have made the payment for the translation, unfortunately, we cannot refund the money. That's why it is essential and suggested to all the potential clients looking to acquire the insurance document translation service must be confirmed whether they are really willing to acquire our translation service. However, if you need any modifications to the translated documents, then you can surely get in touch with us as we will be more than happy to assist you with our best translators.
Q 4. Are hard copies of insurance translation be available?
Yes, definitely, at Singapore translator, you will get everything that comes under the translation package, and one of these services is providing hard copies of the translated document. Also, note that we charge a separate cost for providing you with hard copies of the translated documents. The cost of the hard copy will depend on the many copies that you are willing to obtain from us.
Q 4. How long will insurance translations take place?
Our translation team always works together to deliver translations as early as possible. Insurance document translations cannot be predicted with certainty. It will solely depend on how much effort is put into translating. Despite the tight deadline set in the submission form, our translators deliver quality Insurance document translation service ahead of time.
Q 5. How are your insurance document translation services better than others?
We remain the leading insurance document translation service providers due to the commitment and dedication of our team of translators. We consistently deliver high-quality translations at a competitive price and within the given deadline.
Q 6. Can I collect a hard copy of claim translations from your office?
Yes, once the hardcopy of your translated document is ready, you have the option to visit our office in person and collect the requested hardcopies.
Q 7. How do you ensure the confidentiality of insurance document translations?
Singapore translation offers the client a confidentiality agreement, ensuring the customer that their personal information will be kept safe while translating their insurance document. In this way, we guarantee that customer information is secure, and we implement measures to prevent unauthorized access to the information.
Q 8. Does the insurance translation service require notarization?
Yes, you require insurance-translated documents to be notarized from the professional translator as after getting notarization, the document is indicated as authenticated and trusted. At Singapore translator, we have a team of professional translators holding proficient skills and experience in providing notarization of the translated document. We only deliver the notarization of the document if requested by the client.
Q 9. What will be the format of insurance document translation services?
We use no common format when translating insurance documents because it varies based on what the clients require. We offer the following formats: PDF, Word, Excel, PowerPoint, Powerpoint, .tiff, .html, etc.