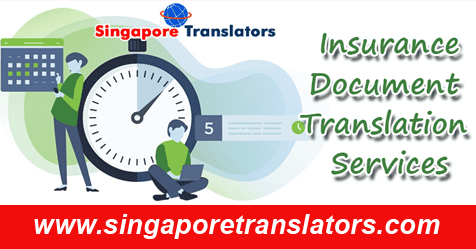 Insurance Document Translation Services in Singapore Provided by Professional Translators
Life insurance is the act & the system of offering financial protection for health, life &, etc, and against particular contingencies such as death, loss & damage. It involves standard payment in return to advantage from that protection. Numerous financial experts believe that insurance is one of the main assets in the financial business, for it has plenty of uses such as the form of savings, investment, instructive fund, retirement fund, etc.
Insurance translation could be difficult, for it covers extensive and important areas in the translation field such as lawful, financial and commercial characteristics. Also, translation texts in this part undertake generally some important industries that require effectual technical translation of specialized terminology & vocabulary.
Singapore Translators has offered document translation services, language testing, & other language solutions to management agencies, not-for-profit businesses, and industry. Our group of over 500+ foreign language experts gives us the ability to offer expert Insurance Document Translation Services in more than 100 languages.
We Translate Insurance Documents Effortlessly With The Help of Our Expert Translators in Singapore
One of Singapore Translators' numerous specialties is Insurance Document Translation Services. Our professionals are capable of translating insurance documents precisely through the use of their own proficiency and a host of ground-breaking translation tools. We pair your project with an expert native speaker in the objective language with the aim of exceeding your prospect. Singapore Translators also specializes in the translation of other document kinds such as business plans, resumes, credentials, and income statements.
With people now traveling and living abroad in unparalleled numbers, the global health insurance industry is experiencing quick growth. An increasingly multicultural client base means that health insurance translation services or insurance claim document translation services are in good demand. It is necessary that your clientele know exactly what their policy covers & that you recognize the contents of an out of the country medical report written in a foreign language. You truly require the best medical insurance translator. Perfect translations allow your clients to manage their healthcare and practice for emergencies, and they protect your industry from costly misunderstandings and lawful disputes.
Medical Insurance Translation Services Explained
Clients place their health and comfort in your hands when they buy insurance from you. When they make a claim, it is normally under an extremely stressful situation. A knowledgeable insurance translator can speed up the procedure and allow you to offer quick and accurate support to your clients when they are at their most weak. Singapore Translators has a huge team of certified medical insurance translators, health insurance translators, & editors with the wide-ranging professional practice of the healthcare insurance business. Amongst our customers are top emergency-assistance suppliers in several countries.
Hire a Language translator for converting your legal & Other Documents.
Additional Translation Services
Beyond Language translation services, we also present the following translation services:
Legal
Technical
Marketing
Human Resources
Academic
Want an immediate insurance document translation quotation? Get it now from the Singapore Translators!
Insurance papers have significant legal implications, both for the individual purchasing the cover and for the corporation providing it. The translation of insurance papers into other languages is consequently a highly specialized skill; need an understanding of the insurance business in addition to a talent for linguistics.
At Singapore Translators we have access to over 500+ professional translators, who between them have a huge range of skills and career familiarity. Our network comprises specialist insurance translators for all ordinary language pairings so that we have the ideal individuals on hand to translate your insurance documents whenever necessary.
Singapore professional translators are all local speakers – we never rely on computerized translations. This means that our insurance document translation service generates high-quality translations that authorized documents of this nature need.
We are a translation services organization in Singapore with a focus on the insurance business. We can translate policy papers, website copy, brochures, claims, emails, and other insurance associated documentation.
Singapore Translators has provided document translation services, Academic Translation services, and other language solutions to industry, government agencies, and non-profit organizations for more than 15 years. Our group of over 500+ local language translators gives us the ability to offer expert translation services in more than 200 languages.
Hire a Language translator for converting your legal & Other Documents
Translation services that offer complete cover
Insurance companies aiming to make stronger their worldwide position and business should invest in translation in order to beat the rivalry and reach wider customers. Worldwide market players in the insurance industry should make sure that their services are well-matched with local infrastructures, regulations, and processes, etc.
Singapore Translators make sure multi-language cohesiveness for all your insurance associated documentation, including marketing and promotional material, policy papers and online copy, etc.
We have an extremely experienced team of insurance translators, who come from a variety of backgrounds and specialize in a range of languages. All of them are fully capable and have a complete perception of insurance and insurance associated terms. That's why you can faith Singapore Translators to meticulously meet all your insurance translation requirements and to complete the job with the utmost precision.
Our expert team of insurance translators is kept up-to-date with the newest developments and business news. Several of our expert translators are also industry experts, e.g. law, medical, engineering, finance, etc. and use this business knowledge to generate more accurate and localized insurance translations.
We have huge experience in translating: policy papers, claims, general insurance post, insurance-related legal documents, contracts, insurance newsletters, advertising material, and website content, in addition to hundreds of other insurance associated documents.