Today people are investing their money to transcribe their interviews, research, or media from service providers. Upon receiving they get their interview transcribed with a lot of errors and they end up editing the entire document on their own. Singapore translators provide interview transcription services with a high rate of accuracy at affordable prices.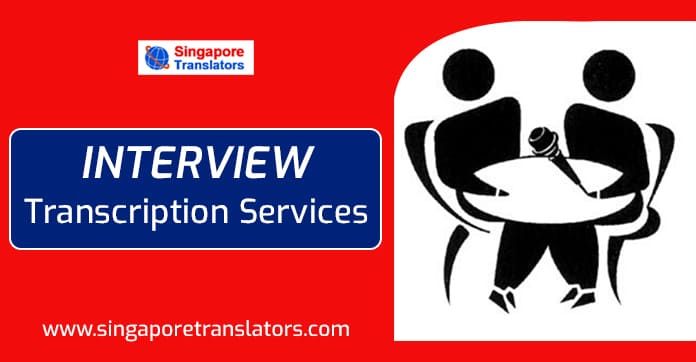 To avail of the services you just need to send your interview recording to us with detailed instruction. You will get word to word transcription of your data or media. Transcribing an interview require professional support because it is difficult to differentiate between voices in the provided audio and video.
Our team of professional interview transcribers and international experts will work on your provided details efficiently.  There is a wide range of interview transcription services provides by Singapore translators such as: –
Advertising industry interview
Commercial interview
Journalistic interviews
Medical matters interview
Immigration interviews
Legal proceeding interviews
IMEs Podcasts
Transcription overview and how a proper transcription looks like?
In simple words, interview transcription refers to a written document or transcript of the conversation between two or more persons. It includes any kind of interview such as an interview of a celebrity or it can be a business-related interview.
Transcription is a reliable source of finding information from a video or audio. There are two types of transcriptions, one is the live transcription of the interview and another is recorded interview transcription. A Live interview transcription means documenting the live conversation between two or more persons.
Proper interview transcription includes error-free transcription, word-to-word transcription, no grammatical mistakes, proper differentiation between two voices and ignoring background noises. Singapore translators provide you the proper transcription that includes accurate and points to point transcription.
Why choose Singapore Translators for interview transcription
High accuracy and error-free interview transcription: – The main problem people face while interview transcription is a rate of accuracy. If the transcribed file is not accurate then it will change the meaning of the whole interview and can mislead you. Highly skilled and professionals of our company can transcribe your files with full accuracy. You do not need to edit a single thing on your own after transcribing from our professionals.
Time-saving: – Singapore translators provide you 24/7 service and support. We can transcribe your file within ten minutes. We have the fastest turnaround time in the whole industry which provides every minute transcription service. If you want instant transcription for legal work in government bodies then send your file to us with detailed information.
Bilingual transcription: – We have a team of professionals at a global level. If you want to transcribe an audio or video clip in Chinese or any other language then contact us. We have expert interview transcribers. Our professionals will maintain accuracy in any language. We are providing interview transcription services in more than 120 languages. If you have a single interview clip with two or more languages in it, we can transcribe it as well.
Multiple person interviews: – Interviews that contain two or more person in it, is difficult to write or document accurately. That has a major problem with the overlapping of two sounds. Such kind of problems is very often. Interview transcription from Singapore translators check overlapping dialogues with perfection and provide you the best output.
Interview transcription for any topic of every length: – While transcribing an interview, knowledge of that field is most important. If a person who is transcribing does not have enough knowledge related to that field, then he or she will change the whole meaning of the important conversation. And with that, you can miss the important topics from the interview. Interview transcribers in the Singapore translators have knowledge related to the field that they are working on. So, our company provides you interview transcription services for any project with a high rate of accuracy.
Follow grammar: – Some of the audios or videos of interviews provided by the users are full of grammatical mistakes. But our global transcriber's team will document your interview with no grammatical mistakes. In some of the instances if the grammar is not used properly then it can change the meaning of the sentence which may mislead.
File safety: – While you are using Singapore translators do not worry about the safety and privacy of your file. Safety is the priority for our company. All the private audios or video interviews that our users sent to us are completely secured and its content is not shared with anyone. Any project you will provide us such as medical interviews, legal proceedings interviews, emigration related interviews, etc is are secured and safe.
Interview transcription 24/7 service: – If you are stuck somewhere and you have to transcribe your interview after office hours, then you can contact us. Singapore translators provide you 24/7 interview transcription service. If you have any queries related to your project and need professional support then we provide you support anytime.
Affordable prices and discounts: – If you do not have much budget to get your project transcribed, then our company provides you interview transcription service at affordable prices. We have trained interview transcriptionists who provide you services at a very low price.
Conclusion: – Interview transcription is the work of a professional because if it is not done correctly it will change the meaning of the whole conversation in the interview. Some things should be kept in mind while getting interview transcriptionist services such as accuracy, language, grammatical errors, service processing time and budget.
You can get a transcription of any type of project in any language through Singapore translators. We have experienced professionals in every field you want to transcribe your projects such as advertisement, medical interviews, legal government interviews, immigration interviews, IMEs podcasts, and journalist interviews. We save your time by giving you instant service with error-free transcription.