Singapore Translators works with 500+ native language professionals in over 200 languages like Malay, Chinese, Thai, Japanese, Korean, Thai, etc. Our certified Japanese Translators for ICA will complete all your Japanese Translation needs quickly translator effectively. You can hire Japanese translator freelance from Singapore Translators.
You can translate any of your document by professional Japanese Translators
Patents
Academic Documents
Corporate Affairs
Software
Legal Documents
Advertising & marketing Manuals
Marriage Certificate
Divorce Certificate
College & University Diplomas
Secondary School Certificates, etc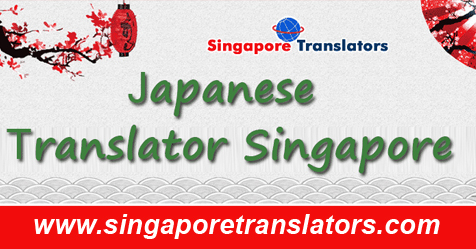 Hire a Japanese translator in Singapore for High-Quality Translation Services
Choosing the right Japanese translator in Singapore for a Japanese translation service is frequently a difficult task, particularly if you care about quality and cost. There are numerous Languages translation services providers to select from, and sometimes it can turn into a puzzling task in selecting the right translation service in Singapore.
Every translation services organization recognizes that because of the language variation between Japanese and English, translating from the Japanese to the English language translation & vice-versa, cause a big challenge. Therefore, there is wide-ranging use of honorifics in the Japanese language, which is recognized as 敬語, Keigo. It is factually recognized as "respectful language". And to express the unreliable degree of respect, suffixes are added to words.
We at Singapore Translators the major Japanese translation service in Singapore and cater to all your translation requirements, whether you are a small industry or a big multinational corporation. We promise the lowest pricing for Japanese translation in Singapore, & never compromise on excellence.
Japanese Documents Translation Services at an affordable price
Our full range of document translation services in Singapore covers all your translation requirements. Do you need a document translated, such as a marriage certificate or a visa appliance? Or are you a business that needs its website decoded into Japanese? We can assist with that, & more – marketing material translation, technical, medical, and authorized, to name a few. You can suppose the highest quality and a fast turnaround for all our document translations. Translation services are in very huge demand in the current globalization scenario. Businesses are seeking a reliable and reliable Japanese translator in Singapore for translation service that enables them to develop their operations effectively Singapore Translators is one of the top translations firms which have gained a status for their consistent, consistent, and reasonable service.
Get Fast & Accurate official notarization for ICA, MOM, MFA.
Plenty of Japanese Translators ready to assist you 24*7
The demand for Japanese translation and understanding has risen enormously in Singapore in recent years due to the stronger bond between the citizens from Japan living & working in Singapore. Business substitute and the financial transaction has been in place for over five decades and carry on to get better on an everyday basis.
Singapore Translators has a huge network of competent English-Japanese and Japanese-English translators who are enormously experienced in their individual fields of concentration. This is due to the tough bilateral association between Japan and Singapore. The bond between Japan and Singapore measured friendly, as stated by learning carried out in the year 2014.
There is a huge community of Japanese expats in Singapore, comprising usually of business employees and their family.
Our professional translators will be capable to effectively and precisely translate your lawful, commercial or technical papers, patents, and websites.
Native speakers handle every translation service to make sure a topnotch expert service for our customers across Singapore and worldwide paying close attention to each form of discrepancy which might have been otherwise unnoticed by other agencies. We also provide Cambodian translation services as we have a huge team of Cambodian translator at our company
Facts about the Japanese Language
Japanese is an agglutinative language, which means that diverse word parts in Japanese have fixed sense. This makes it a very diverse language system from Western European languages. Language student reports high levels of complexity when trying to learn Japanese and this is predictable. The chief barrier to learning this language is the printed characters. It is not possible to tell from the look of a Japanese word what it sounds like, & learners spend numerous years getting written Japanese.
The Japanese language is part of the Japonic language. The Japanese language not associated with any other main language, unlike English. About 127 million natives speak Japanese, which is the authorized and major language of Japan. The Japanese written form consists of kanji or Chinese characters, hiragana, katakana used mostly for writing foreign words and romaji.
Top-Notch Japanese Translators for Language Translation in Singapore
We have the knowledge and familiarity to offer you the most excellent quality Japanese translation, whatever your requirements. Our pool of top-notch Japanese translators will finish every job to industry-leading standards.
 Local Translators
We only hire native (mother tongue) translators – it's important to the sensation of any translation. If you are decoding a file from Japanese to English, then we'll employ a local English translator. If you need document translation services from English to Japanese, then we'll merely use an expert based in Japan itself.
Hire a Language translator for converting your legal & Other Documents.
High-Quality Japanese Translation
Japanese translation needs similar preparation & checks as all our other language translation offerings. We constantly ask our clients to inform us of the subject matter, point, and planned target audience. This allows us to communicate as much info as possible to the translator so that he/she can style the conversion suitably and make the transition from the source words to the target language as seamless as probable. We might ask you if you would like to convey a young, upbeat advertising message or a grave business tone. These are just a few queries that you might expect to be hearing as we require you to be clear on your requirements. It's just a small part of the research in making your translation successful.