SingaporeTranslators.Com provides the best translation services in Singapore.  Their online services are not just limited to Singapore only but also in other global countries like Malaysia. SingaporeTranslators.Com also provides all kinds of translation services to the neighbouring country of Malaysia.
The Malaysian district – Johor Bahru can also reap the benefits of online translation services provided by the Singapore translation company – SingaporeTranslators.Com.
Therefore, if you are a citizen of this district and seeking accurate translation services then you can check out the Johor Bahru translation services online provided by the professional native translators at SingaporeTranslators.Com.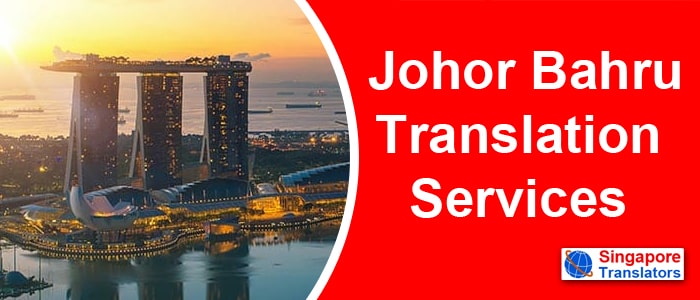 The main languages spoken in Johor Bahru are Malay and other popular spoken languages are Mandarin Chinese, Tamil, Telugu, and Punjabi. English is not very popular here except for those who have studied English when Malaysia was under British rule. If you need document translation from Malay to English or Tamil to English then you can hire professional native translators at SingaporeTranslators.Com.
Why Do You Need Johor Bahru Translation Services?
There are various reasons when you need Johor Bahru Translation Services which can be anything ranging from business purposes, immigration or travel. If you are from Johor Bahru and need to go to foreign countries like Singapore for various purposes then you will require translation services of various documents.
Following are the reasons which make you take Johor Bahru translation services:
Business Purposes: You have an established business in Malaysia, especially at Johor Bahru. If you desire to expand your current business to foreign countries like Singapore then you need document translation services to translate your important documents like passports, visas, business proposals, birth certificate Pr application translation, your company's handbook, broachers, marketing & advertising materials of the products and services of your company. If all these documents are in Malay or in Mandarin Chinese then you must translate it in that language which is known to the target audiences.
English is the most popular language in the global world and you can even translate your documents into English at SingaporeTranslators.Com.  You can have native Malay or native Mandarin Chinese translators to translate and localize all your business documents so that it can attract Singapore investors as well as prospective customers and clients.
Get Fast & Accurate official notarization for ICA, MOM, MFA.
Immigration:  This is the era of globalization and it also had a tremendous impact on the people's preference for having a decent lifestyle. If a person who is sitting at Johor Bahru dream to have a high paying job and a luxurious life in Singapore, then he or she can migrate to Singapore. Again the immigration process from migrating to Singapore from Johor Bahru is a lengthy process.
There is a lot of paperwork and also need to translate all your Malay documents into the English language. This is because the ICA official and the Singapore embassy will never accept your documents which are in the local language of Malaysia. So, you need to submit English translated documents that are required for immigration to Singapore. Moreover, these translated documents are also needed for the Singapore PR application.
Higher Education:  Every year Singapore receives thousands of outstation students. Some of the students are from Malaysia, especially at Johor Bahru. So, when you are heading towards Singapore to study at some of its prestigious universities and colleges you need to get educational documents translated by the professional translators at SingaporeTranslators.Com online. They will perfectly translate your application letter, educational documents, and degree certificates.
Apart from educational documents, it is also equally important to translate your birth certificate and identity proof.  You can send it to the immigration officials as well as to the admission officials of the Singapore College or university where you have got admission to study there.
Medical Treatment:  There are many patients from Johor Bahru who come to Singapore to have better medical treatment. So, when the language of English is not known to them, they can have the translation services from professional translators who can translate all the medical documents, health reports, prescriptions, etc from the English language to their preferred local Malaysian language.
Travel:  Aspiring adventure seekers, travellers and globe trotters of Johor Bahru who travels to other countries as a tourist also require translation services from a good translation company. The expert document translators at SingaporeTranslators.Com can provide the translation of important travel documents like passports, visas, driving license, marriage certificates, police clearance certificates, etc.
Legal Purposes:  If you have legal papers and court documents and you want to use that in Singapore, then you can get court certified document translation in Singapore. These legal documents need translation if it is in no- English language and also to be used in Singapore and other countries. The Singapore translators provide legal document translation of oaths, power of attorney, wills, legal declaration, etc. Moreover, they also provide notarized and certified translation of these court-related documents.
SafeGuard of Reputation:  You will also require Johor Bahru translation services to even safeguard your reputation. A wrong translated document given to the target audience can cause misconception, misunderstanding or legal action against you. This will even stake your reputation. So to avoid such risk it is very clever to hire Singapore translators to translate all your documents using the perfect language tone.
What Are The Best Johor Bahru Translation Services You Get From Singapore Translators?
You will get the best translation services if you hire Singapore translators to translate all your Johor Bahru based documents, which are:
Accurate and authentic translation keeping in mind the language tone of both the origin and target languages.
Top- Quality translation with no traces of errors, mistakes, and flaws.
Affordable translation along with added services of editing, proofreading, and revision.
The translation is done by only native translators.
Delivery of translated documents at your email address within the deadline.
Thus, these are some translation services which you will experience after you hire professional translators at SingaporeTranslators.Com. These translators also provide services to the people of Johor Bahru online.
Hire a Language translator for converting your legal & Other Documents.
 Conclusion
Now that you have known how you can get document translation services at SingaporeTranslators.Com. You can get the translation services from native experts right her within Johor Bahru. So hire Singapore translators to provide you with the best and affordable Johor Bahru translation services.