Singapore Translators provide the finest Language Translation Services in Singapore. We are working with a team of 500+ language professionals in over 200 languages. Our main objective is to provide you best Language Translation Services at a low translation service cost.
Language translations we offer
Chinese to English
Japanese to English
Korean Translator in Singapore
Arabic Translation
Russian Translation
Cambodian Translator
Thai to English, etc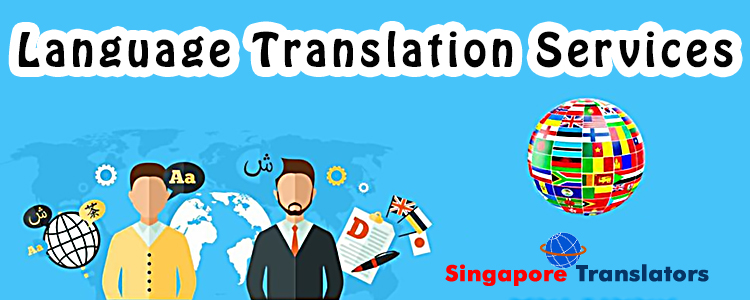 Hire Certified Language Translation  Translators for Quick & High-Quality Services in Singapore
The value of language translation services is growing in Singapore day by day. Certainly, aside from the fast increasing interest in globalization, precious industries have also been evolving to generate specialized languages of their own; consequently, the a growing need for experienced experts to offer the simplified version.
language translation services are now a requirement when it comes to worldwide infrastructure and advertising. The main motivation is that worldwide marketing needs well-organized communication in different languages for the sake of knowing business credentials in various languages.
It is a specified fact that it is incredibly complicated or almost not possible to turn out to be skilled at lots of new languages in order to converse to the client's inquiries. Because of this, translation services Singapore are no doubt a demand.
If you are looking for an affordable and reliable certified translation service in Ipoh, then we're the company to go with. Our experienced translators can provide language services not only within Singapore but also throughout Malaysia.
We offer a top-quality Kuching translation service that will ensure your documents are translated accurately and promptly. We have competitive prices for all types of work, so you don't need an expensive lawyer or notary public. Our Kuching translators are the best in translating documents for you and making sure your message comes across as it should. We understand how important these things are, which is why we've got an entire team dedicated to helping businesses succeed abroad.
This translation company provides professional Penang translation solutions in multiple languages. Its service covers the diverse needs of various sectors like legal, educational and business & industrial as well media for tourism among other things – all with a focus on helping their Malaysian clients access global markets through multilingual services that adapt to personal desires from translating any kind of document or message into another language regardless if it's English only (or) French too.
More than 500+ Language Translators for Urgent Needs
Quick Language translation services are the fundamental requirement of the industry globe these days. Therefore, we present the world's most precise translation services along with proofreading & editing translation services to worldwide customers that are also quick in pace.
Safe & Secure Translations: Frequently, it is seen that the companies fail to render feature and precision in translation due to rates, in making a rush for the project delivery. But, this is not the case with Singapore Translators. We entrust to provide the world's best translation services with comprehensive security of excellence in it.
On-Time Delivery: Being a well-known language translation services provider in Singapore, we follow a well-organized conversion process, so that the translations provided well within the particular time frame. Also, this smooth procedure makes sure that we present the top degree of quality and accuracy within the translation job.
Get Fast & Accurate official notarization for ICA, MOM, MFA.
All Major Languages Experts :  We have made a squad of expert linguists, local language Translators, quality assurance managers, proofreaders, & editors competent of providing better translation services in different languages.
Wide Range of Translation Services : We offer wide-ranging Translation services counting document translation in the field such as Health and Medical Translations, Academic translation services, Technical & all kinds of Business Translation.
Video & Audio Language Translations Available:  If your project entails Video or Audio Translation, We have the assets to manage the job whether it involves overseas language transcriptions, narration, lip-sync or voice over.
Major industries in which we provide services
IT Translation: Professional translators work with expert IT translators for excellence driven translation productivity for all kinds of papers.
Legal Translation: Whether it is an agreement, patents or other lawful papers, we can decode them with most precision level.
Medical Translation: Our medical translators are knowledgeable in using the medicinal terminologies in all sorts of medical credentials. you can contact us any time to translate your medical document in any other language
Tourism Translation: We are speedy and a specialist at translating the lodge menus, flyers, travel guides & other things with excellence. Certified Language Translation services are available to help you 24*7
Media Translation: Translation for media content needs grand familiarity. Hence, we have a professional team on the plank to help you out.
Why Choose Singapore Translators For Translation Services?
Why choose Singapore translators? As we go the additional mile to make it simple for you to get culturally corrects Language Translation Services.
We are a skilled Translation Services Company in singapore with capabilities and technology to address your global requirements. We modify language solutions with focus to your particular requirements.
No 1 Online Translation Services for Document & Legal Translations in Singapore.
Our language translators are local speakers who have work knowledge in the industries for which they translate. What's more, you'll get quick turnaround times at reasonable prices with no sacrifice of quality.
Our Language Experts: We work with lots of experts, accredited linguists & subject matter experts. From translators and interpreters to localization professionals, we have the exact personnel for your assignment.
Customer Support Service: Our team of expert, multilingual project managers & localization experts will offer you with the proficiency and dedicated, responsive client service approach to assist your organization skillfully navigate language barriers and reach a worldwide audience.
Certified Translation Services: Being an ISO qualified Translation Corporation; we present certified services for any kind of understanding, translation or localization task.
Local expert Translators: We are capable of managing tiny and great translation projects. We consider that no person can decode a text as genuinely as evaluate to a local person.
Strict Quality Guidelines: We follow the severe quality strategy in every translated project so that the excellence standards are met and the client receives a correctly translated productivity
Fastest Turnaround Time: When it comes to human translations, we constantly commit for best turn time, so that the client could apply the further plan of deed instantly.
100% Data Privacy: With safe servers and file administration panels, we entrust for 100% data privacy and secrecy so that the info is not trickling out to a third party.
FAQs
Q1. What payment methods do you accept for language translation services?
The payment options provided by Singapore Translators for your language translation service include credit cards, debit cards, and PayPal accounts. Details about payment terms and methods can be obtained by contacting info@singaporetranslators.com.
Q2. What languages can your translator translate?
In any case, our translation service Singapore could help regardless of what you intend to translate into or from what language. They are efficient at translating any language documents. Our team of more than 500 language experts fluently speaks Bahasa, Malay, English, French, and many more languages.
Q3. Would it be possible to obtain a hard copy of the translation of a language document?
It is possible to get hard copies of the translated English to Singapore language documents. The cost of obtaining hard copies is not included in our service for translating language documents. You will need to purchase hard copies separately.
Q4. Do language document translations have a confidentiality policy?
Yes, being a reputable translation agency, we are aware that clients have privacy concerns. For this reason, we provide our clients with a confidentiality contract through which they can rest assured that their privacy is protected. As a result, the language document translations of our clients are kept secure and confidential.
Q5. How much does language document translation cost?
As well as the kind of translation you need, the quantity and nature of the words in a language document can influence the price. These two factors and the kind of translation you need can make it difficult to estimate language document translation costs. In addition to standard translation, additional services (e.g., editing, proofreading, notarizing, etc.) will increase the price.
Q6. Is there a timeframe for the completion of translations of language documents?
Whenever a language translation is being done, it is often difficult to calculate the time involved. Every method, every format, and each approach is handled differently. We do, however, possess a trustworthy translation service that completes translations before the deadline.
Q7. Does your company notarize language documents?
Yes, our company can notarize documents translated from English to Singapore. However, we only do this at the client's request.
Q8. Is there a refund policy for Singapore language document translations?
After a Singapore language document translations payment is made, we do not offer refunds. Make sure you need our services before placing an order. If an error occurs with the document, we provide necessary modifications free of charge.
Q9. What format do you use for translating Language translation documents?
We offer translations of language documents; however, we do not deliver the translated material in a specific format; we provide it in whatever format the client requests. It depends on the client's expectations. Our translations are available in PDF, Word, Excel, and PowerPoint formats to accommodate our customers' preferences.
Q10. Is your service for translation of language documents available 24 hours a day, 7 days a week?
Yes, if you require urgent assistance, you must schedule an appointment in advance by email or phone. Our team is available weekdays, evenings, and weekends at any time.