Professional legal transcription services provided by Singapore translators are accurate and cost-effective. Hire legal transcriber for court audio video transcription services in Singapore. In addition to this, even important documents like legal documents are transcribed by the legal transcription professionals.
The transcription is also strictly maintained by the guidelines to maintain the confidentiality of the transcript legal documents. So, for uninterrupted business in Singapore, hire legal transcription professionals and Singapore legal translators at SingaporeTranslators.Com for customized legal transcription services.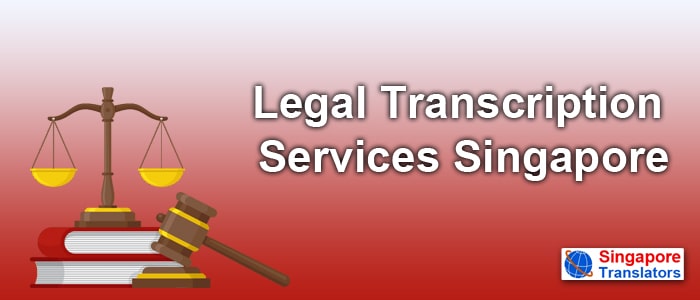 What Is The Process of Legal Transcription Services in Singapore?
Legal transcription services in Singapore are taken cared of by the legal translation service providers. They hire legal transcribers who are professional and qualified enough to transcribe audio and video recordings in all formats into written or printed words. Moreover, the transcribers at SingaporeTranslators.Com are also known to provide legal document transcription in all formats of audio and video recordings of legal proceedings, audio and video recordings of wills, power of attorney and other legal and court declaration, etc.
Moreover, if you have any special requirements like certification and notarization of the legally transcribed documents, that too is provided by the transcription professionals at SingaporeTranslators.Com.
If you want to know how legal transcription services are provided at SingaporeTranslators.Com then read the following:
Your client or your near ones might have sent you legal documents in spoken form in formats of audio and video. It can be any legal declaration or oath in form of conversation or speech.  If you are going to use that in court in Singapore you need to the transcript in known Singapore official languages.
What you can do is to simply send the audio or video file to the professional transcribers an email at SingaporeTranslators.Com.
Here, the Singapore transcriptions professionals provide transcription services Singapore in all formats of audio or video files in a document in the form of written conversation or words. They transcribe it with great care keeping in mind the accuracy of the legal document.
After transcription, quality is also maintained by providing extra services like editing and proofreading to detect and fix flaws, mistakes, and errors.
Once it is completed, final revision is done to see if the legal document in the form of audio and video file is transcript perfectly or not. It is also checked that extra requirements like editing and proofreading are successfully implemented or not. Moreover, before sending at your email address, these documents are also legally certified and notarized so that you can present these documents at Singapore courts.
Legal Transcription Services Provided At Singapore Translators?
Cheap transcription services are provided in Singapore by the leading transcription service provider called SingaporeTranslators.Com. They offer legal document transcription services in an online and digital manner. Moreover, the legal transcription services you get are in top- quality standard, cost-effective and also multilingual transcription and translation.
They provide accurate and top- quality Singapore legal transcription services for court hearings, pleadings, appeals, briefs, evidence, legal arguments, interviews, interrogation, presentations, legal examination, court judgments, seminars, and conferences, etc.
Hire proficient transcriber for all legal proceeding documents.
How Singapore Legal Transcription Services Are Best at Singapore Translators?
The legal transcription services provided by the professionally trained translators and transcription personnel at SingaporeTranslators.Com are best in Singapore. You are also assured of quality, authenticity, accuracy and of course the transcription services within a favourable and relieved budget.
The following reasons will tell you about how Singapore translators offer the best legal transcription services in Singapore. The reasons are as follows, which are:
Complete Transcription Done By Professional Human Transcribers:  Legal documents in the form of audio and video recordings are fully transcribed by the expert and native human transcribers. At SingaporeTranslators.Com, machine transcription of legal documents is not encouraged. Machine transcription is avoided at any cost to maintain the quality and accuracy of the legal document transcription.
Transcription Services To Maintain Quality of the Final Transcribed Document:  The professional transcribers and transcription professionals at SingaporeTranslators.Com strives everything to improve the quality of the transcribed legal recordings into the written word. They provide the best translation services in Singapore by maintaining the quality by providing added services of editing, proofreading, and revision. They work hard to check and fix each and every flaw and error in the transcribed legal document.
Legal Transcription Services in Any Audio & Video Format:  The expert native Singapore transcribers are qualified and experienced enough to handle every type of audio and video legal document files. They can provide transcription services in right from the basic cassette tape to CD, DVD, video cassette, MP3, MP4, WAV, etc.
Affordable Transcription Cost:  The price of the legal transcription services charged by the transcribers at SingaporeTranslators.Com is quite reasonable. If you want the best transcription service at a reasonable price, SingaporeTranslators.Com is the right destination to fulfil your legal transcription requirements. The delivery cost is absolutely free. Moreover, the price for added services like editing, proofreading, and revision is also very low in Singapore.
Transcription Services in Multiple Languages:  The transcribing services offered by the native transcription professionals and Singapore translators are also provided in multiple languages. For example, if the origin audio and video file are in the Chinese language, then at SingaporeTranslators.Com you will get transcription services from native Chinese transcribers and translators.
They transcribe the legal audio or video file from the Chinese language to any other language into a written word document. If you want transcription services from Chinese to English, you will get your request fulfilled within the deadline without any fail.
Hire native linguist transcriber for all court proceeding documents.
Conclusion
SingaporeTranslators.Com is the best transcription service provider in Singapore. Accurate and authentic transcription of legal audio and video recordings is available at cheap prices which will also make your wallet happy. Thus, if you want instant legal transcription services Singapore at this transcription company then you may send audio and video files at SingaporeTranslators.Com.