Singapore Translators provides Legal Translation Services in Singapore in more than 200 languages like Malay, Chinese, Spanish, Korean, Thai, etc. You can translate any of your documents from Singapore translators who work with 500+ language professionals.
We work in a range of legal translation areas, 
Summons translation
Patent and trademark filings translation
Legal certification translation (Marriage Certificate, Death Certificate & Other)
Legal disclaimers translation
Deeds translation
Legal marketing translation
Litigation document translation
Letters of credit translation
Contract translation
Witness statement/deposition translation
Will translation
Articles of incorporation translation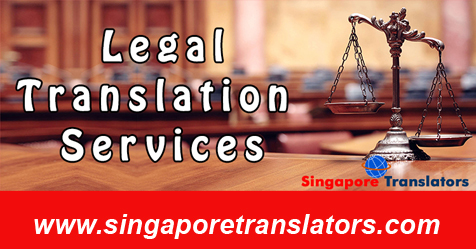 Professional translators for Legal translation services Singapore
Legal translation is the conversion of legal papers, terminology and concepts associated with the field of law. It is a very accomplished field of translation that needs specialist translators from Singapore. Legal translators should have the familiarity of legal terms in two languages and recognize their meaning adequately to make sure that the legal translations they take on are 100% accurate. We at Singapore Translators providing high-quality Legal translation services to the big or small business as well as individuals
Legal translators should precisely express the information present in the source paper, leaving no space for uncertainty. This requires expert translation providers who are dedicated and experienced in the field of legal translation.  We are expert in all kind of translation services because we have many professional translators suitable for your all kind of translation needs. We provide Academic translation services too.
One frequently required type of legal translation is the translation of wills. It's not unusual for individuals to make a will in a language that their family, grandchildren or other recipient do not speak. Globalization & the ever-increasing power of technology have made the globe a smaller place and moving abroad is not the greatly burdensome familiarity that once it was. As such, diverse generations of families can end up speaking diverse languages.
Get Fast & Accurate official notarization for ICA, MOM, MFA.
Another type of legal translation is the translation of real estate papers. Whether you're buying a house overseas or trying to sort out the formalities on a property abroad that you've inherited from a relation, not speaking the restricted language can make for a demanding task. With expert translation, you can take the pain out of the process and recognize in full what it is that your real estate papers say.
Get Quality Legal Translation Services in Singapore
Singapore Translators offer legal translation using very capable and knowledgeable professional translators covering an extensive range of language pairs. Our huge team of legal translators allows us to offer document translation services among almost any language pair and to customers anywhere in the globe.
All our legal translation services engage a 4 step procedure – including a double quality check that is all translated papers undergo a professional review after translation by another lawful translator. A second opinion helps to get rid of any errors that could have crept in as of a single professional involvement. This quality procedure helps us make sure accurate legal translation services.
Translate your official documents with our skilled translations
Certified translations are an absolutely must necessity within lawful frameworks. Most judicial organization, such as courts of law or lawmaking bodies, ask that all translated documents should have a good certification to be measured as official. If you do not have good certifications, your documents cannot be accepted by these organizations.
With Singapore Translators, you can be rest certain that all of your legal documents will be delivered with good certifications and be acceptable by a court of law.
Why must you outsource Legal Translation Services?
When you are dealing with cross border customers, the stakes are a lot high. Something less than accuracy can turn out to be between losing and winning a lawful case. There might also be the necessity of meeting deadlines and filing papers within due dates in numerous languages.
We can assist you to attain both the quality and meeting the time limit without fail.
Hire a Language translator for converting your legal & Other Documents.
There are few areas like the world of law highlight absolute precision. For any paper to be produced as evidence, every single word has to be precise, and every clause needs to be severely upheld.
Legal translation is a sensitive and multifaceted area of proficiency where specialized knowledge and privacy go hand in hand. Legal translation projects also frequently have little timeframes, making this one of the most demanding translation sectors. Numerous companies have a tough time addressing these challenges when using traditional agencies that can only handle projects on a little scale. That's why we have developed a division that especially dedicated to legal translation.
Here are the Major Advantages Of Choosing Singapore Translators
Expert Legal Translators: We have built our network of experts by recruiting the top legal translators in a range of specializations. They are tested and confirmed by our knowledgeable team using the strictest norm. Their work then evaluated constantly to guarantee top quality.
Translation privacy: We have included leading-edge technology into our refined translation company in Singapore. It allows us to save your data through advanced SSL encryption in addition to section sensitive information in order to hide it from your translator. Our network of legal translators should also stick to strict privacy agreements when they work on Singapore Translators.
Tight Deadlines: Another benefit of our dedicated online platform is the ability to which the orders processed and allotted to translators. They automatically informed of urgent projects, removing the common back-and-forth with a traditional translation organization. As a result, turnaround times can be decreased by 30 to 50%.
Long-term Working Relationship: As soon as your corporation (or your customers) expands to global markets, your legal translation requirements will evolve and develop. In order to make simpler the procedure for recurring translation projects, we will make your customer profile on Singapore Translators, assemble an enthusiastic team of translators and build your translation remembrance and glossary. This makes sure the consistency of your translations and allows you to store all of your translation data for prospect use.