Highest Quality Life Sciences Translation Services in Singapore
Singapore Translators brings professional knowledge to medical and life science translation services. Our professional translators really understand the life science business and regulatory needs. Singapore Translators a well-known translation platform takes benefit of bilingual subject matter professionals in medicine, clinical testing, pharmaceuticals, medical device manufacturing and more. With Singapore Translators, you can be certain that your content will be translated with comprehensive accuracy and simplicity by individuals who know the language and the life sciences business inside & out.  We are a leading Document translation services provider in Singapore.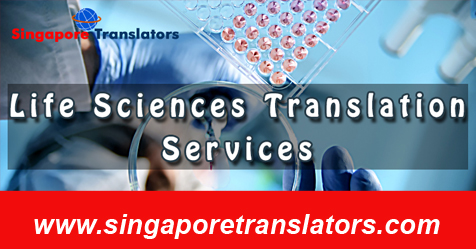 If You Want a Life Science translation service supplier that you can trust then you're at the Right Place
For over a decade, Singapore Translators has been offering life science translation services to main worldwide pharmaceutical companies. Fully understanding the growing challenges of a rapidly-growing life sciences division, Singapore Translators is also conscious of particular requirements for launching a new drug on to the bazaar, the increasing rivalry, the clinical trials, patenting subject, rising client expectations, tight budgets, and even strict regulations and policies. You require a trustworthy, quality and service driven partner.
High-class translations are a must, and besides with clear charge benefits for our customers through the use of translation technology, Singapore Translators would love to be your go-to Life science translation supplier. Only expert linguists, with wide-ranging knowledge of medical, pharmaceutical & bioscience terminology are certain to work with us.  Singapore Translators offer a free translator's declaration certificate with every translation if necessary, which your promise that the translation is accurate and has been carried out by a skilled expert with the relevant credentials. We also cater to Academic translation services for scholars learning in overseas countries.
Singapore Translators is the name for quality life sciences translations and therapeutic translations
It's no secret that medical content desires to be understood with no error by users and patients across the world. With years of knowledge servicing several of the world's leading medical device and pharmaceutical organizations, Singapore Translators has a confirmed quality process driven by your business standards. We recognize that your business is extremely regulated which is why we focus on full quality management, measurability and traceability in our life sciences translations services while keeping in mind that scaling to your increasing business is just as significant.
Singapore Translators is a renowned expert in the life sciences localization business. Our company instils a modified total quality approach and build partnerships with customers to meet your goals whether those are charge savings or reduced time to market.
We have Native Life Science Translators and Expert Proofreaders
We translate papers throughout the life cycle of your product, from study and development to regulatory submission, clinical trials & product labelling. In addition, to correct, feature translation, our professional linguists apply localization strategies to ethnically adapt patient-related resources. We work with a range of Life Sciences materials, including:
Get Fast & Accurate official notarization for ICA, MOM, MFA.
Clinical trial protocols
Patient-Reported Outcomes Forms (PROs)
Patient recruitment materials
Informed Consent Forms (ICFs)
Summary of Product Characteristics (SmPC)
Chemistry Manufacturing and Controls (CMC)
Case Report Forms (CRFs)
Adverse Event Reports
IRB/IEC documentation
Manufacturing SOPs & Production manuals
Investigator Brochures
Translation of Scientific Research Texts
Package Inserts & Information Leaflets (PILs)
New Drug & Marketing Authorization Applications
Drug packaging and labelling
Instructions for Use (IFU)
User manuals
Marketing Materials
Legal and IP Materials
Translation of Scientific Journal Articles
Patents and Contracts
Genetic testing
Pharmacology & Toxicology Reports
Why reliable Life Science Translation services are perfect for healthcare companies?
Translating a medical or life science paper is more demanding than any other paper. If you are running a company in the healthcare business, you will agree. You need to ensure your translated paper meets two parameters, precision, and compliance. For this solid cause, the healthcare companies depend on life science and Medical translation services to get patient brochures, orders for use, leaflets, medical doctor portals, websites and all other vital communication materials for their goods translated in the local language with the aid of language experts. Translating all the outgoing materials in local language assist companies to talk with their potential customers and clients in their local language. This further helps them to gain reliability in the global market.
With so many life sciences and, language translation services in the market, it is truly a daunting task to ensure whether the services you appoint meet the two parameters, precision, and fulfilment or not.
We have Life Sciences Expertise
Singapore Translators wide-ranging experience in life sciences has guided us to develop authorized processes and a wide-ranging network of trained and capable linguists for a wide range of life sciences projects–from worldwide clinical trials to eLearning. Our Life Sciences translators have in-depth industry familiarity with country-specific regulations, worldwide markets, and the whole life sciences business supply chain.
The Benefits of Hiring Singapore Translators
Singapore Translators life sciences translation services are given by a primary team of certified and highly-trained medicinal linguists. Our global network includes 1,500+ medical translators, proofreaders & Subject Matter Experts (SMEs) internationally.
Hire a Language translator for converting your legal & Other Documents.
We make sure that our translations are accurate, ethnically adapted, and fulfil all regulatory agency needs. Our certified excellence as per ISO standards comprises numerous rounds of editing and proofreading by a medical translation expert. Finally, our quotes are all-inclusive with honest and clear pricing. With more than fifteen years of life sciences translation practice, Singapore Translators' Life Sciences division can handle projects big or small on time and on budget.
FAQs
Q1. What level of accuracy do your translators provide for life science translation?
At Singapore translators, we take pride in providing our clients with the highest level of accuracy for life science translation services. We also make sure the translation work is completed within the deadline.
Q2. How much do translation services for life science translation cost?
The cost of translation services for life science varies according to the nature of the text going into translation, the number of words you need to translate, and the language you need it translated into. The price of a translation is usually reasonable for those who only need word translations, while for those who also need editing, notarization, etc., the price can increase. For urgent orders, you will require to pay additional costs.
Q3. Do you follow any specific format for providing life science translation services?
No, there is no set format for providing life science translation. The life science translation services are provided in the format specified by the client. Since the requirement of the client varies concerning the format choice. Our translation can be delivered in multiple formats, such as PDF, Word, Excel, PowerPoint, and HTML.
Q4. How much time do your translators take to deliver translations of life science Singapore?
The length of time needed to translate a life science translation is not predictable since the word count, the language, and the intensity of the effort decide the time to acquire the translation work. Further, we have experienced translators who can finish your translation before the timeframe you specify on the form.
Q5. Is your life science translation company provides you with the translation in hard copy?
Yes, you do have the option of receiving hard copies of the life science translated documents. However, we do not include those in our life science translation service. This means that you will have to pay a separate cost for acquiring the hard copies.
Q6. What sort of quality can you expect from our translators for life science document translations services?
You can expect the highest level of quality from our translators for life science document translations services. The reason behind the quality translation service is the commitment and dedication level of our translators, holding great expertise in providing high-quality translations.
Q7. Do you offer any refunds for healthcare and life sciences translation?
No, we cannot refund the translation service fees once they have been paid to us. However, if you need any changes made, our translation services Singapore can make the necessary changes at no additional cost. But sincere apologies for not being able to refund the translation money. That's why, to all our respective customers, we recommend that they be sure about acquiring the translation services before making a payment.
Q8. Where can I use the translated life science documents?
You can use the life science documents translation provided by our translators for various purposes. However, you can use this type of translation for medical-related and several other fields. Our translators offer the best translation, which is also helpful in approving your immigration applications.
Q9. Do you offer any discounts concerning the life science translation services?
In terms of the life science translation service, we provide great discounts and offers. Also, you can take advantage of greater discounts for bulk orders. For additional details on discounts, you can directly email us at info@singaporetranslators.com.
Q10. Does your life science translation company notarize the translation?
Yes, our translators also provide the notarization for the life science translation documents. But, we only deliver notarization if requested by the client.