Do you want to translate documents from Malay to English and searching for a loyal translation service in Singapore? Singapore Translators is the perfect solution for all your Malay documents and language translation in English and vice versa. Hire a certified malayu translator in Singapore and get perfect translation and public notary for your any certificates
Documents that you can translate from Malay to English – 
Employee Handbook
Death Certificate
Divorce Certificate
Court Papers
Police Report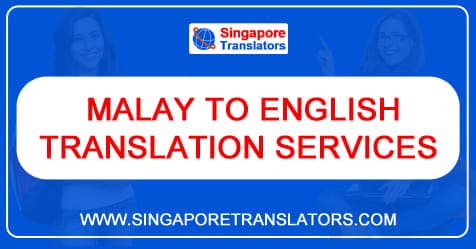 Professional Translators for Malay to English Document Translation in Singapore
If you are looking for a translation service to translate Malay documents like PR Malaysian documents translate Bahasa Melayu Malay to English than  Singapore Translators is the best choice.  Our Certified Malay to English provides the highest quality Language translation services in Singapore.
These days, the English language is used so extensively that almost anybody can speak it. For this reason, Malay to English translation services is in huge demand. At Singapore translators, we have numerous Malay/English translators who are local speakers of said languages, so your translations will be of high-class weather
In order to Translate Malay to English (and vice versa), the translator has to have a profound perceptive of the nuances of both languages. There are numerous English and Malay dialects, in addition to tons of diverse cultures that converse these languages. An excellent translator will constantly adapt the text according to the objective language and culture in order to express the message of the written content.
 Malay Document Translation In English At Unbelievable Price – 
Singapore Translator's Malay to English document translation services prices are reasonable because we care about our customers, and we work quickly in order to deliver the project on time. Here are the major domains in which we focus:
Financial translation
Technical translation
Medical translation
Website translation
Academic translation
Religious translation
Our managers select the best possible translators and editors for your English to Malay convert. Your translation will be managed with care and proficiency because our natives recognize what they do – they are very adoring about their job and always learn novel things.
Hire a Language translator for converting your legal & Other Documents.
Any Kind of  Malay To English Translation with Singapore Translators
Singapore Translators a Malay translation corporation in Singapore is certified as per ISO and provide Malay Translation Services with its squad of more than 100 expert native Malay translators across the world dedicated in diverse fields such as automotive, biology, management, literature, advertising, manufacturing, marketing, mathematics, IT (Information Technology), transport and zoology. We present Malay Translation Services in every language pairs.
Singapore Translators is the number one supplier of translation services in Singapore to Translate English to Malay because of the 24/7 active customer support staff, economical fixed rates & accurate, reliable content. To make sure the highest level of precision, we delegate particular jobs to the best professional certified translators based in 100 countries.
All Singaporean professional translators are locally situated within that nation (i.e. Malay translator in Malaysia ) to guarantee that all content is ethically relevant and suitable. We work with 2,000 language pairs that span over 73 languages. Our team focus on the translation of academic documents, technical documents, and research papers. We also provide English to Chinese translation services at a very cheap cost.
Malay Medical Translation Services Works With Team Of Expert Native Translators
Through our devoted, European Translation Standard EN15038 & certified Translations Division, Pangeanic is your preference for expert Malay translation service for Malay medical translations, Malay medical devices certification, approval documents, scientific trials translation services. We assist pharmaceutical, life sciences & healthcare corporations reach worldwide markets. With lots of Pangeanic-certified Malay translators with technical and medical specialization, we service all types of a life science ventures. Our entire professional Medical Malay translators have familiarity working with Malay clinical trial questionnaires, in addition to Malay package inserts and labels, Malay patient surveys, cover forms, Malay product catalogs, datasheets, protocols, and numerous more.
Hire a Language translator for converting your legal & Other Documents
Best Translators in Singapore for Malay to English  
We at Singapore Translators aim to present the best translation and associated services to our customers, across all industry verticals. CHL wants to make sure that there is no communication gap between your corporation and your target audience and clients. You can aim Malay to English localization and English to Malay translation services as well as desktop publishing, voice-overs, transcriptions, proofreading & graphics.
Singapore Translators only allot language translation projects to its hand-picked local speaking translators with the suitable expertise, and with a precise yet streamlined quality check system that incorporates a strict TEP (translation, editing, proofreading) workflow in place, the translation quality is the best to cover.
Responsive – For every language translation project like Malay to English, Singapore Translators assigns a devoted language project manager, whom the customer may get in touch with for Translate English to Malay progress reports or notify of project changes about any time. Fast response is one of the key commitments Singapore Translators has to fulfil in helping to allow worldwide e-business.
Punctual – Understanding what on-time delivery means to the customer, Singapore Translators very committed to delivering its language translation services within the shortest TAT. The streamlined language translation workflow has boosted the company's productivity & cut down the project period to a minimum level.
Reasonably Priced – We recognize that price matters, particularly to those who run tight funds but are in desperate need of quality language translation. Years of translation knowledge, coupled with better language proficiency, has enabled Singapore Translators to tailor cheap, academic translation services for an extensive array of companies worldwide.