In the country of Singapore, there are various embassy offices in different countries. The country of Malaysia to has embassy offices in Singapore. This is known as the Malaysia embassy in Singapore. This government body represents Malaysia in Singapore.
So, if a Malaysian resident comes to Singapore for business, academic or personal purposes it is important to take the Malaysia embassy Singapore translation service. The translation help is offered by a qualified Singapore Malaysia embassy translator. Moreover, the Malaysia embassy notary public helps in every possible way for smooth immigration.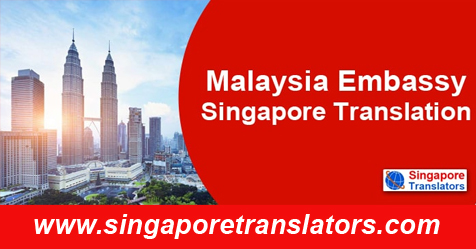 So, read ahead about the  Singapore translation for the Malaysia Embassy of its related document translation work which you can easily avail of online. There are many translation companies in Singapore that offer the best Malaysia Embassy Singapore translation services.
The SingaporeTranslators.Com is one such popular translation companies to offer flawless and authentic document translation services Malaysia are important to be used at the embassy office of Malaysia in Singapore
An Introduction to the Malaysia Embassy
The role played by an embassy of a particular country is just representing their country in the foreign land. The Malaysia embassy too represents the country of Malaysia in a foreign country like Singapore.
Here, the Malaysian embassy protects and takes care of those Malaysian people who are have gone to Singapore for some kind of professional work, travel or higher education. This organization even protects the rights of the Malaysian people in Singapore. They even protect them from any kind of political unrest. Like all embassies, the Malaysia embassy too has its official place in Singapore.
Malaysia's embassy also helps in immigration.  If you need any documents to be translated for immigration then the Malaysia embassy outsources translation work to reputed private translators or document Translation companies in Singapore.
Get Fast & Accurate official notarization for ICA, MOM, MFA.
Moreover, you must also know that the Malaysia embassy does not offer nor does translation. Instead, they can advise you about getting the best translation services in Singapore. If you desire to have Malaysian to English translation services, the most recommended translation service provider as said by the Malaysia embassy is SingaporeTranslators.Com. 
Services Offered By The Embassy of Malaysia to The Malaysian People for high commission use?
The embassy of Malaysia in Singapore offers the following services which are as follows:
When people from Malaysia visit Singapore for some reason, they advise them to get documents translated for the ministry of foreign affair. They even tell them where to get translation services for their important documents.
If any Malaysian origin people lose their important documents like driving license, work permit, educational certificates, the Malaysia embassy provides them with a replacement copy of the misplaced and lost documents.
Malaysia embassy also provides help to its country people in the state of natural calamities and accidents. Moreover, they also provide legalization assistance to the people of Malaysia also.
They are also responsible for keeping birth records and birth registration of the Malaysians staying in Singapore.
How to take advantage of the Malaysian Embassy Singapore Translation Services?
You can take the advantages of Malaysian embassy translation services in the following ways:
Discuss with the embassy officials:  If you think you are in need of document translation, then you can walk to the office of the Malaysia embassy. You can talk and discuss with the officials there about knowing which documents are necessary to translate and which documents are not required to translate. They will even advise you which translation company to choose for translation.
Talk with the translators at the recommended translation company: After you get the identity of the best translation company from the embassy officials, you can talk with them online. Most of the embassy officials in Singapore have always trusted SingaporeTranslators.Com for offering unmatched translation services for more than a decade. You can talk with the translators at SingaporeTranslators.Com and tell them in detail about your entire translation requirement. After hearing all your needs and requirements they will come up with a suitable solution.
Do Online Research: You can even check for yourself about the accurate translation services you will get in Singapore. After researching a lot online you will see that SingaporeTranslators.Com is the best one to provide accurate Malaysia embassy documents. You are able to get cheap Malaysia embassy translation services from the Singapore embassy translators at cheap prices.
Best Singapore translation services for the Malaysian embassy 
The professional document translators at reliable translation companies like SingaporeTranslators.Com offer all types of translated immigration documents in Singapore. They provide accurate, Singapore translation and notarial services for Malaysian embassy documents with 100% accuracy. If you have translated your documents from our company then your documents are fully acceptable by immigration and ICA officials.
Following are the areas in which they offer the translation services, which are:
All-Inclusive Translation:  All types of Business, marketing & personal identity document translation.
Technical & Medical Translation:  Translation from the Malaysian language to the English language of various technical and medical documents is provided. This includes the translation of medical reports, medicine prescriptions, medical terms, etc.
Notarized Legal Document Translation:  You will get the translation services of legalization documents and other notarize translated documents. The translation is offered at documents like marriage certificates, death certificates, divorce notices, business contracts, wills, power of attorney, etc. These documents need translation after you migrate from Malaysia to Singapore.
Finance Related Document Translation:  If you want to open a new bank account in Singapore, but have documented only in the Malaysian language then you should definitely go for translation services of all your financial documents. The team of professional translators offers translation of varied financial documents such as your payslips of a past company, account reports, insurance policy documents, bank statements of Malaysia banks, etc.
Academic & Educational Translation: Translation services are also applicable to Malaysian students who are in Singapore for higher education. Academic documents, past academic certificates, application forms, acknowledgement letters from the Singapore colleges and universities, etc are translated by the native translators in Singapore.
No 1 Online Translation Services for Document & Legal Translations in Singapore.
Moreover, if they need a translation of notes and study materials in their native language for better understanding then these superb translation professionals offer accurate translation in the academic and education field too. Singapore Translators also provide Malaysian birth certificate translation services in Singapore.
Translators for Malaysian embassy documents fulfil with various benefits
There is nothing but full of benefits you will get at SingaporeTranslators.Com. The translators provide crisp & clear and professional document translation services for Malaysia embassy documents. It can be a business document, legal document or academic document. For the best-translated copy of the Malaysian embassy birth certificate translation, the native translators are always there for your service.
On the basis of the following benefits you get, you can choose the translation for Malaysia embassy. The benefits are as follows:
Authentic & Flawless Translation: You will get top-rated authentic and genuine document translation which very much trusted by lots of customers. This is because the translated documents are flawless and do not have any errors. In the case of services for Malaysian embassy translate, the certified Singapore translators at SingaporeTranslators.Com provide document translation in more than 100 languages including the Malaysian language into the English language. Which is embossed & signed by SAL.
Use of Perfect Tone:  While translating the document use of a perfect and accurate tone is very important. Only native translators can offer Malaysia embassy document translate using the proper tone. So, you will reap the benefits of a translators' service that is proficient in both the source and target language.
No-Twist Of Source Information: The translation of Malaysian embassy documents in Singapore is done on the basis of your requirements and urgency. Our team of translation professionals assures to offer flawless and authentic document translation. All the translation is carried out without twisting or makes unnecessary changes in the information given in the original information of the document.
Recognized By Various Organisation: All the translated documents translated by SingaporeTranslators.Com is fully accepted and recognized by the Embassy of Malaysia, ICA, MOM, etc. The Malaysian translator For ICA  also offers translation of immigration documents at SingaporeTranslators.Com. Moreover, certification is also provided for your entire translated document. There is also notarized translation offered in all the translated documents of immigration, embassy, PR application in Singapore, visas, work permit, etc.
Conclusion
Therefore, SingaporeTranslators.Com is the best place to translate Malaysian embassy documents in Singapore. Here, you get an accurate and authentic translation service. In Singapore, you will get the translation for the Malaysian embassy at an affordable price from those native Malaysian translators.  You can have all the translation services within your budget.
Moreover, when you are getting the translation done at cheap rates, then you should definitely be assured that the translated documents will be delivered at your email address within the decoded period of time.