Malaysian Birth Certificate Translation service in Singapore is available by Singapore translators. If you are searching for a reliable translation company in Singapore for converting your Malaysian birth certificate in English or another language, Just contact us and hire a certified translator. You can also take public notary on translated document.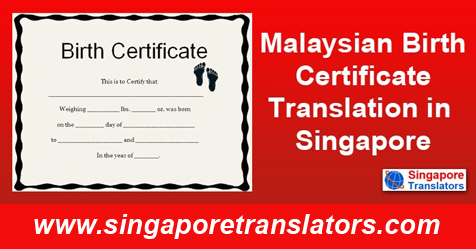 Malay Birth Certificate Translation Services in Singapore
Getting Malaysia birth certificate translation in English or Chinese is necessary for numerous activities. There are different rules and necessities depending on Singapore and the reason that you require your document translation.
Every time that you require birth certificate translation services, you can constantly count on Singapore Translators to be there to deliver. It is significant for us to make certain that you get nothing but the most excellent language translation services so far because we know how significant these documents are to you.
In most cases, we present certified translation services from diverse languages into English, but just in case you need it translated to some other language, we can also do that for you with ease.
Some cases when you may need a translation of Malay birth Certificate
As Malaysia is expanding in its languages, it may be necessary that a person seeking benefits, filing lawful documents, or getting a married present a birth certificate in that area control dialect. Local governments & magistrates will frequently require that a Malaysia birth certificate translation in Singapore be presented when filing any legal certification. Only those translations which have been certified will be measured valid. You may also require having a birth certificate for:
Hospital Services
Adoption
Will & Testaments
Custody Filings
Proof of Paternity
Employment Promotions or Transfers of Employment
Hire a Language translator for converting your legal & Other Documents.
Certified Malaysian Birth Certificate translation for legal purposes
Birth Certificates have to be specialized in order for them to be considered genuine. Where a person can have a birth certificate translated for their individual records with no certification, the document has no lawful merit. Only official translation of a birth certificate that has been notarized or stamped as being a licensed copy can be presented for lawful purposes or for verification of personality. For genuine translations, you can hire trusted translation services from Singapore
Where can I get Malaysia's birth certificate translation in Singapore?
When seeking a translator for a Malaysia birth certificate translation in Singapore, you must look for an organization that has the familiarity and certifications do perform the job. The agency must be well rounded in their language selections accessible and have years of knowledge in handling both legal in addition to domestic document translation. If you are looking for document translation online, ensure that your document will be sent through a safe source. Remember, this is your individuality. Do not give it away to just anybody.
Frequent Asked Questions for Malay Birth Certificate Translation
Certified Translation v/s Normal Translation, Which one I should Choose
Malaysia's birth certificate translation in Singapore is frequently necessary for government associated activities. The government simply recognizes certified translation services in Singapore. Therefore when getting a birth certificate translated, you require understanding what it will be used for. Do not waste your cash getting a translation that is not certified, when you need a certified translation.
What is the price of Translating Malaysian Birth Certificate in Singapore
  Prices for a certified Malaysia Birth Certification Translation In Singapore will vary based on the town, language and the translation organization you're using. Based on our research, if you're using an expert translation service, your pricing will range from $70.00 to $130 +GST for every birth to the translated. If you have numerous certificates to be translated, then we will offer a discount.
How Much Time it takes to translate
The average turnaround for Malaysia Birth Certification Translation In Singapore is 5 to 7 business days. Numerous agencies will complete the work quicker if requested, but be alert that many agencies will charge a rush fee. This fee can be up to 50% of the cost of the translation. Consequently, it is in your best interest of the organized and to offer the translation agency with ample time for the completion of your translation.
The procedure of Translation Services
The procedure for getting your translation is fairly simple. Do not provide the unique birth certificates to the translator. It is sufficient to offer a stand copy of your birth certificate by e-mail. This can be done via email or the upload facility on a number of sites. Payment is necessary for advance for most agencies. A certified copy will be sent to you by e-mail and Post.
What other certificates we can use to show identity
Because a birth certificate helps to validate who you are, they are not just given out to anybody who asks for them. You will be necessary to confirm who you are when you try to gain a birth certificate. Normally, you are necessary to present one or more of the following:
Valid Picture ID (This can be a driver's license or a passport)
Bill with your name on it
Proof of Residency
Social Security Card
Marriage Certificate
Of course, if you are trying to get any of the above, there may be several difficulties if you do not have at least one of the items. If you fall into this class, consider gets a certificate of a parent showing your family.
Hire a Language translator for converting your legal & Other Documents
Hire Translator to Translate your Malay Birth Certificate on Urgent Basis
Our corporation has years of knowledge with every member having a minimum of 5 years of translation. As we are based in Singapore, we are different in the language of that region. We present 30 different language translation options.
Should you have any questions regarding how to translate your birth certificate, please let us know? To find out more about our company, please contact us directly on our email id. We also provide Malaysia embassy Singapore translation services at low translation service costs.