Translation services in Johor Bahru and other cities and towns in Malaysia are hugely depended upon online. Law firms of Malaysia which are dealing with foreign immigration cases need legal translation services in global languages. Moreover, when immigration cases and other legal cases come from other countries at Malaysian high courts then the legal professionals look out for Malaysian high court translation services at cheap prices. The individuals who have various types of business need to have translation services to complete various legal formalities.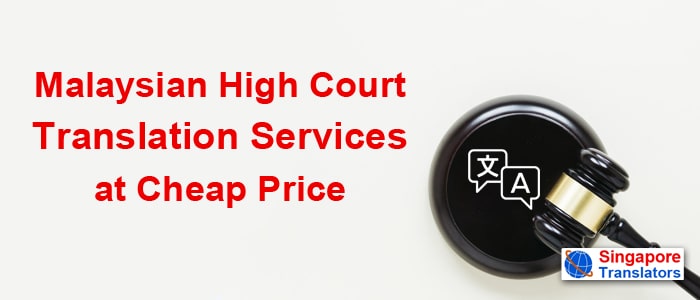 They need legal translation services to expand their business legally into a foreign market. So, to fulfill all the legal requirements getting covered you need to get exclusive high court translation services at cheap prices. 
You can get quick and genuine high court and other legal translations from the legal translation experts online. In Malaysia, the translation services seekers prefer to get court certified translation online especially from the best translation companies.
If they are handling immigration and court-related cases from Singapore then the preferred translation service provider is SingaporeTranslators.Com. This is the best translation company to provide global translation services to all countries, especially in Malaysia.
All types of translation services are provided to the clients and customers who are based out in Malaysia. If these clients and customers need court related and legal translation services then this translation service provider offers the best help from qualified translators to get Malaysian high court translation services at cheap prices. 
What are the Malaysian High Court & Legal Translation Services Singapore Translators Specializes?
The Singapore based translation company called SingaporeTranslators.Com offers all types of legal and high court orders translation for every need. The team of qualified and experienced native translators provides the best translation services for various legal and high court-related cases in Malaysia.
They provide the best translation services because they understand the legal terms used in various countries. They are also well aware of the legal terms used in Malaysia legal and court system. 
Thus, when you contact SingaporeTranslators.Com for services like Malaysian high court translation services at cheap prices then you will get affordable translation from those legal translators who are native to the target Malaysia languages like Malay, Chinese or Tamil.
Moreover, they are also staying in Singapore and working as a professional legal translator and is also very experienced in translation and law. 
The legal translators at SingaporeTranslators.Com offer various types of court translation services which are:
All types of certified legal document translation. 

Court interpretation. 

Genuine legal translation for immigration which is 100% accepted by USCIS. 

Accurate translation of affidavits and legally bound contract paper translation. 

Translation of Civil lawsuits. 

Sworn translation or certified translation with free notary. 
Moreover, the Singapore translators also offer certifying any legal document translation of documents like passports, adoption papers, driving license, legal name change documents, birth certificates, marriage certificates, educational documents, medical documents, etc. 
Therefore, certified translation services of the above legal and court documents are available at cheap prices at SingaporeTranslators.Com. 
What are the Benefits of High Court Translation Services You Get at SingaporeTranslators.Com?
The benefits of taking high court translation services at SingaporeTranslators.Com are discussed below which are:
Translation in Multiple Languages:
At SingaporeTranslators.Com, you will get multilingual translation in any language you desire. Here the translators offer translation and localization of legal and court documents like marriage certificates, birth certificates, power of attorney, wills, land settlement documents, a legal document in form of emails, videos, and other formats, etc.
Hire a Language translator for converting your legal & Other Documents.
Accurate Translation with Proper Tone:
If you want these documents to be translated in English to Chinese or Malay or Chinese of Malay to English, you will get the documents accurately translated by the native translators. They translate it with the use of the right tone of both languages. 
Thorough Maintenance of Translation Quality: 
All the translated Malaysian high court and legal documents are checked for quality using editing, proofreading, and revision. This is done to make sure that the translated document is free from errors and mistakes of any type. 
Cheap Translation Services:
All the translation is done by cheap prices which are quite affordable.  Moreover, you can translate all types of court documents at the prices which are suitable for your budget. Thus, the prices paid for the translation services are not only cheap but also delivered at your email address within the deadline.  
How Cheap is Malaysia High Court Translation Services is Offered?
When you tend to seek online Malaysian high court translation services at cheap prices, the only reliable and cheap translation service provider is SingaporeTanslators.Com. Every time they offer cheap deals and discounts to lower the cost of the court and legal document translation services. 
This translation company has been in the business of providing cheap court and legal translation services for the last 20 years.  The Singapore translators here know that another name for time is money, so they provide such cheap translation deals to translate the documents quickly and charge as low as $20 per page without compromising the quality of the translated documents. The translation cost is kept low to retain the clients and customers seeking cheap legal and high court translation services. 
All over Singapore, none can beat the prices offered at SingaporeTranslators.Com. Moreover, the translation price is even lower if you pay by words. This means translation cost is calculated as per the total number of words translated in a legal or court document.
In general, at SingaporeTranslators.Com, you will pay the cheapest translation cost in terms of words as low as $0.12 per word. This is the lowest price you will find at this translation company. 
Conclusion
Malaysian high court and legal document translation services at a cheap price are only found at SingaporeTranslators.Com. You will also never be compelled to pay extra charges like the delivery and processing fees. Nor you will be also forced to pay any hidden charges. Thus, hire SingaporeTranslators.Com for cheap Malaysian high court and certified legal document translation.