Translation of mandarin documents in English and vice versa is fulfilled by Singapore translators. Singapore-based mandarin Chinese translators can translate your documents with public notary and SAL. Our native translators guaranty you to provide error-free translation of any document
Mandarin Translators Ensure you provide an exact translation                                                                                                                           
 Birth Certificate
Driving License
Court Orders
Divorce Certificate
Academic Papers
Marriage Certificate
Death Certificate
Academic Degrees & Certificates
Employment Pass, etc.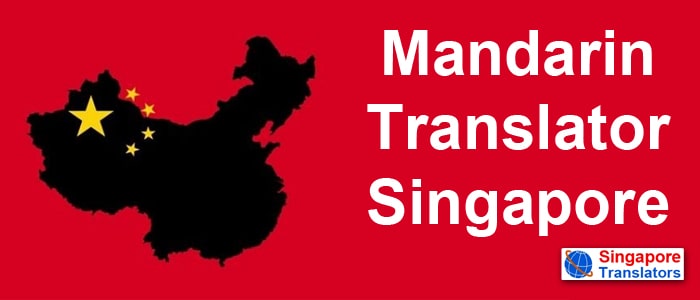 Where Can I get Mandarin to English Document translations
Mandarin translators in Singapore offer accurate and cheap translation services in Singapore. They provide all types of translation services for Chinese documents especially for the Mandarin dialect online. In Singapore, you will get the translation services of Mandarin translators at various translation agencies. The best and renowned among all Singapore's translation agency is the SingaporeTranslators.Com.
SingaporeTranslators.Com offers Mandarin translation services for more than two decades. It is one of the well-acclaimed and established translation service providers in Singapore. The customer base is huge and it spreads in every part of the globe. Mandarin translator at SingaporeTranslators.Com offers Chinese translation of documents that are in Mandarin.
Translate Mandarin documents in English with Notarization
Mandarin is the popular Chinese dialect which is the official language of the People's Republic of China and Taiwan. Mandarin Chinese is currently spoken by 1.12 billion speakers globally. Most of the native Mandarin speakers settle are settled outside China and Taiwan. These are the peoples who greatly need Mandarin translation services in Singapore because most of them come to Singapore for travel, job, business, and education and also immigrate to Singapore permanently.
Their documents are in Mandarin dialect, so if they want to use it in other countries like Singapore then they need help from Mandarin translators in Singapore. Mandarin translators offer translation of documents from Mandarin to global languages like English. The Mandarin translation services are available at a certified translation company in Singapore.
Online Services for converting documents from Mandarin to English
Since the past few years, business relationships between China and Singapore have increased. More and more people in the Mandarin dialect migrate to Singapore for better life opportunities. So, if you go to distant countries, then your mandarin documents are of no use. Instead, you must translate all your documents from the Mandarin language to English or other languages of the target country.
Get Fast & Accurate official notarization for ICA, MOM, MFA.
If you are traveling from China to Singapore, it is mandatory to have an English translation of documents. When this type of situation arrives, the demand for having the services of Mandarin translators increases. The translation services of Mandarin translators are popular especially among the Mandarin people traveling to Singapore. Mandarin translators offer to translate all types of documents from Mandarin Chinese dialect to the global English language.
Will you do my mandarin document translation in English at cheap cost
Mandarin Chinese is a difficult language that is quite hard to understand. Legal and official documents that are in Mandarin will be confusing and full of errors if you try to translate them all by yourself.  Even if you get any random machine translation, it would be of no use. Hence, professional Singapore Mandarin translators at online certified translation agencies like SingaporeTranslators.Com are eligible and best to provide all types of accurate and flawless mandarin dialect document translation since they are the native Chinese translators in Singapore.
Mandarin translators in Singapore are definitely the right choice for the translation since they understand the Mandarin dialect and its tone very perfectly. So, when they translate the Mandarin texts into English, the result is awesome and flawless.
Technical & Other Documents Mandarin to English Translations
Singapore based native Mandarin translators translate all types of documents which includes:
Official documents: immigration certificates, passport, visa, etc.
Legal documents: divorce decree, oath, will, power of attorney, land settlement, birth certificates, marriage certificates, educational certificates, etc.
Medical documents: Medical reports, prescriptions, hospital promotional magazines, etc.
Business documents: Marketing & Advertising materials, business proposals, promotional magazines and videos, flyers, etc.
Personal documents: letters, educational certificates, driving license, identity cards, etc.
Best Mandarin Translators with Notarization & SAL Facility
If you get the right and perfect translation agencies for all your translation needs, the quest to get the best Mandarin translator also comes to end. In Singapore, online translation agencies like SingaporeTranslators.Com are the most renowned ones to offer the best and accurate translation services in all the global languages. So, if you need a Mandarin translator to offer all types of best Mandarin document translation services, SingaporeTranslators.Com is the right choice for you.
Hire a Language translator for converting your legal & Other Documents.
If you see that these Mandarin translators offer timely and accurate help, choose them. Moreover, at SingaporeTranslators.Com the Mandarin translators which offer cheap and notarized translation help, it is best for your translation needs.
Why Mandarin Translators Translation Services Are Best?
Following are the reasons which prove Mandarin translators are best in translating Mandarin to the English language, which are:
Affordability.
Accuracy.
High Quality & Error-Free.
Extra Services of Editing, Proofreading, and Revision.
Use of Right Tome & Language Understanding.
Conclusion:
Authentic and accurate Mandarin texts can only be translated by professional and experienced Mandarin translators. Mandarin translators can also act as sworn translators in Singapore especially translating legal and oath documents from Mandarin to English. Thus, hire cheap and perfect Mandarin translators in Singapore at SingaporeTranslators.Com.