Singapore Translators provide certified and officially approved Marketing and Advertising Translation services in Singapore for ICA officials. We are leading translation services in Singapore which covers more than 200 languages like Malay, Chinese, Japanese, Spanish, Thai, Korean, etc. We are leading translation services in Singapore which serves quality Marketing and Advertising Translation services at low translation service cost.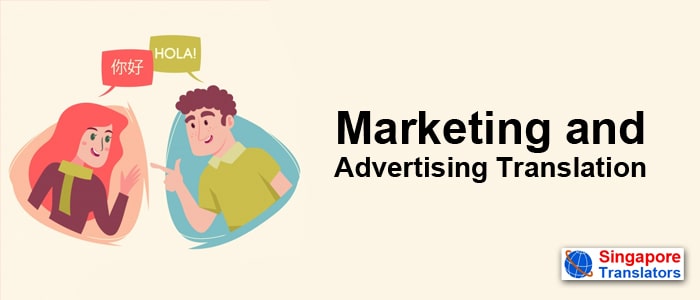 Hire a professional translator for Marketing and Advertising Translation needs
Translation services in Singapore are very important, especially in the business world. If you want to make sure that your company's products and business reach to the foreign clients and customers' translation of marketing and advertising, take marketing and advertising translation help from professional Singapore translators.
Most of the big brands and companies do marketing and advertising of their goods and services in foreign countries by translating the company's product & service broachers, promotional magazines, advertisements, promotional videos, etc.
Therefore, for flawless product marketing and advertising, hire good translation companies in Singapore like SingaporeTranslators.Com. You must take help from the professional translators to avoid any type of disaster while launching your products and businesses in the international market.
Treat Marketing and Advertising Translation as Your Most Urgent Needs & Requirements!
You must take marketing and advertising translation services to avoid any type of interpreting mistake. You can take examples from big global brands where though they had the biggest budget for commercial marketing and advertising of their goods and services.  But, still, a single mistake of hiring poor translation services has cost them very heavily.
Hire a Language translator for converting your legal & Other Documents.
For example, in the case of the US beverages giant – "Pepsi", they have launched the soft drink in China with their slogan "Pepsi Brings You Back to Life".  The launch was not successful since in China the slogan was translated as "Pepsi Brings Your ancestors back from the Grave." Even when a cosmetic brand called Clairol launched a curling iron by the name of "Mist Stick", it was not accepted positively in Germany since "Mist" is a slang word for manure.
Therefore, to avoid interpretation mistakes and inappropriate tone translation you must treat taking marketing and advertising document translation as your most urgent need for successful business expansion in Singapore.
High-Quality Marketing & Advertising Translation Services from Singapore Translators
Only at the premium Singapore based translation companies like SingaporeTranslators.Com, you will get high-quality marketing and advertising translation services from the professional translators. The type of best translation services you will get in areas of marketing and advertising are as follows:
Expressing Marketing & Advertising Message in Perfect Tone:  The professional Singapore translators offer to translate all the promotional documents of your product and services by choosing the right and appealing message along with an appropriate tone. They make sure that the translated advertising and marketed message is expressed in the right way and in a more significant manner.
Moreover, translation is done only by the native translators of the target language. So, that also gives you assurance of successful execution of message so that the target customers and clients accept your message positively. Moreover, these professional and experienced translators will never repeat those mistakes which the brands of Pepsi and Mercedes- Benz did in the past.
Translation Based On The Mindset of The Target Customers:  The language and culture might not be similar if you are doing marketing and advertising translation for the peoples of the foreign country. This is very well understood by the Singapore translators at SingaporeTranslators.Com. So, when they translate documents, promotional magazines, broachers, and company handbooks, etc the professional translators read the source words carefully and carefully understand the language tone.
Hire a Language translator for converting your legal & Other Documents
Moreover, the translator's constructs and translate the marketing and advertising documents by keeping mind to the cultural context of both the source language and target language. In this manner, you can expect high-quality language translations from SingaporeTranslators.Com.
Providing Services For Probable Mistakes in the Nick of Time: The hired translators from SingaporeTranslators.Com constantly communicate with you unless and until they fully provide a high-quality translation. If you are not happy with the sample document of marketing and advertising translated campaign, then you can talk with them about your doubts. They will thoroughly track all the probable mistakes and errors by editing and proofreading and fix them as soon as possible.
Professional Translation Services For All Types of Marketing & Advertising Documents: The professional translators at SingaporeTranslators.Com offer translation services of popular marketing & advertising documents. They offer to translate for all types of big, medium and small businesses. They are experts in translating brochures, leaflets, flyers, translation of company websites, labels, slogans, taglines, and packaging. They also offer translation of marketing strategies & marketing plan documents, press releases, launch events, and media plans.
Best Language Translation For All Businesses: The talented translators at SingaporeTranslators.Com translate all the marketing and advertising documents keeping mind about the refinement and shade of a language and tone. This is the reason SingaporeTranslators.Com hires only the native certified translators at your service. Moreover, while translating documents from one language to another they are familiar with the terminology of both sets of languages.
Conclusion
All types of business companies need effective marketing and advertising translation services. So, the ultimate destination to get flawless translation services, hire affordable and best Singapore translation professionals online at SingaporeTranslators.Com.