Singapore Translators provide certified and officially marriage certificate translation in Singapore for ICA . Our esteemed translation service covers more than 200 languages like Malay, Chinese, Japanese, Spanish, Thai, Korean, etc. We are leading translation services in Singapore which serves quality marriage translation services at low translation service cost.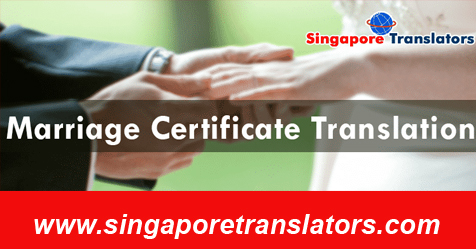 Marriage Certificate Translation Services in Singapore By Expert Translators
Your Marriage Certificate translation is a necessary step to getting local citizenship for you and your relatives. Whether you have immigrated from abroad or have brood born outside of the nation. Our Marriage Certificate Translation Services cover over 100 languages, making us a top provider of certified Document Translation services. Whether you have moved abroad or you just come about to have your wedding celebrated.  Our marriage certificate translation services will ensure to offer you with a marriage certificate in English or vice-versa.
The Marriage certificate translations by our agency in Singapore approved by the courts and similar authorities in Singapore. To request a quotation or to request for information regarding your Marriage certificate translation please contact us, and one of our team reach you as soon as possible.
Singapore Translators offers accredited and officially certified translations of marriage certificates in more than 200 languages. Our marriage certificate translation service certified for lawful usage and accepted by the system such as the Home Office or Courts of Law. We decode the certificate and equal the layout and look of the original text.
Whether you have moved to the US from abroad or were lucky enough to have your wedding proceedings on a glory island, & your documents are in an overseas language or require your English certificate translated into a different language, our marriage certificate translation service will efficiently adopt your papers from or into one of the 200 languages we include, keeping the innovative look of the marriage certificate and legitimately certify the paper, ensuring that it is accepted and recognized by authorities.
Get Fast & Accurate official notarization for ICA, MOM, MFA.
Fast marriage certificate translation services in Singapore
Immigrants to the US will usually be necessary to submit papers for all kinds of procedures made under the Immigration Bureau's workplace. All documents submitted should be in English, or if otherwise, should be accompanied with the full English translation.
All translations should certify as complete and precise. This is to fulfill with the requirements of immigration-related procedures not only in the US but also in other countries where English is the certified language. We at Singapore Translators also provide immigration document translation services for people moving to the different countries.
Getting a marriage certificate translated to English is getting easier these days, due to technological development (internet and computers) and the increase in the number of expert translators. There are also more translation service providers nowadays than in the past. And we are one of them we are the leading translation service provider in Singapore.
Highest Quality and Adept Marriage Certificate Translation Services
You can find marriage certificate translation 100+ International languages through our simple platform. We have translated lots of papers such as marriage certificates and other legal credentials with 100% guaranteed authorization from authorities.
For marriage certificate translation, we offer high accuracy, excellent quality and quick delivery within 24 hours after uploading your files
Two of the ordinary principles followed at Singapore Translators are correctness and precision. Singapore Translators makes this achievable with the support of professional and specialized translators and linguists who are not just subject matter experts but also hold believable qualifications in their areas of language proficiency.
Numbering well over 5000, these professional linguists translate in more than 100 worldwide languages and have delivered over 30,000 translated papers so far. The perfect and exact services for translations that these linguists deliver are a testimony to the specialized approach with which they work.
Hire a Language translator for converting your legal & Other Documents.
Why Choose us for Marriage Certificate Translation Services in Singapore?
At Singapore Translators, we have an obsession for what we do, and we believe in offering high-quality translations services. Our company's achievement has built on having deep familiarity and understanding in every industry we serve.
Language translation services Singapore and understanding highly dedicated services that need proper training to get the proficient quality expected in the business. We are much conscious of the risks associated with using inexpert translators and interpreters including the high possibility of the message getting changed in the conversion.
We delight ourselves on the fact that we use very trained translators and interpreters and we work solely with Certified Translators and expert Interpreters. ALL of our Native Certified Translators are qualified by a provincial or nationwide certifying body in Singapore. This means that papers translated by Singapore Translators accepted without the need for notarization.  It also doesn't need confirmation because certified translations completed by Certified Translators.
Complete Translation Service Delivery
The translation of marriage certificates in other languages is barely a hard task for the professional linguists at Singapore Translators. But papers are not the only thing that translated by these professional linguists. In fact,
Singapore Translators present a comprehensive translation solution for an extensive range of services. These are Academic Translation services, websites, desktop-publishing, software, and apps. Besides that, the companies for which these services made belong to a diverse array of industries. These industries are legal, entertainment, and medical, finance, business, manufacturing, retail, and engineering.
This extensive service offering makes Singapore Translators one of the most expert translation agencies. Perfect choice for getting marriage certificate translation services in Singapore
FAQs
Q1. What is the validity period of marriage certificate translation?
We do not provide a marriage certificate translation service with any specific validity. Since the marriage certificate translation document will remain valid until the expiry or change in the original documents.
Q2. Is it possible to use wedding certificate translation in a digital format?
We do not have a predefined format for wedding certificate translation. The client chooses formats, as all of us are aware that the requirements of individual clients can vary. Our translation agency provides the document to you in different formats, including PDF, Word, Excel, PowerPoint, HTML, etc.
Q3. Is foreign marriage certificate translations that you provide of a certain quality?
Yes, the marriage certificate translation provided by our translator comes with the highest level of quality. All the credit of high-quality goes to our dedicated team of translators. Since they are skilful enough to deliver high-quality translation at a reasonable price and make sure the translation is delivered timely.
Q4. Do your translators hold any expertise in translate marriage certificates accurately?
Yes, our translators hold great expertise and a vast year of experience in translating marriage certificates accurately without compromising deadlines. No matter you are willing to get your document translated into any language, our team of translators has got you covered and will make every effort to meet your translation expectations.
Q5. How should a translation of foreign marriage certificate translation be formatted?
In our experience, client-specific formats can vary greatly, and we have no predetermined format for foreign marriage certificate translation. The client selects the format that is appropriate to them. If you are concerned about the format in which we provide translation of foreign marriage certificates, we have many formats to choose from, including PDF, Word, Excel, PowerPoint, HTML, etc.
Q6. How do you guarantee the confidentiality of this official translation of the marriage certificate?
As part of the translation service package, customers are offered a confidentiality agreement that guarantees the confidentiality of their personal information while their marriage certificate is getting translated. By doing so, we ensure that customer information is secure and implement measures so that unauthorized access cannot be granted.
Q7. How many days will be taken to translate the marriage certificate?
You won't be able to determine how many days it will take to acquire the marriage certificate translation. This is because it entirely depends on the word count and files you are translating. So at some point, it becomes typical to express a specific date to get the translation. Despite that, our professional translators can complete the project well before the specified deadline quickly.
Q8. Do you provide any discount in translate wedding certificates?
Yes, we provide you with great discounts and deals when it comes to bulk translations. If you would like to get additional information, please feel free to reach out to us at info@singaporetranslator.com.
Q9. What will be the price of wedding certificate translation?
The estimated price will depend on the file type, the level of skills required, and the nature of the document. The translation price varies depending on these factors. The inclusion of additional translation services with a word translation, such as proofreading, editing, notarizing, etc., may result in a price increase.
Please be aware that urgent translations may incur additional charges.
Q10. Does foreign marriage certificate translation use any translation software?
No, we don't use any translation software or anything similar to deliver your marriage certificate translations; neither are we thinking of using any such in future. Instead, we have a staff of highly qualified and experienced translators with vast experience and specializing in providing high-quality marriage certificate translation services.