Certified Medical Manual Translation Services in Singapore
Medical Manual Translation Services are some of the most imperative when it concerns translation precision and industry familiarity. One small fault in a translation of Medical Manual documents and orders, pharmaceutical information, medical software documentation, & the like – can potentially have a terrible penalty.  There are numerous examples of services and medical professionals who made conversion errors on imported medical device inserts and orders, resulting in a serious consequence where patients were harmfully affected. The fastest, simplest or cheapest method of translation should be the preference for selecting a Certified Medical Manual Translation provider.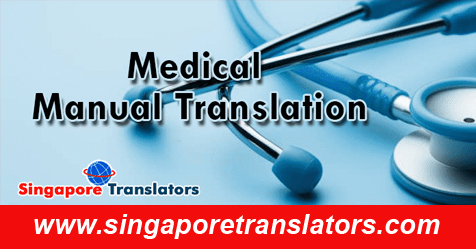 It is very important for all medical Document Translation services to undergo a thorough quality check.  We offer support with medical manual translation quality assurance, whether through numerous stages of editing and proofreading or by aiding our customers with panel or focus group testing.  We get all medical translation projects very sincerely and expand translation services in Singapore.  Our services go beyond the document and language translation procedures.
What do we translate?
The globe of medicine is vast, and so is the whole thing associated with it. But at Certified Medical Manual Translation Services we offer precise, punctual and effective translations of different documents that are provided to us.
Singapore Translators has constantly been providing expert medical translation services to our clients' pleasure in the following areas –
Medical device documents and instructions translation
Clinical study report translation
Medical equipment document translation
Medical journal translation
Insurance claim translation
Patient consent form translation
Hospital discharge summary translation
Pharmaceutical research translation
Handwritten medical information translation
Instructions manual translation
Product specifications translation
Medical chart translation
Medical report translation
Patient information translation
Training manual translation
Prescription Translation
Scientific paper translation
Get Fast & Accurate official notarization for ICA, MOM, MFA.
Mistakes in Medical Manual Translation can be costly
Medical translation fault can lead to deaths. Also, the errors committed throughout clinical trials can setback the release of a significant drug and make the trial all that more costly. Translators might even need to substitute loaded terms such as 'death with something more ethnically appropriate to the target spectators. A simple translation without a good understanding of the culture of the target audience can thus be dangerous.
The need for precise and short medical translation is supreme. As people carry on to live longer and medical research expands, even more, testing texts will need to be translated. At the same time, medical translators will also have to keep themselves modernized on the newest technology and advancements to make sure that they are able to continue adding value to the business.
Knowledgeable Health Care Translators
At Singapore Translators, we are dedicated to providing Language translation services that reproduce the source document's words with 100% precision. Our language experts recognize that there is no margin for blunder when translating medical manual and that is why we only have local speaking translators with a close understanding of health care terms work on health care translations. We bring to every project an understanding of the cultural backdrop and expectations of those who will get your translated paper.
Our company strive to offer you Spanish translations at a suitable price with no compromising the quality. We utilize the most up to date translation process with an exact proofing process which let us produce translations that are reliable and error-free. Our translation tools not used to get translation shortcuts, but to make sure that the terms are consistent throughout the translation. Translation services also enable us to create health care glossaries for clients who take pride in providing a range of service for their Spanish or English speaking customers.
We translate medical papers for a range of uses every month, so we are extremely experienced and capable of offering cheap translation services to our customers worldwide. No matter the amount of the project and its complexity, Singapore Translators is capable and ready to manage for you. Our professional team of project managers has dedicated experience in dealing with any medical document translation mission.
Hire a Language translator for converting your legal & Other Documents.
Why Chose the US for Medical Manual Translation Services?
Singapore Translators has expert translators capable of numerous languages and have extensive familiarity with life sciences and medicine. Our group devoted to providing precise information and offers expert medical translation services. Researchers do not only use our translation services, the healthcare expert and administration, medical device distributors, pharmaceuticals, regularly get in touch with us.
The Singapore Translators language transformation group consists of much-trained professionals that focus on an extensive range of language translation and have an in-depth familiarity and experience about the specific industry. We offer high-quality translations for about every life science and medical sector, with the accessibility of almost all languages. For the most excellent results, Singapore Translators makes sure that every project is given equal significance.  And assigned to a translator that is affiliated with the matter most.
Our bid management system ensures that you offered the most appropriate and also reasonable rates. To make sure the accuracy and quality of any finished medical translation, a second translator assigned to the project for proofreading which gets rid of all chances of errors. Here at Singapore Translators, you can also get education certificate translation services.