Singapore translators offer expert translation of medical reports from the infirmary, medical clinics & physicians. We offer medical report translation services in all languages and from more than 200+ languages into English. translate medical records from Spanish to English, French to English, Malay to English, Chinese to English, etc.
We also offer translation of medical lab results such as MRI scans and blood tests, doctor's notes and medical forms.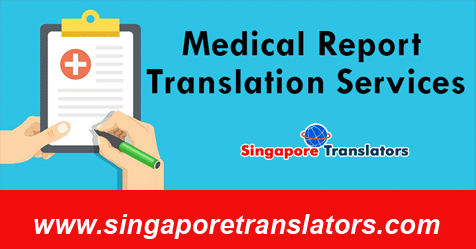 Medical Report Translation Services in Singapore by Expert Translators
Do you require to translate a medical report for a medical study, an insurance claim, for a second opinion or to move a patient to another checkup facility?
One of the problems in translating medical reports is the manner of language. Frequently written by Medical Doctors who are pushed for time, the language can be short at best and is frequently times hard to recognize. Our Singaporean translators have the essential background and are knowledgeable at understanding the medicinal lingo in these reports. Some of our professionals are licensed Medical Doctors in dedicated fields of medication. We provide our Document Translation services at a very cheap cost. We are the leading translation services provider in Singapore.
Hire the Finest Medical Report Translation Services in Singapore
Good and effective translation of medical papers requires more than just translating among two languages. The capability to translate medical reports requires particular training and learning to properly understand the acronyms and terms that exist in medical documents, in addition to training to be capable of precisely translate into a diverse language. When you have your papers translated by somebody who does not possess this particular training, serious and potentially dangerous consequences can arise, opening the access to legal liabilities or other consequences.
Get Fast & Accurate official notarization for ICA, MOM, MFA.
Professional Medical Translator Translates The Following credentials:
The most ordinary medical documents which are generally translated from one language to any global language include health reports, scientific documents, product brochures, medical prescription and several more. Besides these, several other medical papers such as patient information, medical feedback form, medical term glossaries & diagnosis report can also be translated from one language to a different. Also, translation experts skilled enough to Translate Medical reports efficiently within a little time. By providing error-free translation, these experts are contributing a lot to the growth of the medical industry.
These companies not only promise the security of patients but also adhere to business rules and regulations to lend a helping hand to the patients. As Medical Translation Services involve slight information, it highly suggested hiring a trustworthy medical manual translation services agency, which lets you keep away from serious consequences. The translation corporation should have a specialization in the medical business. The Medical Translator should also have in-depth familiarity so that you can enjoy complete translation services for all sorts of related medical papers.
Areas of Expertise and Resources
Our translation squad has worked in thousands of overseas language documentation translation assignment, in subject matters that range from economics, banking, business, insurance, finance, marketing, and promotion to law, government, social sciences, engineering, technology, software, sports, education, journalism, literature, culture and numerous others. We focus on providing Academic Translation services in Spanish, English, German, French, Chinese, Japanese, and dozens of other languages.
Large translation projects are frequently complex and may involve the coordination of a squad translators-editors, managing glossaries, numerous updates, establishing quality events, and follow-up. We are all set to help you out with all your translation requirements.
In numerous cases, customers have come to me after having their medical papers transcribed by a medical transcriptionist, and then interpreted by either a machine or human translator, only to discover that the resulting document turned out to be mistaken. This circumstance typically results in the customer having to spend much more time and funds in order to correct their imprecisely translated papers.
Hire a Language translator for converting your legal & Other Documents.
Why Choose Singapore Translators For Medical Report Translation Services in Singapore?
Expertise:-Our native medical report translators

have proficiency in a variety of medical disciplines, including regulatory concern, and we also present translations in over 150 languages. If you require particular proficiency for your project, please let us recognize so we can match you with the precise translator.

Accuracy:-Translating documents constantly require accuracy, as it saves time and funds and protects your status. There is a better need for accuracy with all medical translations and particularly medical report translation, not least as of the risk to life in addition to the strict regulatory situation that most companies in the business operate. We recognize this, and we don't compromise on precision.
Quality Control:-Following on from the tip above, we have tried and tested quality-control procedures in place to make sure that all translation is perfect. This applies to linguistic basics, but also to make sure that the translation of medical Reports

 is constantly accurate, both technically and ethically. One of the ways we attain this is through the vetting procedure for new translators on our squad. We also have strong management and performance-measurement measures in place.
In addition, you can select one of our better quality-control options for extra peace of mind and even higher levels of excellence. With improved quality control, your document proofread by up to two added translators.
Privacy:-We sign and employ NDAs as standard, as we recognize the importance of privacy in medical document translations in general but particularly in medical report translations. This applies whether the translation directly relates to a patient or to a commercially sensitive concern, such as making a patent request or launching a novel product. We will gladly sign an NDA drafted by you, or if you favour we can offer an NDA for you with our medical translation services

.