Medical translation needs accuracy and up-to-date scientific information by each associate of your translation team. It also needs numerous levels of quality check and a full perceptive of stringent, rigid laws, particularly for the US, the European Union & Japan. Singapore Translators meets the utmost level of excellence in providing Medical Translation Services. We provide certified translation services approved by the local authority. We have professional translators who can handle all kinds of translation work.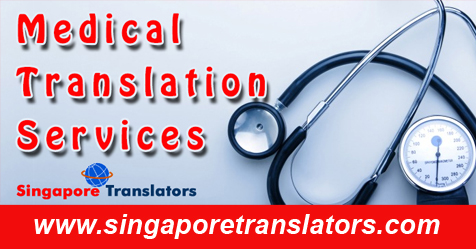 Customers Rely on Our proficiency in Medical Translation Services
Medical business, clinical research organizations (CROs), maker of medicinal and surgical devices, Biotech Corporation and healthcare executive have come to depend on Singapore Translators for translation of their most important papers. Our exclusive methodology that customers depend on always delivers clear, precise translation of high-value information.
The translation is the major element to go beyond linguistic barriers for promoting effectual communication in many languages. Hence, if you practice in the medicinal field and want to increase your services across borders, you will have to have the translation in your kitty. With years of knowledge of talent, our group can help you with precisely what you are looking for. So, select us today.
Kinds of Medical Documents We Transform
Package Inserts and Labels
Adverse Events
Case Report Forms (CRF)
Patient Information
Clinical Protocols
Patient-Reported Outcomes (PRO)
Clinical Trials
Patient Recruitment Materials
Contracts
Pharmacological Studies
CRA Training Materials & Videos
Product Labels
Data Sheets
Production Manuals
Dossiers
Protocols
Drug Registration Documentation
Questionnaires
Informed Consent Forms
Quality of Life (QoL) measures
Instructions for Use (IFU)
Rater Scales
Investigator Brochures
Regulatory Audit
IVR
Regulatory Documents
Manufacturing Process Descriptions
SAE and SOP Procedures
Extremely competent Medical Translators for all main Language
Singapore Translators offer expert life sciences translation services throughout a devoted team of very capable language translation expert who has extensive familiarity within an extensive range of medical & life science sectors. Our Documentation translation services are frequently called upon by medicinal, pharmaceutical & healthcare services, medical device distributors and company, individual healthcare experts & administrations, and numerous others.
Get Fast & Accurate official notarization for ICA, MOM, MFA.
The Singapore Translators language translation squad includes numerous expert translators who focus in an extensive variety of languages and industry-specific familiarity and knowledge.  Premium medical translations are accessible for about any pair of words, & nearly some medical or life science division.
The exclusive industry procedure that we have in place makes sure that every project is awarded to the most appropriate translator. Singapore Translators unique management system makes sure that you get your work done for the most excellent rates. We also have a possible quality assurance system and editing and proofreading services in place, where an expert proofreads a complete medical translation to make sure it's quality and accuracy.
Singapore Translators has always been providing expert medical translation services to our clients' pleasure in the following areas –
Medical equipment document translation
Medical chart translation
Insurance claim translation
Clinical study report translation
Medical journal translation
Handwritten medical information translation
Hospital discharge summary translation
Instructions manual translation
Benefits of Taking Medical Translation Services from Singapore Translators
When a person thinks regarding medical treatment or goods, their focus remains at excellence, security and effectiveness. Thus, you must select your translation service supplier who values similar principles. Serving worldwide customers, we are boasting of huge proficiency that guides us in delivering translation projects with premium, safety and effectiveness. Further, our native translators are knowledgeable with a multilingual glossary of all the medicinal terms.
Data Privacy: The main benefit that you might get by outsourcing the translation services to us is data privacy. We present 100% assurance that your information will remain secure with us, & that it won't be revealed out to any third party.
Quality Control Systems: We follow strict quality control processes that involve passing the translated file through diverse stages of quality promise. All the quality tests are extremely rigorous and deliver high-quality products.
 Faster TAT: We intend to deliver the translated file within an extremely short time frame. Depending on the size of your assignment, we work out the shortest time frame and deliver the work within the committed deadlines.
Medical Terminologies: We work with expert translators who recognize the medical terminologies well and transform the source files with the highest precision.
No 1 Online Translation Services for Document & Legal Translations in Singapore.
Right from taking out the text from the source format to a methodical review by a native-speaking professional, we handle every bit of your translation assignment. Hence, we are the precise outsourcing partner for you, if you are seeking comprehensive and qualitative translation within the shortest probable time frame.