"Hire Native Myanmar translators to translate Burmese texts, and get Burmese language translation services in Singapore"!!
Around 30 million people across the globe speak Burmese which is the native language spoken in the country of Myanmar. The Burmese language is widely spoken throughout Asia, the United States of America, Bangladesh, Singapore and other parts of the world.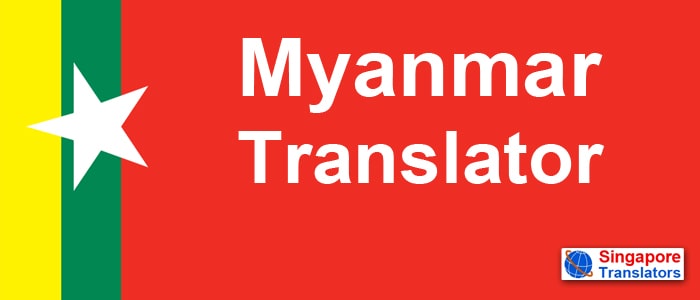 The spoken and written Burmese language is quite different from each other. Written Burmese has historic influences from the ancient Indian language called the Pali language.
Therefore, whenever you are thinking of translating documents containing Burmese texts, hire only experienced Myanmar translator. Only the Myanmar translators have the capability of translating Burmese texts into other global languages as preferred by the customers. You can get translation services from the Myanmar translators in Singapore through online translation agencies like the renowned SingaporeTranslators.Com.
Burmese Documents Translation Services by Myanmar Translators
At SingaporeTranslators.Com, Myanmar translators offer to translate Burmese documents into multi-languages of your choice. This is also one of the leading translation agencies in Singapore to handle all kinds of Burmese document translation.
For the last few years, Myanmar translators at this renowned translation company translate all types of Burmese documents for individuals and various small and big companies. Moreover, the translation cost charged by the Myanmar translators is affordable and not hefty at all.
Hire a Language translator for converting your legal & Other Documents.
All types of Burmese document translation services are provided by the professional native Myanmar translators. The documents translated by them are birth certificates, marriage certificates, driving license, entry permit, banking and financial documents, passports, educational certificates, etc. All types of documents used for official, business and legal purposes are also translated by these Myanmar Translators.
Moreover, they also help the corporate and business sectors by translating company websites, menus, leaflets, flyers, subtitles of videos and many more on the to-do translation tasks as mentioned in the customer's list.
What Types of Quality Translation Services Offered By Singapore Based Myanmar Translators
The professional Burmese Translators or simply the Myanmar translators as commonly known in Singapore offers exclusive translation of multi-lingual translation of Burmese documents. The exclusive translation services are discussed below, which are:
Reliable & High-Quality Translation:  The document translation services provided by the Myanmar translators at SingaporeTranslators.Com are reliable and very much trusted due to its translation quality. All the translators are well- trained and their quality work is strictly checked by an expert quality manager. They make sure that the translated document ensures top-class quality.
Round The Clock Customer Service:  Myanmar translators hired for Burmese document translation, can be accessed via mail, chat, call or even video communication 24*7.  Whatever query regarding your document translation, prices, etc you have, you can freely contact the translators to clear all your doubts.
Hire a Language translator for converting your legal & Other Documents
Multi-Lingual Document Translation Services:  Since years SingaporeTranslators.Com offers Burmese document translation in more than 100+ languages globally. Thus, native translators who have the knowledge of the Burmese language as well as fluent in the target language offer to translate documents that are in Myanmar's local language – Burmese into other preferred languages. If you need to translate your Burmese documents into the Chinese language, then the Myanmar translators offer Chinese translation in Singapore at SingaporeTranslators.Com.
Working Hard To Maintain Quality:  Only professional and experienced Myanmar translators can maintain the top-class quality of the translated Burmese text. This is taken care of by additional services of editing, proofreading and revising. Moreover, they also work hard to carefully check for errors and mistakes and fix them immediately.
Careful Selection of Myanmar Translators:  At SingaporeTranslators.Com, for Burmese document translation, Myanmar translators are carefully selected before hiring for doing any translation project. Experienced and English spoken Myanmar translators who live outside Myanmar especially in Singapore are hired for you.
How to Gain Myanmar Translators Translation Services Online?
In Singapore, you can get the affordable and certified translation services of your Burmese documents. For this, you can take professional Singapore based Myanmar translators by following the below steps, which are:
Find and investigate which online translation companies offer the best services of certified Burmese document translation services by Myanmar translators in Singapore.
After finding the best translation company like SingaporeTranslators.Com, you can fill up the application order form online itself. Moreover, you can also upload your scanned copy of the Burmese document.
Once the Myanmar translators study and review your documents, they will offer you a price quote which is actually very reasonable.
After that, you must pay translation costs online via credit/debit cards, net banking and e-wallets like PayPal.
Once the translators receive the payment, they will immediately start to translate your Burmese texts. Finally, within the decided time, they will mail the translated copy of the document at your email address.
Conclusion
In Singapore, get authentic and accurate Burmese document translation services by professional Myanmar translators. Online translation companies like SingaporeTranslators.Com offers native Myanmar translators who are actually the certified translators for hire of Burmese documents. Thus, hire top-class Myanmar translators for translating all types of Burmese documents in Singapore.