Accurate, flawless and timely delivery of translated name change certificate from the professional translators of Singapore Translators. Multilingual Singapore legal translators translate over more than 200 languages in the Malay, Chinese, Japanese, Thai,  Korean, Spanish, English, etc. The translated documents are also accepted at ICA, Courts, etc.
SingaporeTranslators.Com offers the finest help in Name Change Certificate Translation from 500+ professional legal document translators.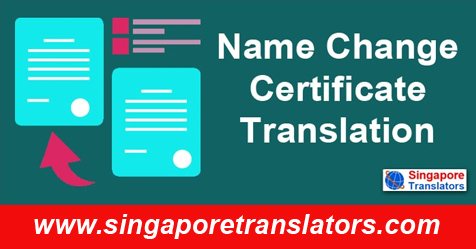 Hire a professional for your Name-Change Certificate Translation needs
Name- Change certificate translation is greatly needed if you desire to obtain a visa to travel abroad. This is needed for those ladies who are married and has changed or added their maiden name along with the surname of their husband. Name change certificate is important to make a new passport or renew your old passport containing with your maiden name. Moreover, documents like marriage certificate are needed to have a name change certificate.
There are various translation companies in Singapore offering various types of translation services for many kinds of documents. One of the most important documents – Name change certificate is also translated perfectly by these translation companies in Singapore. SingaporeTranslators.Com is the most popular translation companies in Singapore to offer accurate translation of name change certificate within the given time. Now, let us check out how Singapore translators offer name change certificate translation services.
Why The Requirement of Having Name Change Certificate Translation Arises?
Name change certificate is required to change or add your maiden name with your husband's name in your passport. Name change certificate is generally issued in your native at your native place.  Thus, if you are migrating or visiting a foreign country you need to translate your name change certificate into the English language.
Get Fast & Accurate official notarization for ICA, MOM, MFA.
This is done because the Singapore Immigration & Checkpoints Authority accepts native documents translated only in the English language.  Along with other ICA supported documents, you need to translate also your name change certificate.
What is the Concept of Name Change Certificate?
After marriage or passport date expiry, a name change certificate is needed for adding or changing your maiden name with your husband's surname in your new or renewed passport.  New applicants of passports and visas must be informed that the principle name or maiden name cannot be replaced. However, you can add your married name or husband's surname as an alias or on below the maiden or principle name.
Applicants, who want to change their name in their passports and other immigration-related documents, must submit a deed or affidavit stating change of name. Moreover, you must submit a translated name change certificate to the ICA officials for visa application or for immigration.
How to Obtain Name Change Certificate?
If you desire to add your married name or legally changed name in your passport, you must submit supported application forms to apply for a new passport. This application is too submitted at the office of Consulate General Singapore.
Hire a Language translator for converting your legal & Other Documents.
You may follow the steps below:
A letter addressed to the Commissioner of ICA requesting to change your name.
Providing your documents like biodata, local visa, and birth certificate, affidavit of the name change, marriage certificate, and Identity card issued in Singapore.
After approval, you will be notified about the delivery of the name change certificate.
Conclusion       
Thus, you now know the importance of translating your name change certificate translation. This translated document is needed for immigration and ICA purposes. Thus, take help from professional translators at SingaporeTranslators.Com. These experts are very experienced in providing accurate legal documents translation like name change certificate translation services in Singapore.