If you are thinking to appoint best language translation services in your area, then it's required to take care of a few aspects to ensure you are not going to settle things just based on time and charge. Occasionally, you are necessary to pay additional expenses in case you aren't analyzing things at the time of appointing a translator. As there are zillions of language transcription service suppliers conferring an extensive range of feature transcription services at market costs, but you need to choose the one that's having an excellent track record when it comes to interest, especially if we are talking about Japanese translation services in Singapore.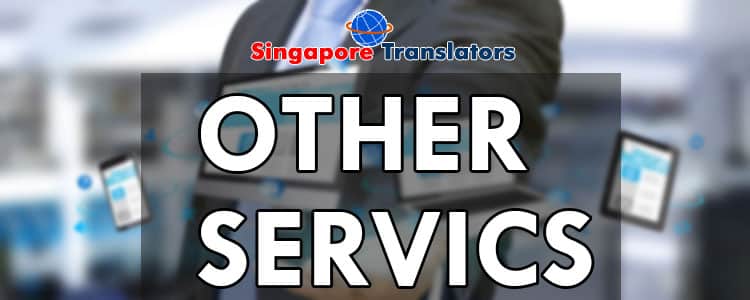 We are a little corporation that has been active from past years now and is enthusiastic about making its way into the freelance globe. Our working method is helpful, professional and cost-effective, we boast of over 1,000 translations from English to Italian & vice versa, and we have the required skills to deal with any type of translation in very fast times.
Here is List of Services We Offer to All Our Valuable Customers across the Globe
General Translations
As not every translation requires specific knowledge, and companies frequently need a quick, practical, efficient and reasonable solution, Singapore Translators provides general translation services at clear and economical rates in over 50 languages. The general translation is not limited to only specific content. General translation comprises slogans, advertisements, pamphlets, wills, books, and something you visualize. When it comes to globalization and industry expansion, each text is unique, and each subject has its individual terminology and vocabulary that should be translated in other languages to be understandable for a global audience situated in other countries.
 Documentation translation services
Our document translation services cover an extensive range of document types including patents, handbooks, income statements, agreement, certificates, business plans, catalog, technical manuals, website text, and cover documents. With every document translation project, we apply a multi-phase quality assurance procedure and utilize the newest translation memory tools to make sure consistency across all documents. We strive to proffer the best, most professional document translation services accessible.
Legal Translations
Our legal translators are based all over the globe. Confident in over 200 languages, we are ready to translate your professional and confidential legal documents giving you the control of communication in every language. As a legal translation corporation, we can offer a wide range of 'best practice' legal translation advice and alternative so your review teams can make significant decisions in the time-sensitive and difficult legal environment.
Get Fast & Accurate official notarization for ICA, MOM, MFA.
Commercial Translations
At Singapore Translators, our expert commercial translators work intimately with your business projects to offer you the best quality translation service for your documents, website analysis, and multilingual translations. Our native experts will work with you to make sure that all your native clients and clientele receive the precise tone of voice that your business requirements and nothing get lost in their conversion. We use precisely the right word at the precise time, which make sure your business stability across your potential clients and clients
Academic translation
Dedicated academic translation services presented by our corporation are one of the most in-demand online services nowadays. Through the years, we have developed an excellent track record in producing a translation with first-class quality and high precision at totally affordable rates. Our expert translators have a wealth of knowledge translating across all educational areas, from medicine to history and the arts. They will change your educational research documents, literary texts and scientific reports into whichever language you wish.
Language translation services
We are a knowledgeable Translation Services corporation with capabilities and expertise to address your global requirements. We adapt language solutions with focus to your particular requirements.
Our professional Singaporean translators are local speakers who have work knowledge in the industries for which they convert. What's more, you'll get quick turnaround times at reasonable prices with no sacrifice of quality.
Other Services We Offer
Logo Designing,
Editing and Proofreading
DTP Services,
SEO & Digital
Marketing Services
Speed & Quality Of Our Translation Service
We deliver the best online translation services, allowing you to get professional translations in minutes, factually! No other language translating organization comes close. Our game-changing mobile translator services inform our pre-approved linguists right away of your translation requests and let them to instantly translate anytime and anywhere, from both mobile devices & desktop computers.
Hire a Language translator for converting your legal & Other Documents.
The internet has transformed numerous industries and demand for expert translation services is shifting online. Businesses now require leaner and more responsive online translation services to meet their 21st-century translation necessities. Next-generation web-based language service suppliers like us that combine quality translation services with course automation are poised to meet this growing conversion demand.
Online Professional Translations Available at Cheap Cost
We at Singapore Translators work with professional translators from around the globe. It gives you access to the familiarity and proficiency for each translation project. Our new platform combines a suitable online ordering system. Also, project management software so you can enjoy outstanding quality, fast turnaround, and grand value on every order!
Our procedure is straightforward, so you can get your project finished rapidly. Also, we have a streamlined system where you upload your requests directly to our team. Once you get, you're a devoted manager who will find the ideal translation team with dedicated skills in your industry. This means that you will get translated content that is ideal for your audience!
One-Stop Translation supplier For All Industries
Our team of professionals allows us to cover all main industries and expert fields.
Expert services that support all language requirements within the fields of Banking and Finance. Our experts provide comprehensive support for Finance and banking related translations.
Translation for a healthcare organization, medical device providers & government bodies also available at Singapore Translators.
Technical and Engineering
Grand quality translation of technical documents, specifications & manuals only available at Singapore Translators
We provide high-quality Expert language services for law firms, also legal team's in-house and educational institutes.
Extensive language services for travel agencies, transportation companies, and more! We also provide translation services to the agriculture industry