SingaporeTranslators.Com provides end-to-end translation services and solutions of accurate passport translation. They provide services to translate notarize and certify your passport to submit at ICA for immigration and visa approval. We have team of 500+ professionals working over 200 languages who will translate passport in Spanish, Malay, Chinese, Thai, Korean, etc.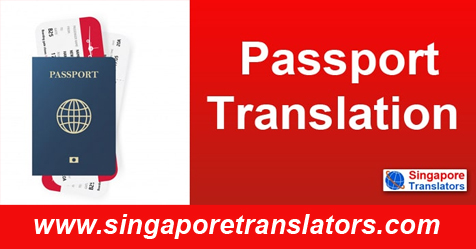 Moreover, online passport translation services also save you from the hassle of making appointments at the law firms with complex formalities to get certified and notarized passport translation. Thus, in this way, you can get done all the formalities and other paper works to go abroad for settlement, work, travel or study.
Hire a Professional to Translate Your Passport In 200+ Languages
Are you traveling abroad for travel, business or for the purpose of completing your higher education in some of the premium foreign universities? If yes, then you must look for the services of passport translation in Singapore. Passport translation is very important because it will provide you protection from any problems faced during your visit abroad. Professional document and legal translators in Singapore offers verified and certified translation services.
A passport is an important official document which is issued by the Government of a particular country. A passport can be translated into the English language from any native non-English language.
In addition to this, a passport can also be translated from the English language to any non-English native languages. There are many translation agencies in Singapore that offer accurate and certified passport translation services at great prices. It is up to you to choose the better one.
Moreover, as per the masses, they will always recommend you to get translation services from the renowned SingaporeTranslators.Com.
Why Do You Need To Take Passport Translation Services?
You would require taking passport translation services for various purposes. The reasons are as follows:
Need For Authentic & Certified Notarization of Passport:  In Singapore, most of the immigration officials from ICA prefer to accept only those translated copies of passport which are authentic and certified. Only professional and experienced document translators from Singapore can offer you accurate and certified translation of passports. Moreover, if your passport is not translated and certified properly, the ICA officials will never accept your visa application.
Moreover, after translation and certification, the translated passport must be notarized by the court or notary public.
To Apply For Permanent Resident (PR):  If you want to gain a permanent resident (PR) status in Singapore, then you must submit your translated passport document.  Along with other supporting documents to apply for a PR certificate in Singapore, translated passport documents is also must be submitted to the ICA officials.
For Easy Immigration Process: Another reason to get professional passport translation services in advance is for the easy process of the immigration formalities. If the professional translators from top translation companies like SingaporeTranslators.Com translate your passports, then you can easily complete all the immigration documents smoothly. This decision of getting translation services of passports will also keep you from any sort of trouble at the foreign place too.
Important Document For Immigration & PR:  Passport is the most important document of identity among all the documents. This is the main document to get visa approval and your entry to work or settle at a foreign land. Appropriate translation, certification, and notarization of the passport are important since it is to be submitted at ICA in Singapore. Thus, it is mandatory to go for passport translation from a professional Singapore ICA document translator.
What Are The Types of Certified Passport Translation Services Offered in Singapore?
Professional translators at SingaporeTranslators.Com offer various kinds of certified passport translation services in Singapore. The translation services offered are as follows:
Translation From Native Speakers:  All the professional document translators hired for offering passport translation are the native speakers of the target language. If you want to translate your passport from Chinese to English, then at SingaporeTranslators.Com you will get native Chinese translators who speak Chinese as their first language. In this way, they can translate the passport from one language to another with the use of an appropriate tone.
No 1 Online Translation Services for Document & Legal Translations in Singapore.
Trustworthy & Accurate Translation:  At SingaporeTranslators.Com, you will get trustworthy and accurate services of passport translation from Singapore based document translators. They provide accurate translation and it can be also trusted since it is readily accepted by ICA, courts and other government and private organizations. Moreover, every translated document is also legalized by a notary.
Multi-Lingual Translation & Certification:  Our team of translator's offers certified multi-lingual translation of documents like passports. Certification is highly recommended since it is a must to get approval from immigration agencies like ICA. The experienced team of professional document Singapore translators offers to translate documents like passports in more than 100+ languages as per your need within the deadline.
Translation and certification services of passports are provided in multi-languages which includes: Chinese, Malay, Tamil, French, Indonesian, Spanish, English, Arabic, Italian, Russian, Polish, Portuguese, Latvian, Hebrew, Chinese, Hindi, Albanian, Japanese, Bengali, Bosnian, Croatian, Bulgarian, Czech, Dutch, Danish, Persian, Estonian, Finnish, Hungarian, Greek, Indonesian, Icelandic, Lithuanian, Korean, Lao, Lithuanian, Macedonian, Norwegian, Nepali, Punjabi, Pashto, Romanian, Portuguese, Serbian, Slovak, Swedish, Somali, Thai, Urdu, Turkish, Ukrainian, Vietnamese and many other languages spoken across the globe.
Flawless & Accurate Translation of Passport Documents: SingaporeTranslators.Com has been in the business of offering translation services for more than 20 years. It also co-operates with the Singapore high court for being the court's translation department. Thus, they have that high level of position to be the sole provider of certified translated passport documents. They also involve various techniques in translating important documents like passports so that diminishes all the flaws in the translated copy of passport.
Passport Translation Services With Legal Accuracy: The entire team of Singapore passport translators offers certified passport translation with high standards of codes. This is genuinely guaranteed with legal accuracy and usability. This is because after translating the passports the certified translators at SingaporeTranslators.Com offer authorized and certified seal and signature to validate the translated passport document.
100 % Accepted by Authorized  Institutions:  All the translated and certified passport documents are approved and termed as a valid legal document by the Government of Singapore. It is also fully accepted by other government and private institutions like Singapore and other countries embassies, universities, colleges, banks, insurance companies, courts, etc.
Get Fast & Accurate official notarization for ICA, MOM, MFA.
Precise & mistake-free Passport Translation:  When our team of Singapore passport translators, translates all your important documents including passports, they strictly maintain ISO- certified quality control process. This means all the translation work is done in such a way that the translated document like passports is precise and free from any kind of mistakes, flaws, and errors. Editing and proofreading with final revision are done before the final delivery of translated passport documents at your email address.
Maintaining Translation Quality:  There is also an added team of experienced editors and proofreaders who looks up for small mistakes and errors. This is also further reviewed by the Quality manager before providing certification from SingaporeTranslators.Com.
Maintaining Strict Deadline:  All the translators complete and delivers the completed translated copy of the passport at your email address within the decided time. They are quite ace in delivering all types of translation projects within the deadline. They never miss the deadline at all.
Affordable Translation Services:  The experienced translators at SingaporeTranslators.Com offer accurate and certified translation of all types of short and long documents including passports. They offer translation services at the best market price which is quite reasonable. They never charge extra admin fees and delivery charges. Moreover, no hidden fees are charged by the translators for translating your passports.
How to assign Passport Translation Services in Singapore?
In Singapore, you can get the cheap and certified translation services of your passport.
This can be obtained by following the below steps, which are:
Search and research online for finding which translation companies offers the best services of certified passport translation in Singapore.
After you find the best translation company like SingaporeTranslators.Com, you can fill up the application order form by uploading your scanned copy of the passport document. You can also provide all the translation requirements you prefer to get.
Once the translators review your documents, they will offer you a price quote.
After you are ok with the price quotation, you will be asked to pay online via credit/debit cards, net banking and e-wallets like PayPal.
Once you confirm the translators with the payment, they will immediately start to translate your passport into the preferred language as mentioned in the order page.
Finally, within the deadline, they will mail the translated copy of the passport in your email address.
Conclusion:
In Singapore, online is the best medium to get affordable and accurate translation services of all the documents. Even documents for immigration and PR are also translated in online. If you want to translate one of the most important documents like your passport, then you can do that too online.