Get Payslip Translation services in Singapore provided by Singapore Translators at prices that will suit your budget. Payslip translation is very important to be used for various purposes in abroad. Get authentic and accurate payslip translation in just 24 hours. We have a team of 500+ certified professionals  For ICA working over 200 languages who will translate your payslip in Spanish, Malay, Chinese, Thai, Korean, etc.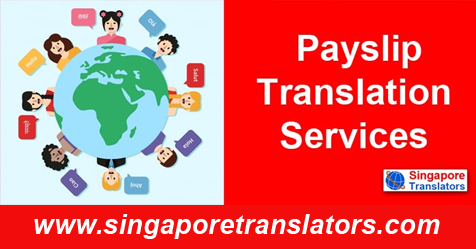 Payslips are the most important piece of document in the life of working-class people. It is proof of their income. So, if you are applying for a loan or mortgage abroad then you require certified pay slip translation services in the language followed in that country. Moreover, if you got a job abroad then payslip translation is needed to complete the final formalities after your final selection at the job.
You can get payslip translation in Singapore from various translation companies. One of the most renowned translation companies is SingaporeTranslators.Com. This is the translation service provider which is said to provide the best and accurate translation of all types of documents.
Why Do You Need Payslip Translation?
There are various benefits and needs for obtaining payslip translation services. Some of the important benefits and needs are as follows, which are:
Deciding Salary At New Job Abroad:  Your salary at the new job is decided on the basis of your payslip. So, if the language of your payslip does not match with new workplaces' common language such as the English then you should require payslip translation services.
Obtaining Loan Or Mortgage:  If you are in dire need of money and are thinking to seek a loan or mortgage some of your valuables in return of money, then the payslips will come in your handy. It will make the loan application easy and in a quick manner. Your payslips contain information about your deduction and take home salary amount. The loan officials at the foreign bank would like to see your translated payslip. So, you must get translation services from Singapore translators to translate your payslips. On the basis of your translated payslips, your loan will get successfully sanctioned.
Hire a Language translator for converting your legal & Other Documents.
Understanding Your Salary Details: It is obvious that your payslip at your job in a foreign country will come in a language that is not known to you. For example, if you are doing the job at China and get Chinese payslips, then you must translate your Chinese payslip in a common language like English or your native language to know about your various salary structures.
What is The Procedure to Get Payslip Translation in Singapore?
You can get accurate and quick payslip translation in the following ways, which are:
You can check online to search online translation companies who can provide you multilingual payslip translation services. SingaporeTranslators.Com is that ultimate payslip translation service provider which is very popular in Singapore.
To get with the translation services, you can upload the scanned document of your payslips online at the application form. You may even send an email for further inquiry.
After the professional translators study your payslips, they will give you a price quote. After acknowledging the price quote you need to pay up the price online.
Once you made the payment, the translators will immediately work on your task and deliver it at your email within the deadline.
What Type Of  Payslip Translation Services You Will get?
At SingaporeTranslators.Com, you will get the following payslip translation services:
Translation helps from experienced translators.
Quality and cheap payslip translation.
Unmatched delivery within the deadline.
Multi-lingual translation from Arabic, Cambodian, Czech, Danish, Chinese, etc payslip transition from this native language to the English language.