It is not so difficult to find high-quality Police Clearance Translation services in Singapore with singaporetranslators.com. We are a popular Police Clearance Translation services provider in Singapore which guarantees you a 100% certified legal translation over 200+ languages like Malay, Chinese, Japanse, Korean, Spanish, etc.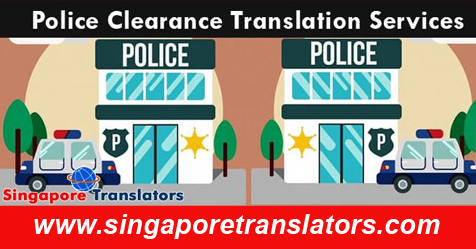 Get quality Police Clearance Translation Services in Singapore By Professional Translators
Fastest certified police clearance translation services by 500+ qualified police clearance translators who offer precise police clearance translation in 250+ languages within 24 hours turnaround time. Recognized as official credentials, these kinds of certificates relating to the background check of a person. It defines what an individual does not have a wrong background and is not, at present, in a problem with police. At diverse points of time, you may be necessary to show such credentials, like applying for a job, moving to a foreign place, etc. Particularly in the latter case, you will need to offer a translated copy of the certificate.
The Police Clearance translated version will assist the foreign officials to recognize the language of the certificate and carry on the further proceedings consequently. So, if you are seeking authentic Document Translation services of your certificates in a little time frame, you are at the precise place.
What is PCC (police clearance certificate)?
A police clearance certificate is a paper issued by the police force officials of any particular country to the citizens who desire to apply for a passport or overseas visa in the country. This piece of paper is issued by the police after a systematic background check and is meant to spell out or portray any charges ever filed or pending against the individual concerned. One can ask for this certificate by the police who can then continue the background check and might even charge a small fee for issuing this certificate.
Get Fast & Accurate official notarization for ICA, MOM, MFA.
Types of Police Clearance Certificate
There usually a single kind of police clearance certificate seen across any country. The certificate in all nations will contain more or less similar information; but, the presentation set-up may differ. This certificate is of only one kind and can obtained from the neighboring police authorities and Regional Passport agency after applying for same.
Need for Police Clearance Certificate Translation Services in Singapore
Without any hesitation, while you are in the non-native nation, you'll come across numerous situations, where you will need to present a translated certificate. Therefore, if you have chosen to immigrate to a foreign nation, this translated certificate will act as proof of your authentic background. It will assist things to be smoother for you. On a common basis, translation of the certificate will assist in the following situations
Applying for a job
Applying for vocational positions
Obtain visas
Applying for citizenship
For immigration purposes
Showing it to the employer before the final selection
This clearly points out that translating the certificate of police clearance is very necessary to ease the verification procedure in a foreign land. Even if the language in your credential a second language of the target nation, you still require getting it translated in the mother tongue, as you can never be certain if the concerned authorities recognize or speak the second language.
We have Professional Translators Who Speak More than 100 Languages
Singapore Translators is a translation service supplier based in Singapore. We offer language translation services for customers all over the globe. Singapore Translators Language services provide a host of premium translation & other language-related services to customers across the world and maintain a squad of expert and qualified translators.
As translation is required for transacting or handling credentials and formal processing of data in any nation, our services are directed towards providing you quality and trustworthy services that match with your needs and satisfaction. When we decode English to Arabic, we utilize a group of experienced translators & project coordinators. Every translator specializes in a diverse field such as legal, financial, or medicinal.
We work with several Spanish translators to make sure we constantly have a translator who can skillfully handle your specific translation service desires. Also, our project coordinators trained to handle the technical details of your project, regardless of the necessary format. Whether your assignment can range from translating a simple document, a difficult website or a graphically strong user manual, Singapore translators can help.
Hire a Language translator for converting your legal & Other Documents.
Why Outsource Police Clearance Certificate Translation To Singapore translators?
Want instant Translation services in Singapore? Suppose, you all set to move to the foreign nation all of your significant documents in place, and your visa set and so on. Unexpectedly, you realize that you might be requested for the police clearance certificate & haven't got the translated copy yet. Now, what will you do? In such situations, you can constantly rely on us, for immediate and quality legal translation services Singapore. In urgent circumstances, we present modified and authentic translation at the best turnaround time, i.e. within 24 to 48 hours. So, when you need translation, you recognize where to go. No matter, you have urgent needs or not, we will offer you a translated version within the dedicated time frame.
✓ Send the documents or official documents to us clearly mentioning the target language, i.e. the language in which your paper needs to be translated.
✓ After this, we'll offer you the quote right away.
✓ After the quote has been sent to you, our project managers will allow the project to the most capable and experienced translator(s) and would bring the translated output within 24 to 48 hours' time slot.