One of the most prominent Powers of Attorney Translation Service is provided by Singapore Translators, which offers accurate and certified power of attorney translations for ICA and other official purposes. We are working with 500+ professional language translators over 200+ languages like Malay, Chinese, Spanish, French, Japanese, Korean, English, etc.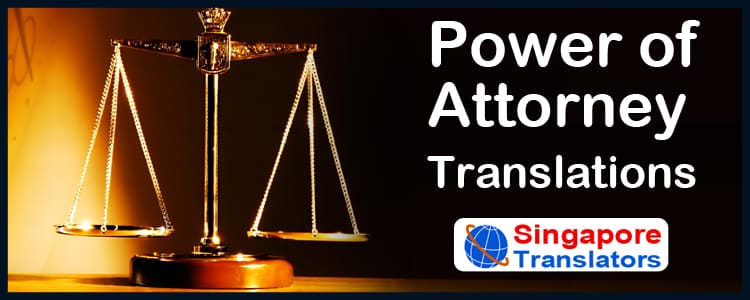 What is Power of Attorney & It's Uses?
The document called "Power of Attorney" is a legal document that allows a person in power to hand over the authority to handle his or her personal business and property.  It also gives authority to the other person to take a decision on his or her behalf. A person is compelled to make the papers of power of attorney when he or she is unable to handle his or her own business affairs and property.
Following are the various uses of power of attorney:
A legal document of the power of attorney is used to appoint a person in order to serve as his or her agent on behalf of the person in power. It gives the agent to handle financial related decisions.
If a business owner is seriously injured or sick, or they have gone abroad for some kind of personal work. In his or her absence, the power of attorney is given to power in a person's most trustworthy individual. This is because, in the absence of the true owner, they can take all the financial and business decisions on behalf of them.
Thus, these are the reasons which state how much the power of attorney is useful for you. Moreover, in Singapore apart from the power of attorney translation services, you can even get the best rated public notary services in Singapore also.
Types of Power Attorney Translations Are Handled By Our Professional Translators
Our team of Singapore translators offers to translate all the four types of power of attorney documents, which are:
No 1 Online Translation Services for Document & Legal Translations in Singapore.
Limited:  Our best translators offer to translate the power of attorney for a very limited purpose or for limited power. For example, they translate the limited power of attorney for those people in Singapore who are going out of town for some emergency. But need to sign a deal on that particular date. So, the limited power of attorney is given in name of someone who can sign some deed to property on behalf of the usual owner.
General:   This is a comprehensive power of attorney which is translated by our professional Singapore translators. This type of power of attorney gives all the rights and power to that person under whom the power of attorney is named. A general power of attorney ends upon your death unless you withdrew it before your death.
Durable:  Professional Sworn Translators of Singapore translators are also experts in translating the durable power of attorneys. This type of power of attorney can either be limited or general after you become injured due to some unseen accident. With a durable power of attorney, no one can replace you, or represent you during your state of injury. A durable power of attorney will remain in action till your death unless it is withdrawn by you.
Springing:  Talented Singapore translators at SingaporeTranslators.Com are also experienced in translating Springing power of attorney. This is just like the durable power of attorney, but it can also allow your chosen person to act for you while you are injured. But, it does not become effective unless and until you are injured. This type of power of attorney can only work after you get injured.
Therefore, you must trust upon the Singapore translators to offer top quality translation along with authentic affidavit translations for all types of power of attorneys.
What Are The Best Power of Attorney Translation Services Offered By Us?
The best translators at SingaporeTranslators.Com offer the best-rated translation services of various types of power of attorneys. The top-rated translation services include:
Accuracy:  The experienced legal document translators at SingaporeTranslators.Com offer accurate translation with almost zero flaws in the power of attorney documents. Only native speakers are hired to do translation so that accurate translation is done by appropriate language tone. Moreover, these translators also offer professional translation of all types of legal terminologies in a perfect manner.
Hire a Language translator for converting your legal & Other Documents.
Top-Rated Services:  All professional translators offer translation services in a perfect manner. They also provide services of editing, proofreading and editing to make the translated document of power of attorney flawless, error-free and features with no mistakes at all.
Strict Deadlines:  The translators who are providing accurate power of attorney translation always complete and deliver the translated document within time at your email address. They are popular in delivering all types of translation projects within strict deadlines without any delay.
Conclusion
It is a good decision to take the power of attorney translation services online at SingaporeTranslators.Com. The professional translators provide a certified translation in cheap price in case of all types of legal documents including the power of attorneys.