Make your writing errorless with proofreading and editing services provided by Singapore Translators. Whether you desire to double-check your translated manuscript or you are not pleased with the unique translation, Singapore Translators is working with 500+ professional editors and proofreaders over 200+ languages like Malay, Thai, Chinese, Spanish, etc who are well versed in making your writing error-free.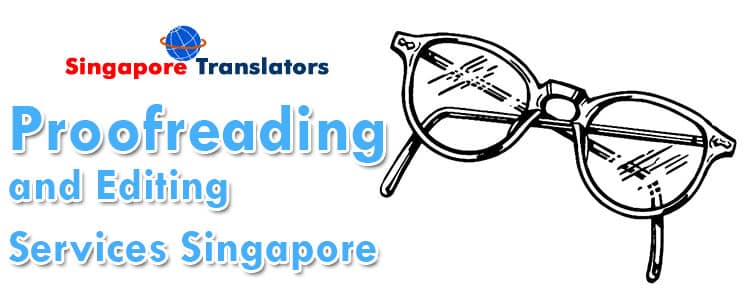 Hire Best Proofreading And Editing Services In Singapore 
We can take novel inputs or deliberation (such as a novel target market) & edit the text to familiarize you with a particular neighboring market. Singapore Translators will carry out a thorough review of the certification for accuracy, style, punctuation, potential cultural trouble, stability, grammar, readability, etc.
Our editing services are intended to assist our clients at every stage of a project. We also assent to working & coordinating with other agencies to make sure that you get the most precise and trustworthy end creation. Our professional also provides you with Language translation services besides editing and proofreading services.
Singapore Translators is familiar to working with text translated by other companies to make sure superior quality in the last product. Whether you used a different organization, an inner staff resource or just a friend, we will offer you with the proofreading and editing services you require to make sure that you have the most precise, consistent, and reliable & grammatically clean conversion possible. It can make all the variation, not only in handover the right message but also in maintaining your status.
The Role of Proofreading and Editing Services Singapore
This is where proofreading & editing becomes very crucial in the writing procedure. In fact, this aspect of writing frequently overlooked. Proofreading is a procedure that makes sure that the final written certificate free of grammatical errors, typos, misspellings, ambiguous words, and other discrepancies. It is the final and necessary step that should be taken before a paper can be measured complete.
An easy typo, misspelling, or indecently phrased sentence may convey a message contrary to what was planned. Such fault on websites and business documents convey an extremely amateur impression of the business in question and may turn off possible customers. It may even change the whole meaning of content, whether printed or on-screen; equally, carefully proofed content not only helps readers grasp its meaning well but also makes writing reliable. If you are looking for Chinese to English translation services singapore, you can approach us for the same.
Get Fast & Accurate official notarization for ICA, MOM, MFA.
Why You Need Proofreading And Editing Services 
Proofreading is something you truly can't afford to compromise on, irrespective of the mass of your organization and it's a bit you shouldn't try to do yourself. After reading your personal piece of writing countless times, you turn out to be resistant to your work. There is no argument the fact that all writers make mistakes, numerous of which not exposed until it's too late. An author gets so engrossed in the task of writing that grammatical & spelling errors are usually overlooked. Most mistakes go unnoticed just because of the lack of proficiency to grasp them.
When a clean pair of eyes look at the paper, it may assist catch several grammatical mistakes you have thus far missed. It is much harder to notice a fault in your own writing than in somebody else's! Hence it is critical to hire an expert English proofreading and editing service supplier to detect and correct any spelling and grammar mistakes before publishing.
As a rule, here at Singapore Translators, proofreading and editing entail going through a formal checklist:
Accuracy;
Terminology;
Language Quality;
Logic and Style;
Language/Country/Domain Standards.
The tasks generally charged by Translators of Singapore and professional editors comprise proofreading, copyediting, revision, & writing of publications. Let me temporarily consider all of them.
Proofreading: In proofreading, proofreaders ensure papers for typographical errors, recurrence of words, and right styles. Additionally, proofreaders check for syntax difficulties and also recommend changes in word choice and mistaken placement of marks.
Copyediting: Broadly, copyeditors reassess copy for spelling, grammar, reliability, and format. It also involves correct errors on conflicting declaration found in the body of the texts after consultation with the writer of the paper.
Revision: This service extends more than proofreading and copyediting to comprise restructuring of sentences.
Rewriting: In this service, the editor takes information in the document supplied by the writer, and rewrite in an improved and clearer form.
Writing: In this case, you supply the information that you desire to converse, and in close consultation with you, the editor writes the text or the book you envision.
It is consequently significant that organizations and individuals familiar with the different services usually performed by these editing outfits. This will make sure that suitable proofreading and editing services are giving to the customer.
High-Quality Proofreading and Editing Service in Singapore
Our Singaporean proofreading & editing services and academic translation services are integrated free of cost in our translation service. But, we also present academic proofreading services for papers translated by a diverse source & texts printed by non-native speakers.
Our linguists particularly trained to review the presentation of a text in its final layout. We fix grammar, spelling, punctuation & word usage mistakes in addition to idiomatic expressions. Translations also compared against the unique for missing text and inconsistencies in layout and font. With our top-quality proofreading and editing services, you can rest certain that the target document is error-free and is carefully checked for consistency.
Hire a Language translator for converting your legal & Other Documents.
Hire the Services of a Professional Proofreading Company
Though proofreading is very crucial, it's nevertheless a boring, unexciting, & time-consuming job. The most excellent option is to get the proofreading services of a strictly capable content service.
Singapore Translators a document management outsourcing corporation, with a worldwide footprint, offers high-class proofreading and editing services at logical rates. We assist you in presenting a clear, effective and expert massage. Our company also edit web pages and work in HTML, and we'll polish and get better your writing style along the way. We make sure the perfection and quality of the final document, adhering to proper grammar, right spelling, and using words accurately.