In Singapore, there is a great demand to have receipts and invoice translations at a cheap price. Private individuals and business organizations in Singapore always need receipts and invoices for the purchases they have made from their clients. Even the clients also prepare receipts and invoices to their business partners for the purchases they have made from their clients.  This is done to pay the business expenses and purchases in full with a detailed description of the bills.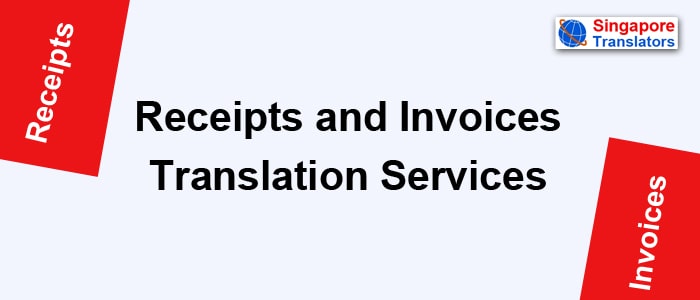 Moreover, In Singapore, there are various translation companies that offer high-quality translation services. The most renowned and best among them is SingaporeTranslators.Com which offers an accurate translation of receipts and invoices. Now let us check how best translation services are provided in Singapore in areas of receipts and invoices.
Why Do You Need Translated Services of Receipts and Invoices?
All government or private and business organization requires receipts and invoices. This is the ultimate document to bill your client or pay up your clients. Moreover, the invoice is the proof for what you are paying before tax and after applicable taxes. There are also some reasons in which you need to translate your receipts and invoices before sending it to the clients for payment recovery.
The reasons are as follows:
Clients Speak & Understand Different Language:  In Singapore, most of the private business holders and other government and private organizations expand their business globally. They even have tie-ups or business relationship with the business organizations located in other countries. So, if the business organization and companies in Singapore exchange business products and services from a foreign country like Spain, then they have to provide receipts and invoices into Spanish to English and vice versa translated versions. Thus, it is important to go for Singapore translation services for translating your receipts and invoices into a known or common language spoken by the client.
Received Invoices in  Different Language: You will also need translation services if you have received copies of receipts and invoices from your client in a different language. For example, you are a Singapore company that follows the official language of English, But, your Chinese business partner has sent your receipts and invoices in the Chinese language. So, you will also not be able to understand the receipts and invoices, let alone understanding the price structure and tax slab.
Moreover, you will also not be able to understand if this document is really reliable to trust or not. Thus, you must take translation services to understand the receipts and invoices in your own languages.
Keeping Financial Record:  There are various advantages of having receipts and invoices translation services from a local translator in Singapore. Translation of these important financial documents will help you know about the crucial financial information in your own language.
Get Fast & Accurate official notarization for ICA, MOM, MFA.
Moreover, if you were to send the receipt and invoice details to your Chinese or Spanish client, then you can send them a translated version in the languages of Chinese and Spanish. You can hire Chinese translators and Spanish translators at SingaporeTranslators.Com.  In this way, they will also keep records of important financial information including your business expenses too.
How Singapore Translators Offers Perfect Receipt & Invoice Translation Services?
Singapore translators at SingaporeTranslators.Com offer the best translation services of receipts and invoices. They spend hours, working hard to complete and deliver the best-translated receipts and invoices in multi-languages for your multi-lingual clients and customers. While translating all the receipts and invoices they make use of the interpreter invoice template. In this manner, they add their name of your company along with contact details. Finally, the translation of your receipts and invoices is done by adding the appropriate logo.
When the translation is done, the target the client's name and business contact details are entered. Moreover, the translators also create a unique invoice number with added invoice issue date and payment due date. Translators at SingaporeTranslators.Com after having done with translation adds the listed translation services provided with description and price breakup for each translation services. They calculate the total translation cost and add to the substructure of the provided service list.
What Are The Various Types of Invoices & Receipts Translation Handled By Singapore Translators?
SingaporeTranslators.Com offers the translation of various types of receipts and invoices which suits best for you and your clients and business associates. The types of receipts and invoices translated are Standard, Recurring, Pre-payment, Time-Based, Credit, Debit and Mixed.
No 1 Online Translation Services for Document & Legal Translations in Singapore.
Thus, you can tell the team of certified legal translators who can offer translation services of the above types of receipts and invoices. All the receipts and invoices are translated precisely along with editing and proofreading to maintain its quality.
Conclusion
Therefore, get the best services of authentic, accurate and affordable receipts and invoices translation services at SingaporeTranslators.Com. All the high-quality translation for invoice and receipt are provided by the professional translators. You will get it within the deadline at your email address.