Get the best-certified research paper translation services in Singapore for ICA officials provided by Singapore Translators. Let our 500+ native professional translators convert your research paper precisely from numerous languages into more than 200 languages i.e English, Malay, Chinese, Thai, Korean, Spanish, etc. You will be sure that the translation maintains absolute precision, is free of language errors, & retains your exclusive voice.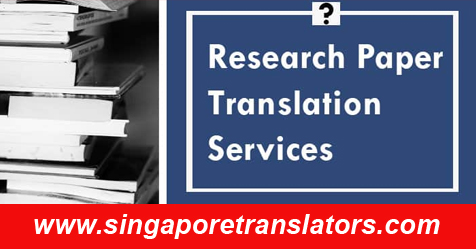 Research Paper Translation Services for Students and Academic Writers in Singapore
If you write your Research paper in English because you are worried that your ideas will be lost in translation, don't be concerned! Singapore Translators provide Research paper translation services in Singapore. We have a team of professional translators whom we have cautiously chosen for their subject familiarity and precise translation skills. We can assist you to convey your ideas precisely in publication-ready English.
You have devoted time and effort to your research, with the purpose of contributing to your field. We will make sure that no language barriers stand among you and the research globe. Our professionals also provide Research paper editing & proofreading services
Our translation service caters to all kinds of papers, including user manuals, website content, financial reports, and personal statements. However, what we focus on are academic translation services. We have the precise team of experts for your abstract, thesis/dissertation, research paper, or discussion poster. They can handle any subject, be it from medication, life sciences, engineering, business, and finance, or humanities. Papers that we have assisted with have been published in important English-language journals, such as Nature & IEEE.
Quality-Centric Procedure
Here is how we make sure quality. In the translation stage, a capable translator with subject-specific knowledge carries out a precise translation, and in the editing stage, an expert editor with strong domain knowledge and superior language skills carries out a perfect edit. To make sure 100% quality, the translation and editing stages each have a review procedure: A bilingual reviewer checks the translated copy prior to sending it for editing, and a senior reviewer reviews the editing copy prior to sending you the final publication-ready files. This four-step procedure applies even to our language translation services for non-academic content.
Hire a Language translator for converting your legal & Other Documents.
We Promise to Serve you best at the least price
Our translation services comprise a thorough translation, edit, and review process. Once the document is translated by a knowledgeable translator, the translated document is reviewed by a bilingual professional to check that the author's unique meaning is unchanged.
We promise that the quality of English in all documents edited by certified translation services Singapore and Translators will meet the standards necessary in the global publishing industry. This promise applies to every document edited by us, in spite of service, deadline, or fee. If your document receives critical comments from the journal because of the quality of English, we will re-edit your manuscript for free, as long as you have addressed all the editor's notes and comments and not made major changes to the edited manuscript prior to submission.
How is your translation special from standard translation companies?
Singapore Translators is slightly special from regular translation services in Singapore. Having translators and researchers in your area of study, make sure that they know the technical language.  They are experts in both English and your local language, guaranteeing the perfect translation possible. We also include a quality review for each translation to offer the most accurate version of your important research. Furthermore, our translation service comprises English language editing by native speakers in your field. So that you can be certain of the quality of the language in your ultimate paper.
Research paper Editing and Formatting Services
We present research paper editing services to educational scholars in all fields of research. No matter what your level of English is, having a second pair of eyes assessment, your work can prove to be invaluable. Our academic editors (also recognized as author editors) have years of familiarity working with complex educational texts and will make sure your manuscript reads flawlessly. We also offer research paper formatting services, and we can set-up your paper according to the necessary style guide or formatting necessities.
Professional translation and editing services can be vital in other circumstances as well
When preparing a suggestion for a grant, research fund, stipend or possible collaboration with another university, it is crucial that it is clear, expert, and well-written. We have assisted hundreds of educational institutions and scholars, safe scholarships, grants, and stipends to promote scholarship in their individual departments. From novelty in the field of science and technology to top thought in the field of modern philosophy, be sure that your proposal captures the attention of the possible funder.
No 1 Online Translation Services for Document & Legal Translations in Singapore.
Our Process of Research Paper Translation Services
Our Singapore ghostwriters skilled at academic translation with the best use of educational and formal English language in native style. They decode your work word by word with high accuracy the following process is followed for our Scientific Translation Services of research papers:
We receive the draft of your paper.
Our company shares it with an assigned translator who recognizes your local language.
We then forward it to an editor who can adjust, if required, to get the preferred presentation for your paper.
A thorough last-round check of your paper is done prior to sending it back to you.
Our translators work on your document carefully, so the essence of your work does not change while changing the words. During the procedure, if it felt that there was any ambiguous content, then it might be confirmed or clarified with you. With our Research Paper Translation Services, you will never have the problem of not knowing the words in and out while creating an effective and remarkable research paper.
FAQs
Q1. How long does the validity of your research paper translation documents last?
As far as the validity of the research paper translation documents is concerned, it will remain valid until the original documents get expires or change.
Q2. Do you also provide notarization of research paper translation?
Yes, we can provide you with notarization services for the research paper translated document if you request it. Our notarization service is only available upon request.
Q3. Does your scientific paper translation also charge extra cost for urgent orders?
Yes, if you want to acquire urgent scientific paper document translation, you will have to pay extra costs depending on the urgency of the document.
Q4. What will be the cost of research paper translation?
As far as estimation translation costs of research paper translation are concerned, it is quite difficult because it is determined by word count, skills required, and the type of translation required. Adding a variety of translation services, such as proofreading, editing, notarizing, etc., can make a traditional word translation slightly more expensive.
Q5. Do you provide any confidentiality of academic paper translation?
Yes, you can expect complete confidentiality from us whenever you choose us for your academic paper translation. However, we suggest all our clients sign a confidentiality agreement. Therefore, customer information and documents remain confidential at all times. In that way, the information and documents of customers are protected from unauthorized access.
Q6. Can you offer accurate research paper translation services?
Yes, our translators hold great expertise and vast year of experience in translating research papers accurately and on time without sacrificing the deadline.
Q7. Do your academic paper translation also provide any discount?
Yes, our academic paper translation provides you amazing discounts, we also provide bulk order translations. For any further queries concerning the discounts, you can directly email us at info@singaporetranslators.com.
Q8. What are the money-back policies for scientific paper translation?
Unfortunately, we cannot issue a refund once you have paid for the scientific paper translation service. That's why it is always suggested that the client be 100% sure whether they are willing to acquire our translation service. In case you find any error in the translated document, no worries, our translators can make the necessary modifications in the document at no extra charge.
Q9. Do you also provide hard copies of translated documents?
Yes, we do provide hard copies of the translated document. The hard copies will be delivered to you upon request by the client. Since the hardcopy service is not included in the translation cost. This means you will have to pay a separate cost for the hard copies of the translated document depending upon the number of copies you wish to acquire.
Q10. How should a translation of a research paper be formatted?
According to our experience, client formats can differ greatly, and we have no set format for translations of a research paper. Clients can choose the format that suits their needs. If you are concerned about the format in which we implement a translation of a research paper, then we offer a variety of formats, including PDF, Word, Excel, PowerPoint, and HTML.