We are a corporation of choice for your Russian Translation Services as we only use native-speaking, entirely qualified translators who have years of translation service knowledge. Our 75+  certified experts for ICA supported documents. Our Russian translators work with you to generate a custom solution to fit your requirements.
We have a team of well versed native translators who are capable enough to your Russian translation need like –
Birth Certificate Translation
Divorce Certificate Translation
Police Report
Police Clearance
Migration Certificate
Court Documents
Driving License, etc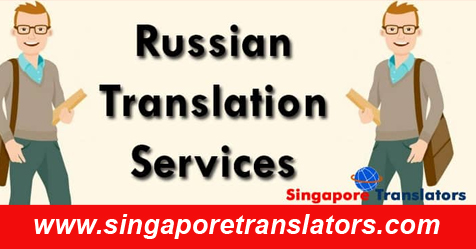 Russian Translation Services by Expert Russian Translators at Singapore Translators
The Russian language is one of the three outstanding components of the East Slavic languages. It is written in the Cyrillic alphabet, which has more typescript than the Latin alphabet set. Singapore Translators is a leading Russian translation service provider handling an extensive range of documents such as authorized certificates, personal letters, short emails or some other spoken Russian translation. Unlike casual usage, translation of executive documents should adhere to different rules and a high level of expert Russian translation for submission prior to sending to government agencies in Russia and other countries. We are the leading provider of Russian Language translation services in Singapore.
With decades of knowledge in Russian translation services & thousands of English-Russian document translation assignments, We offer translations for multinationals, corporations, small & medium businesses constantly ensuring expert results with our Russian technical translations, Russian legal translations, Russian medical translations, etc.
English to Russian Translation Services by Expert Translators in Singapore
The team for Russian translation services at Singapore Translators works for one of the top translation companies in the globe, and if you are seeking professional Russian translations services you trust with your eyes closed, Singapore Translators is your choice. Whether you are seeking Russian documents to be explained as English translations, German translations, Spanish Translations or a different language, we can help. We used to handle demanding formats, materials and translation areas including:
Russian marketing translations,
Online Russian website translations,
Russian technical translations and more
Our objective is to constantly translate perfectly and on time, conveying the meaning of the original devotedly when it comes to Russian technical translations and Russian certified translation services. But, non-literal, creative translations into Russian, conveying the profound message and meaning when we deal with advertising campaign translations or advertisement to generate fast Russian translation services at competitive prices.
Get Fast & Accurate official notarization for ICA, MOM, MFA.
We at Singapore Translators Provide Different kinds of Russian Translation Services
Technical Translation Services
Technical translations are expertise at Singapore Translators. We have been involved in numerous power generation projects for extremely famous companies, and we are top suppliers of Russian translation services for major Russian appliance manufacturers, automotive manufacturers, etc. From customer products to specialized products, gas and oil, heavy equipment, plant equipment, and engineering processes, we have the professional Russian translator and translation tools to effectively translate into Russian.
Our Russian language translation service in Singapore is intended to be straightforward and simple for you to use. Using an expert translation supplier with personal service and capable language experts for your written business. And also public communication very important to ensure you get positive results.
Russian Website Translation Services
Singapore Translators offers full, specialized Russian website translation services and Russian localization services: website translation & localization make your substance accessible to millions of potential users and customers in this key marketplace. Our technology will observe your new publications, take out the new texts and offer you a fast Russian translation service, even take care of your journal needs with a translation service level agreement so you can focus on your business and not in translation organization! Our company also provides you with Chinese to English translation Singapore.
Know More about our Professional for Russian Translation Services
Our translators are knowledgeable in the language of source and the objective language, to make sure there is a smooth transition from one to the other. It is significant to know the meaning of the unique text and illustrate it clearly to the reader when translating a text, which is why it is so significant to use somebody with the skills for the job.
If you are searching for somebody to make your business transactions simpler or to assist you to collaborate with somebody speaking another language. Russian translators accessible can help you get your word out there without having to learn the language yourself.
Certified and Well Known Russian Translation Services in Singapore
Our Document translation services measured as the most specialized in the Russian translation industry as we follow only the international standards of ISO 9001:2015.  If necessary, our customers and clients can avail of our super-rush certified translation services. By taking it they get the files as per their urgent needs.
Hire a Language translator for converting your legal & Other Documents.
Benefits of Getting Russian Translation Services To Singapore Translators
It takes a high level of familiarity with the source & target languages, restricted dialects, grammar, subject matter, and additional concepts to make sure precise translation. The use of some irrelevant words or improper formatting might lead to serious troubles due to miscommunication or misinterpretations. That's why it recommended taking help from professional Russian translators, who focus on all aspects of translations. We are here to decode your needs with the precision necessary and more benefits such as –
A)- Data Privacy: No matter how difficult and long your translation project is. We make sure that it completed in line with the safest system.
b)- Quality Control Systems: We consider that you deserve the best. Consequently, we use a standard QC system, including translation, proofreading, & editing services as its very important aspects.
c)- Faster TAT: Whether you require translation within a particular time-frame or within the last minutes.  You can assertively rely on us for the timely delivery of all kinds of files.
d)- Culturally Relevant: Since our native expert's translators are the native speakers, they superior adapt your files. Also ensuring the edifying meaning of translated files received by audiences properly.
While working with us, you can rest certain that you will be served to your utmost pleasure. The whole translation completed manually through our human translators without no using any software or tool. It also assures complete precision with no errors. Our priority is to process your project in the best way to assist you in meeting the purpose of the translation.