Singapore Translators has amazing familiarity in providing Academic translation services also in the following fields of scientific & technical translation: biotechnology; health; biochemistry; zoology; biology; botany; geology; environment; sustainable development; food; virology; medicine; renewable energy; and more.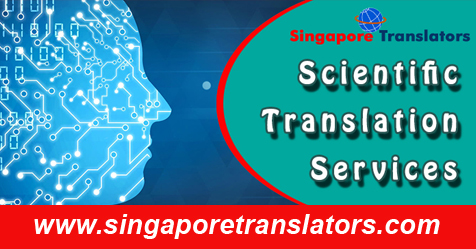 Hire Professional Writers For Scientific translation services in Singapore
Scientific and medical texts clarify difficult ideas using science-specific terms. Because of the variety and range of topics within this field, our scientific translation agency chooses translators for every project with particular attention to their particular knowledge and understanding of technical and medical texts.
The accuracy of scientific and medical writing should be reflected in the style of the ultimate, translated texts. Our agency Singapore Translators provide high-quality scientific translation services at a very budget-friendly cost.
Scientific and technical translation needs the translator to be recognizable with the technical content being translated. Scientific terms and technical symbols need to be carefully understood by the scientific translator in order to make sure a high degree of precision during the translation procedure.
Well worded and precise documentation promises your customers that they have selected the right services while poorly translated documentation could severely spoil your company's trustworthiness.
Why Scientific and consistent Medical Translation services are perfect for healthcare corporations?
Translating a medical or scientific document is more demanding than any other paper. If you are running industry in the healthcare business, you will agree. You need to ensure your translated paper meets two parameters, accuracy and fulfillment.
Get Fast & Accurate official notarization for ICA, MOM, MFA.
For this hard reason, the healthcare corporations rely on scientific translation services to get patient brochures, orders for use, leaflets, physician portals, doctor manuals, websites and all other vital communication materials for their goods translated in the local language with the help of language professionals. Translating all the materials in local language assist companies to converse with their potential customers and clientele in their local language. This further helps them to gain trustworthiness in the global market.
With so many document translation services and Scientific translation services in the souk, it is truly an intimidating task to ensure whether the services you hire meet the two parameters, precision, and compliance or not. Let's talk about here a few tips about how you can identify whether the chosen translation services meet these two parameters or not.
Selecting the best scientific translators
An excellent translator is efficiently a technical writer and is effectively authoring text in the target language. For this motive, it is very important that scientific translators are professional in the applicable technical, scientific field, in addition to translating into their native language.
Our translators are usually professionally capable in translation, frequently to post-graduate level. Some translation corporations suggest that scientists make the most excellent scientific translators, but we don't agree, as conversion itself is a specialist discipline that needs a high level of preparation and professional expertise. All translators are terminologists, as a result of handling expert terminology in their selected area of specialism.
We recognize difficult scientific terminology, and cautiously select the right wording in the target language to offer a high-quality scientific translation that is true to the unique. Our company provides certified translation services to our clients.  We never charge a high cost for our business and financial translation services.
Some examples of our kind of work include translating datasheets, academic papers, product leaflets & clinical trial manuals, although our group translates an extensive range of technical, scientific papers.
PROFESSIONAL SCIENTIFIC TRANSLATION
Before translating any paper, research is conducted in order to study terminology and describe what terms have to be used depending on the background. In numerous cases, we talk about terminology with our customers and utilize suitable materials to ensure the translation is precise and reflects the source text content. In the case of scientific technology, detailed products often have their own terms.
The scientific documents we translate include various types of texts. Below are some examples:
Scientific articles and technical documents
Operator and user manuals
Pharmaceutical registration documents (Market Authorizations) and patents
Test protocols and laboratory and clinical testing
Material safety data sheets specifications
Market research and projects on a multinational level
Simulation software (e.g. biotech, virtual patient, virtual clinic)
Product launches presentations and conferences
Commercial brochures and technical documents
Glossaries and scientific encyclopedia
Website localization and translation
Multimedia and video presentations
Scientific Translation Services That Get the Message Across
Scientific documents such as tutoring manuals, user guides, journals, and guarantee forms, etc., are the major companions of a product. In order to get a foothold in the worldwide markets, these technical and scientific papers need to be translated into diverse global languages.
Hire a Language translator for converting your legal & Other Documents.
Scientific documentation convoys your product and is a significant factor in your industry success. Well-written and precisely translated localized instructions and manuals form a vital part of the creation package.
While translating technical papers, it is similarly significant to localize the content. Localizing a translated paper modifies and adapts the text content as per the sensibilities of limited culture. If you translate with no localizing, there might be instances of using words that are completely harmless in one culture but could be seen unpleasant in another. At Singapore Translators, our technical translators not only have outstanding translation skills but are also responsive to the localization of the translation into the objective language.
Our online translation agency in Singapore is very frequently asked to offer scientific translations by researchers, engineers, university lecturers, and research & development department managers.
Our expert scientific translators frequently handle:
Publications translations
Scientific article translations
Conference translations
Expert report translations
Study results translations
Report translations
No 1 Online Translation Services for Document & Legal Translations in Singapore.
Scientific translation needs a perfect knowledge of the subject area and should faithfully recreate the unique document. Our network of scientific translators possesses the essential scientific and technical familiarity to meet your scientific translation requirements: every translator has access to terms resources for the languages they are translating.
We also have a network of professionals (engineers, experts, lecturers) who can refer our translators to the resources they require to precisely translate the text. Besides having professional translators we also have expert editors and proofreaders to provide you with editing and proofreading services.
FAQs
Q1. Is your scientific translation service available 24*7, seven days a week?
Our team is available 24 hours a day, 7 days a week for scientific translations service. You can also tap our services during weekends, although we encourage you to schedule an appointment through the phone or email in advance if you need assistance right away.
Q2. If I order urgently for a scientific translation service, will I be charged extra?
Yes, if you want the urgent delivery of the scientific document translation service, in that situation, you might require paying an extra cost for the translation.
Q3. Do you provide scientific document translations in any particular format?
Clients receive scientific documents in the format they prefer instead of a prescribed one. Their requirements influence their format preferences. Therefore, we give the client flexibility in choosing whether the translation should be delivered in PDF, Word, Excel, PowerPoint, or HTML.
Q4. Are you able to notarize scientific translations?
Yes, our team has sufficient skills to provide the notarization of the scientific translation. The notary service is available to clients who request this service as part of our services. We provide this service solely to those clients who desire this service.
Q5. Are hard copies of the translated scientific documents available?
We can provide a hard copy of the scientific translation. If you need one, please inform our translators beforehand. We will charge you separately for the hard copy since its cost is not included in the scientific document translation cost.
Q6. Would you be able to give me an estimated price for the scientific translation services you offer?
There is no easy method for estimating the price of a scientific document translation service since it depends on the number of words, skills, and translation type. In addition, several factors influence such a service. For example, if you add other translation services to your word translation (for example, editing, proofreading, notarization, etc. ), the price may increase. However, our translators still offer a reasonable translation service.
Q7. Is it possible to obtain a refund for your scientific document translation services?
No, acquiring scientific document translation services will not be refundable after payment has been made for them. So please make sure you are ordering translation services with the appropriate intentions. If an error is found in our translated document, we offer a complimentary revision service. If the change is applicable, we will make it without charge.
Q8. When translating scientific documents, how can you ensure confidentiality?
We have developed a confidentiality agreement with all our clients, putting the clients' privacy as a top priority. As a reputable translation provider, we completely understand the privacy concerns of the clients. This guarantees the security and confidentiality of the scientific translation documents of our clients and protects them against unauthorized access.
Q9. Do you provide discounts on scientific documents translation services?
Definitely, we will give you great discounts and special offers on translations of documents. If you have any further questions, you can directly contact us at info@singaporetranslators.com.
Q10. Are you able to provide accurate scientific translation services?
Yes, our team of highly certified translators will provide you with accurate scientific translation services as our translators have expertise in translating legal documents without sacrificing the deadline.