Singapore Translators provides certified Spanish translation & localization services to our customers in the life sciences, financial, lawful, manufacturing, retail, technology, and administration industries. We have one of the major teams of efficiently trained, native Spanish linguists and subject matter experts.
You can translate any of document in Spanish by native translators 
Corporate Affairs
Software
Advertising & marketing Manuals
Marriage Certificate
Divorce Certificate
Academic Certificate
College & University Diplomas
They have years of translation familiarity for the most precise linguistic output. Singapore Translators is a certified company as per ISO standards, having well-defined localization workflows and methodologies to always deliver the most excellent language presentation. We're so confident you'll like our service; we present a complete client satisfaction promise.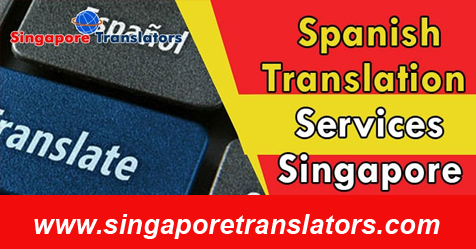 Hire Professional Translators for Spanish Translation Services Singapore
If you require professional Spanish Translation Services Singapore for your industry, Spanish interpreters for your hospital or specialized Spanish translations for your migration papers, our world-class Spanish language supplier is waiting for you.
For outstanding Spanish Language translation services, look no further than Singapore Translators. We draw from a network of over 4,000 translators who can offer the highest-quality Spanish translation solutions on time and funds. Additionally, Singapore Translators is the leading language services provider to be totally certified as per ISO. They ensuring that all of your Spanish translation assignments will constantly meet the most stringent standards for quality and precision.
With over 5,000 pleased clients globally, no other corporation can offer you with the depth of proficiency in Spanish translations. We use professional resources on-staff, thereby increasing the quality of every Spanish translation while providing you with the most viable prices in the business.
Get Fast & Accurate official notarization for ICA, MOM, MFA.
Highest Quality English – Spanish Translation Services Singapore Available Online
Our expert Spanish document translation services have been intended to satisfy all the needs of almost any potential customer. We offer English – Spanish language translation to several of the world's top companies and associations. We are exclusive in that we are capable of dealing with almost any kind of Spanish translation service you may require.
Our goal as the top U.S. based Spanish translation corporation is to help you attain your objectives in local, national and worldwide markets by providing English to Spanish translations of the top quality for all your communication requirements. Professionals here have all been chosen for their command of the Spanish language in addition to their know-how in particular areas.
Our services comprise the Spanish Translation Services Singapore of all kinds of documents, of all formats and all lengths. We also offer an extensive range of value-added services tailored to meet your specific requirements, such as Spanish Post Production services & Spanish Publishing services.
Certified Spanish Translation Agency in Singapore
If you require a regular or certified Spanish Translation Services Singapore, Singapore Translators is the organization for you. Spain, or Latin America for that matter, is a grand destination for a sunny holiday – Cerveza, paella & café solo need no introduction or conversion. For the whole thing else our specialized Spanish translation agency can offer you expert regular in addition to certified Spanish translators who will deliver high-quality translations from English or Dutch. You can hand over them and our certified Spanish translations organization with all your papers. Whether they are public or secluded, for instance, mortgages or marketing materials.
You can also be certain that Singapore Translators will present you with the most excellent price possible. No matter who your target group is, our specialized (or sworn) Spanish translators are capable to get your point across and address your clients or customers in their local language and just the precise tone of voice. Please contact us to learn how our regular and certified Spanish translators can provide you with quality services.
Hire a Language translator for converting your legal & Other Documents.
About Our Professional Spanish Translation Services Singapore:
Our team of professional translators has wide-ranging experience in the Spanish language & can recognize and comprehend the subtleties between the diverse regional and geographical dialects, which can be necessary for accurate translation. They have the skills and familiarity to accurately translate even difficult or technical source material to an extremely high standard.
If you require jumping on a project right away and can't wait for normal business hours, Singapore Translators can handle any turn-around. That's because Singapore Translators is one of – if not the – fastest specialized translation services on the planet. One page of standard text – about 200 words – takes just one hour. That's our promise. And our Spanish translation pros are the most excellent native-speaking pros in the industry, period. We even show you a countdown timer from the instant the job is accepted to your estimated delivery time. So go ahead – confront us. We also provide English to Chinese translation services to our customers.
Good Spanish Translations Services for Your global Success
Quality Spanish translation is a product of linguistic skill, knowledge, subject matter proficiency, and increasingly, AI-powered translation technology that connects the power of machine-human capabilities. Singapore Translators combines outstanding linguistic resources with our cutting-edge translation management solutions to deliver the most well-organized Spanish localization presentation the language industry has ever seen.
No 1 Online Translation Services for Document & Legal Translations in Singapore.
What we offer our clients With Spanish Translation Services Singapore …
Native Spanish Linguists
Our group of Spanish to English & English to Spanish translators is expert, native speakers. We are devoted to producing precise translations, which suit the purpose and style of the text you offer. Fitting the right tone, dialects and target audience are all part of our language translation service. We also provide French Translation Services Singapore.
Devoted Account Management
We offer a project manager who will have exclusive responsibility for your work.  They are accessible 24/7 to provide you with instant support with your papers.
Ready to Go Spanish Translations
Your document will be kept in the manner, layout and format as it was given to us. It will come back to you completely translated for instant use. This includes marketing & advertising materials, which can be managed by our in-house team of expert designers.
FAQs
Q.1 What is the level of accuracy in your Spanish translation services?
Our Spanish translation services offer the highest level of accuracy. Despite the fact that we guarantee the quality of all documents, we will translate them quickly.
Q.2 What will be the evaluated cost of Spanish report Translation?
Depending on the type of document, the estimated cost will vary. For example, if you need to translate one Spanish word into English, the estimated cost will be lower. Translating a document is a complex process and involves various approaches. Additionally, the price will be slightly higher if you require extra services, like editing, proofreading, revision, certification, notarizing, etc.
For urgent orders, you might have to pay additional charges. We also offer reasonable discounts on bulk translation orders, which you can find out by contacting us at our email address Info@singaporetranslators.com.
Q.3. In which format are Spanish documents translated?
We provide Spanish translated documents in numerous formats, including PDF, depending on the clients' requirements. Here you will get multiple format options to choose from. In addition to PDF, we can deliver translated documents in Word, Excel, PowerPoint, Powerpoint, .xliff, .html, .htm, .xhtml, and .xht formats as well.
Q.4 What will be the cutoff time as indicated by you for translating Spanish documents?
In general, we deliver translated Spanish to English documents within the cutoff time indicated in the filling form without compromising on translation quality. Don't worry our translator's team does not take long to provide document translation.
Q.5 Is the Spanish-translated document available in hard copy?
Of course, at Singapore Translators, you will get everything under one roof. You can place an order to acquire a hard copy of the Spanish-translated documents. The hard copy version of the document will be delivered in the same format as that of the softcopy of the translation documents. If you wish to acquire the hard copy version of your Spanish to English translation documents, you must mention the same while filling the form. In order to obtain a hard copy of the translated Spanish document, you might need to pay some additional fees. The amount of the additional fees depends on how many hard copies you wish to obtain.
Q.6 What will be the quality of a document your Spanish translation service offers?
Singapore Translator provides a high-quality Spanish translation service. The reason behind quality translation service is our certified translators possessing expertise in the translation field and their dedication towards the work. Our language translators successfully translate Spanish language documents to English while guaranteeing that the context and tone of the original document remain intact, ensuring that confidentiality is maintained. All the information about the documents will be safe from unauthorized access and will remain confidential.
Q.7 Does your Spanish translation service offer a money-back policy?
We are extremely sorry in this regard, as we do not provide any sort of money-back policy for the Spanish translation service. That is why it is essential to disclose all the details for which you are looking to acquire a Spanish translation service. No doubt you can approach us for getting further amendments or rectification in your translated documents.
Q.8 May I know where I can use these Spanish-translated documents?
The usage of the Spanish-translated documents depends on why you are getting Spanish to English-translated documents. All our Spanish-translated documents can be used for multiple purposes. Suppose you are travelling to Singapore from Spain. In that situation, you can use the officially translated documents as identification proof at the Singapore entry port. Among the documents we translate from the Spanish language to English are driving licenses, academic documents, marriage certificates, etc.
Q.9 Is it possible for you to notarize the Spanish-translated documents?
Certainly, at Singapore translators, you can obtain notarization of Spanish-translated documents. However, we only offer notarization of the translated documents if requested by the client.
Q.10 How long are your Spanish-translated documents valid?
Translations from Spanish to English documents provided by Singapore translators do not have any specific expiry date. Instead, Spanish-translated documents are valid till the validity period of the originals documents. The translated documents could also expire upon the expiration or modification of the original documents.