Do you want statutory declaration translation services for your legal documents in Singapore? If you want a translation for documents like affidavits and statutory legal declaration documents then you must take help from the professional translators.
Experienced legal translators at SingaporeTranslators.Com offer of all types of legal translation services in Singapore over 200+ languages like Malay, Chinese, Thai, Korean, etc. Translation services are offered at cheap prices and quality translation of legal oath documents are offered within the deadline.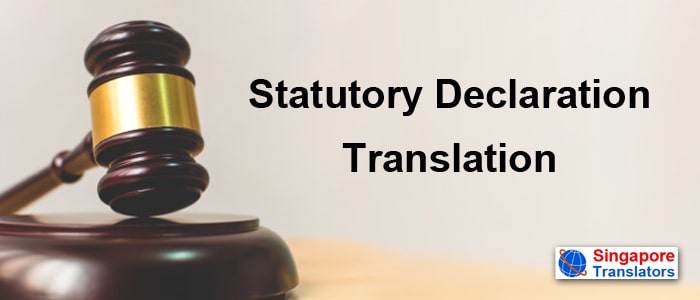 What Types Statutory Declaration Documents Are Translated By Singapore Translators?
Statutory declaration documents are those documents that are notarized by the notary public. These documents are affidavits and declaration papers which direct oaths and announce the declaration. This includes documents of the name change, marriage certificate, divorce papers, power of attorney, wills, police reports, trade agreements, etc. These documents are very crucial and for various legal, official and immigration purposes you need to translate these documents.
Other documents of statutory declaration documents are contracts, passports, death certificates, and immigration documents. If the reading audience is not following the language present in these documents, then you must translate all the statutory declaration documents into the language which is followed and understood by the target audience. Singapore translators offer the above-mentioned document translations instantly at SingaporeTranslators.Com.
Get Fast & Accurate official notarization for ICA, MOM, MFA.
Singapore professional translators are also expert in offering translation of business legal documents like patents and trademark filings, legal disclaimers, registration documents affidavits, laws, regulations, confidentiality agreements, legal certifications, government & legal rulings, letters of credit or technical documents.
What Are The Key Rules To Follow Before Translating All The Documents of Statutory Declarations?
Before you take up translation services from Singapore Translators, you must see that all the documents of legal oaths are accurately and legally authorized. This is done in the following manner, which are:
Hire Authorized Legal Professionals Or Notary Public To Get Oath & Affidavit Declarations:  You must hire a notary public officer who works under the legal department of the Singapore government. Singapore Academy of Law has appointed them who are the authorized person to manage oaths and affirmation for affidavits and declarations.
Before Translation, Authorize & Certify from Notary Public:  When you have translated a document, for example, the power of attorney from the source language to some other language, you must get a notary public to authorize and certify it.
Get Statutory Declaration Documents Authorized & Verified From Legal Professional or Notary Public: Certified translators Singapore can only translate the document, but the actual authorization of documents like statutory declaration and legal declaration are made only by the legal professionals and the notary public. The checks and certifies that the statutory declaration documents are true and identical copies of their originals but in a different language.
Sign Legal Declaration Documents In Presence of Notary Public or Legal Professionals:  Statutory declaration documents are to be signed by the individuals only in the presence of the legal professional or notary public. They serve as an independent witness for signing legal documents by the individuals. Moreover, if it is an agreement or contract to be used outside Singapore, then you must take statutory declarations translation services notary public or legal professional.
Before Translation And After Translation, Get It Notarized:  Original documents of a statutory declaration should be notarized by the notary public and legal professional, and then it can go for the Singapore translators for translating the entire document. In addition to this, the translated document before using it outside Singapore must be again notarized and certified by the notary public.
How Statutory Declaration & Other Legal Declaration Translation Services Are Offered By The Singapore Translators?
In Singapore, the most renowned translation company – SingaporeTranslators.Com offers high-quality translation of legal and statutory declaration document translation. The translated copies translated by them are 100 % accepted by courts, embassies and immigration officials of all countries.
Hire a Language translator for converting your legal & Other Documents.
Certified Translation services at SingaporeTranslators.Com are offered in this manner:
Accurate & Authentic Translation:  All types of legal and statutory declaration translation services are offered in an accurate and authentic manner. Only professional legal translators are hired at SingaporeTranslators.Com to offer translation services for legal and statutory declaration documents.
Translation Assistance by Certified Native Translators:  You will get translation help from only those certified translators who are native speakers of the target language. Only native speakers of the target language can translate statutory documents perfectly with the use of the right tone.
Translation By Experienced Legal Experts:  Only experienced legal translators are hired for translating statutory declaration documents. They provide the most appropriate and accurate translation of all the technical and legal terminologies.
Conclusion
Statutory declarations and other legal declaration documents are the most important documents which are to be used at court, legal uses and immigration purposes. You need to translate those documents if you are using it outside Singapore. Thus, get the best and affordable translation services of statutory declaration documents from the best price translation company – SingaporeTranslators.Com