Singapore translators are dedicated to providing you quick and easily accessible high-quality, human-based Sworn translation service in Singapore with 100% human translation. Singapore Translators is an esteemed certified translation service for ICA that serves public, legal, official document translation in unbelievable charges.
Convert any type of your official documents from Sworn Translator Singapore
Police Report
Wills
Affidavit
Birth Certificate
Marriage Certificate
Police Clearance, etc.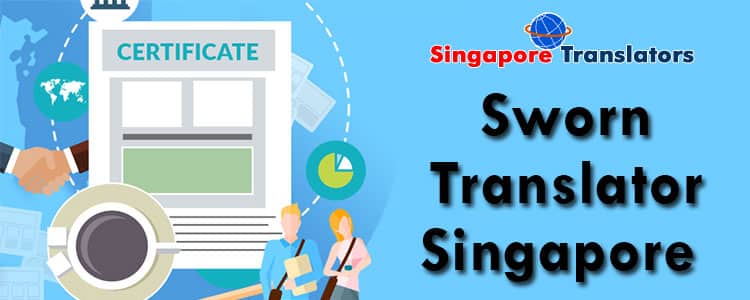 Hire Sworn Translator Singapore to get High Quality Sworn Translation Services
Looking for Sworn translator Singapore?  We offer sworn translation services to an extensive range of customers, including law firms, courts, private corporations, academic institutions & persons. Whether it is the challenge of a sworn translation or court interpreting, we can handle all types of work.  Even the most difficult and consultant sworn translation projects. We are a Singapore translator, a leading certified translation services provider online.
The Singapore translator is the number 1 provider of high-quality, specialized language translation services for websites and certified papers directly online. Our authorised translators in Singapore are not only accomplished linguists but also experts in the field they translate. We have a certified sworn translator in Singapore who is very dedicated to our work. In addition to this, our wide-ranging network of global translators includes individuals from many diverse career sectors including engineers, lawyers, medical doctors & accountants in addition to marketing professionals.
What is Sworn Translation?
As the certification procedure is not standardized internationally, a sworn translation has a diverse meaning in every country. In Spain, a sworn translation is an administrator translation performed, signed and sealed by a sworn translator expert by the Spanish Ministry of Foreign Affairs and Cooperation, granting the document full lawful validity before the courts, the appropriate authority or any further recipient. A Sworn Translator-Interpreter certifies the faithfulness of the translation with a right similar to that of a notary public. And the translated manuscript, provided that it is presented alongside the original, holds the same authority held by the unique in the nation in which it was first issued.
Online sworn translation services by professional sworn experts
All of our freelance SWORN experts from Singapore have been authorized by the Ministry of Foreign Affairs & Cooperation so that they can confirm your translations and award official appreciation and power to your translated papers in Spain and overseas. Over ten years' knowledge working beside law firms and within the lawful system has provided precious insights into this practice. As a result, we have the know-how necessary to translate authorized documents and interpret in court, thereby promise high-quality document translation services.
Get Fast & Accurate official notarization for ICA, MOM, MFA.
Our professional sworn experts offer online sworn translation services to an extensive range of clients including law firms, courts, private corporations, academic institutions, and persons. With the help of our team of legal translation services, we can translate to & from some language in the European Union, in addition to Chinese, Arab, Japanese & Russian, to name a few.
Type of documents need to be translated by Sworn Translator Singapore
Range of Documents that need Sworn translator Singapore services for official's
A sworn translation is generally necessary in the case of official papers that are to take effect before the competent authorities, such as administrative agencies, courts, registry office or educational institutions. Many official bodies in Spain and abroad need this kind of translation. Spanish legislation establishes that a Sworn Translator Singapore should take part when documents written in a foreign language are submitted to administrator bodies and when documents issued in Spain are submitted in overseas countries, where Spanish is not an authorized language.
Sworn translation service in Singapore is required for different international procedures requiring particular legal certainties such as notarized papers, marriage certificates, court orders, educational validations, official diplomas, transcripts, and some other kind of document planned for official use. Upon request, we also present the possibility of certifying any of our translations, in spite of the kind – for instance, patent translations or confidential business correspondence.
Certified Sworn Translation Service for ICA supported documents
You might require certified sworn translation Services if you desire to attend university in another nation or for immigration. Frequently a translation of migration documents or translation for university admission needs to be certified to confirm its precision. In several situations, other types of ICA or other official papers such as contracts might need a certified translation. In other European countries, translation of lawful papers or translation of governmental documents might need to be done by a sworn translator. This makes sure that they accepted as authorized translations. You must constantly check with the person or organization you submitting the papers to.  So that you can ensure you are submitting precisely what they require. We have Thai translators also in our huge group of translators who provide you with Thai translation services.
Hire a Language translator for converting your legal & Other Documents.
In several cases, you might require a notarized translation. This provides an added level of trust for whatever agency you are submitting the papers to. For a notarized translation, the translator or translation organization must sign its statement of precision in the presence of a notary public, who then stamps and signs the manuscript to show that he or she verifies the translator's individuality. The notary public does not really validate the precision of the translation, as he or she most likely does not talk about both languages.
Quality with Affordability is 100% Guaranteed with Singapore Translators
If you require an accurate, high-quality translation service that meets your entire prospect, you have come to the precise place. Singapore translators Singapore a network of rated and reviewed translators offer tailored attention for all of your translating requirements, from journal articles and books to corporate manuals and personal papers. If you also need a signed and notarized translation services certification, we can offer that too.
All you have to do is request the paper throughout the project submission procedure. And we'll send it to you as soon as your project completed. Whether you are seeking a single translator to assist you with an important document or a team of translators. Singapore translators will connect you with the very top sworn translator, Singapore. Start browsing now and see if you can get the ideal translator for your project.