Get the best certified Telephone Bill translation services for ICA  officials in Singapore provided by Singapore Translators. Let our 75+ native professional translators convert your Telephone Bill precisely from numerous languages into more than 200 languages i.e English, Malay, Chinese, Thai, Korean, Spanish, etc. You will be sure that the translation maintains absolute precision, is free of language errors.
As you know the telephone bill is an important document of permanent address proof. You will require this document for various purposes in Singapore. Thus, it is mandatory to have translated copies of the telephone bill with you. Professional translators at SingaporeTranslators.Com will do the accurate and authentic document translation at an affordable price.  So, hire them online soon!!
Are you migrating for a better life in Singapore? If you have finally made up your mind to settle in Singapore then you have a lot of important things to do. This includes visa application and translation of all the important documents which is required for the visa, Permanent residency certificate, and immigration, etc.  One of the most important documents which need to be translated is your utility bills like telephone bills.
Certified translators can provide you accurate translation of the documents you need for completing the immigration formalities.  There are various good translation agencies that are operating in Singapore. But the best among them is SingaporeTranslators.Com.
This is the top-rated translation company known to provide an accurate and authentic translation of language in various types of documents. Here, you can hire professional translators to translate your important documents like a telephone bill.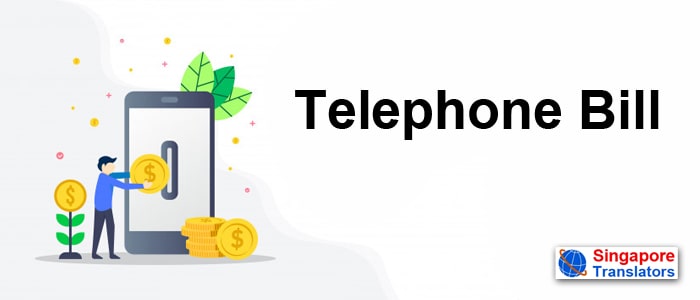 Why Telephone Bill Translation Services Are Required?
Translation of important bills like telephone bill copies is very important for various official, legal and personal uses. Translated copies of a telephone bill have various uses. This has been discussed below, which are:
Showing As Address Proof:  Utility bills like telephone bills are an important source of documents that reveal your identity. It shows your true home address. Moreover, it is also one of the most important documents to apply for a Singapore visa or to immigrate to Singapore. If the Singapore embassy officials prefer to take only English translated documents then you must translate your telephone bill. Translation of the telephone bill is done only if it is printed in the native language.
Taking  New Service Connection Abroad:  Translated telephone bill copy is also used for getting a new telephone connection or home internet. These utility bills are very important to get the new connection as soon as you settle in Singapore. Moreover, if you need a new local Singapore Sim card then translated previous telephone bills are mandatory for getting a new connection. Translated telephone bills can also be shown as address proof for opening a new bank account in Singapore.
Important Visa Supported Document:  The document of telephone bill mentioning your permanent address is also one of the supporting documents necessary to apply for the visa. ICA officials treat telephone bills as authentic address proofs. Thus, you need to translate your telephone bill for a seamless visa application and other formalities.
Thus, these are some of the reasons why you need to take translate your telephone bill. Moreover, you must also constantly check with the immigration officials about which documents are necessary for translation apart from telephone bills.
Get Fast & Accurate official notarization for ICA, MOM, MFA.
Certified Translation Services of Telephone Bills by Singapore Translators
Online translation companies like SingaporeTranslators.Com provide only certified translation services from those translators who are very qualified and experienced. They offer exclusive translation services that are available only at the online destination at SingaporeTranslators.Com.
Following are the types of telephone bill translation services offered by the Singapore Translators:
Professional & Accurate Translation:  At SingaporeTranslators.Com, a dignified team of professional translators works hard to translate your important bills like telephone bills in the most accurate manner. They never distort the content and just make a replica of the telephone copy in a different language as per your preference.
Multi-Lingual Document Translation:  Just say any language translation; our translators at SingaporeTranslators.Com will do it for you.  They will offer telephone bill translation services in the language as chosen by you. Be it Spanish to English and vice versa or Chinese to English and vice versa, or hundreds of languages spoken across the world. Only native translators are hired to translate your telephone bills that have knowledge of both origin and target language and its tone.
Provides Notary Assistance If Needed:  If your translated copy of the telephone bill needs to be certified and notarized by the notary public or by any legal professional, the translators at SingaporeTranslators.Com also offer to help you get notary help.
Widely Accepted by Many Organisations:  The important documents like telephone bills translated by the Singapore translators are accepted as valid address proof by many Singapore organizations like ICA, Singapore Embassy, Immigration department, educational institutes, banks, courts, etc.
Top-Quality Translation: The professional translators at SingaporeTranslators.Com offer extra services of editing, proofreading and revising. This is offered in order to maintain the flawless and error-free quality of the translated document of the telephone bill.