In Singapore, if you want to translate your documents into the Thai language, then you can get Thai translation services online. There are many certified translation companies in Singapore where you can get the best quality and accurate translation of all your documents which are in the Thai language.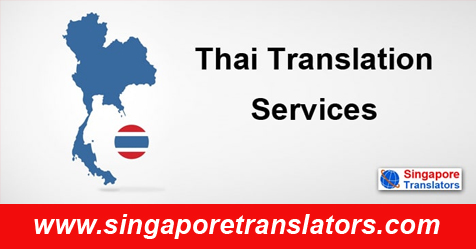 The professional and Thai native translators offer all kinds of document translation services like birth certificates,  marriage certificates, driving licenses, educational and degree certificates and many more important documents that are in need of translation from the Thai language to other languages such as English.
In Singapore, you will get many translation companies which offer Thai translation services via professional writers. But the most reliable and established among them is SingaporeTranslators.Com which hires professional native Thai translators for you to offer translation of all types of Thai documents into more than 100+ languages of the world.
When the professional translator translates your documents, you can be assured of the quality and the tone. Moreover, when you take translation services for your documents online, it is cheaper and fits within your budget.
Accurate Thai Translation Services in Singapore
At Singapore based translation service providers like SingaporeTranslators.Com, you will get the best team of professional writers and translators who are actually the native from Thailand. Their years of experience and qualifications have a good track of always proving accurate and best translation in all types of Thai documents.
These Thai translators specialize in translating legal documents, financial documents, medical documents, technical documents, personal identity documents, academic and educational documents and many more documents of great use to the customers like you.
Hire a Language translator for converting your legal & Other Documents.
The translation of Thai documents from the Thai language to other languages such as the most popular English language is done in a perfect way. You will get only the professional and native Thai translators hired for you if you take translation services from SingaporeTranslators.Com.
The translators here carry out all the translation work keeping in mind about your requirements and the target audience as well. Apart from providing Thai translation, the trained translators also provide the services of editing, proofreading, and revision as well in order to provide an accurately translated version of the original document.
Why Hire Thai Translation Services From Us?
You must choose Thai translators from SingaporeTranslators.Com due to the following reasons, which are:
Quality Translations:  At SingaporeTranslators.Com, you will get quality and high standards of translation services which are quite detailed and accurate. Most of the previous customers, who have taken translation services from us before, usually choose us to serve them more. More than 80% of customers repeatedly take Thai translation services from us.
Highest Record of Global Translation Services:  Our services of Thai translation by experienced translators have been trusted by many individuals and prominent organizations across the world. So, anyone can take our services while just sitting at any part of the world online. In this manner, we have made a niche in providing the highest record of Thai translation across the globe.
Trained Native Thai Translators:  At SingaporeTranslators.Com while translating any Thai document, you will get only those translators who are native from Thailand. You will get translation services from those translators who speak the Thai language as their mother tongue.
Hire a Language translator for converting your legal & Other Documents
Full-Fledged Thai Document Translation of All Types:  Our team of Thai translators offers full translation of all types of important official and personal documents. These documents are a translation of birth certificates, education degree & diploma certificates, marriage certificates, legal documents, divorce decree documents, No hindrance to marry document, Death certificates, Driving licenses, Bank statement & Financial documents, Insurance documents, Passport & Identity Cards, etc.
100% Acceptance By ICA / MOM, Offices And Courts:  The certified Thai translation services offered by the native Thai translators . Their certified translation documents are accepted by MOM, ICA, Educational Institutes, Government organizations, Courts, Embassies, etc. Moreover, there are also the benefits of obtaining notarized translation by the local public notary in Singapore.
Cost-Effective:  Thai translation services at SingaporeTranslators.Com is said to be one of the cheapest in the markets of Singapore. You will get competitive rates at just $10 onwards inclusive of editing and proofreading services.
Other Services:  Apart from translation services, you will also get services and benefits of editing, proofreading, and revision from the translators at SingaporeTranslators.Com. These translators are skilled in editing and proofreading.
Maintaining Strict Deadline:  The Thai translators at SingaporeTranslators.Com translates and delivers the final translated copy at your email address. They never delay in delivering the final translated copy at your email address. The translators have always maintained a strict deadline.
Thus, these are the reasons which can aspire and impress you to hire Thai translators from us.
How to Apply For Thai Translation Services Online From Us?
You can opt for taking online Thai translation services from us in a simpler manner. You can follow these steps to get our services to translate all your Thai documents.
No 1 Online Translation Services for Document & Legal Translations in Singapore
When you visit our official website – www.singaporetranslators.com you can follow the certain steps which are:
You can visit our official website, and check for the Thai translation services offered by us.
 You can even send the scanned copy of your document or PDF file of the Thai document which you need to translate.
Once our team of expert translators studies your document, they will give you a certain price quote which is usually cheaper if you opt through us online.
Once you give the nod and confirm with the payment, our translators will immediately translate your Thai document.
After necessary editing and proofreading, you will be delivered the final translated document at your email address within the deadline. When we deliver the translated document at your email address online, we never charge any kind of delivery fees.
Conclusion
Thus, now it is clear to you about getting the authentic and accurate Thai translation services of documents into multi-languages in Singapore. Therefore, book fast with us at SingaporeTranslators.Com for getting Thai translation services of all types of official and personal documents.