The Thai translators at Singapore Translators are 100% local Thai speakers who have outstanding skills in the language and promise an accurate & consistent translation. They also offer able assistance in different subject specialties like medical, technical, legal, education, Telecommunication, etc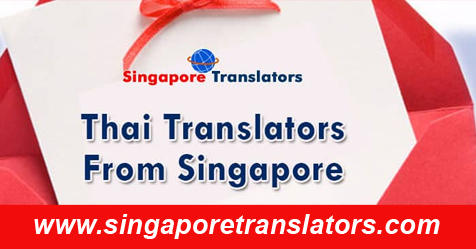 Our high quality, low cost, & grammatically right Thai language translation services, Singapore Translators, is the most excellent choice. It offers a quick turnaround and suitable payment system, enabling businesses to efficiently expand their reach in multilingual regions.
You can translate any of your documents by professional Thai translators like
Academic Documents
Corporate Affairs
Software
Advertising & marketing Manuals
Marriage Certificate
Divorce Certificate
College & University Diplomas
Hire Professional Thai Translators From Singapore Translators
The financial system of Thailand is one of the best growing, second only to China. Its GDP has been progressively climbing at 7-8% per year. For this motive, more and more English speaking industry is spending on Thai soil, and in need of professional Thai Translators.
Whether it is for outsourced labor, or to set up a novel branch of business, there is no hesitation that Thailand is rapidly becoming a place of main foreign investment. If your business or corporation outsources to Thailand, or for some other source of Thai communication, English to Thai translation is an absolute need.
To get an instant Certified translation services Singapore quote, just choose your language on the menu to the left, fill in your text or upload your files. You'll be given an in-depth approximation in less than 10 seconds.
Get Fast & Accurate official notarization for ICA, MOM, MFA.
Whatever motive takes you to Thailand, we'll be by your side. Whether you desire to do dealing with a Thai customer, seek support with Thai legal interpreting, or just have to offer a certified translation of a legal paper from Thai to English or English to Thai, our round-the-clock awareness and worldwide presence mean we can assist at any hour. We at Singapore Translators present totally trained and highly capable Thai translators & interpreters for all your industry, medical, legal & personal requirements.
Eliminate the Language Barrier with Our Top specialized Thai Translation Services
As you can see, there are numerous things regarding the Thai language that is fairly unfamiliar to English. English to Thai translation service cannot be done correctly without personal translators. It needs a comprehensive mastery of the language, in addition to the familiarity of culture and applicable localizations.
Within Singapore Translators' global network is dozens of Thai language translators, most of whom have business-specific practice. Whether you require technical Thai translation for creation packaging literature, expertise manuals, outsourcing instructions, or something else, we will only offer outstanding results. Above all, our Thai translation service Singapore makes sure error-free results, quick turnaround, & all for the absolute lowly cost to you.
Our pool of expert Thai translators Singapore is hired from top universities & institutions, which hold the top ranking in language education/teaching, translation and understanding programs. Our Thai interpreters/translators/ trainers are efficiently groomed to professionally work with you on particular projects.
The objective is to offer easy, economical, timely and target-oriented words solutions to meet your project objective. We are extremely knowledgeable in working with corporate business houses and legislative agencies.
World's Top Industries Rely on Our Thai Translators For Translation Services
Singapore Translators is a certified Translation Thai to English Corporation as per ISO norms delivering expert and enterprise-grade professional Thai linguistic services to several of the world's most flourishing businesses. We're one of the best-growing language services suppliers (LSP) providing a full range of quality Thai to English translation Singapore and localization solutions covering product certification, software, website, video, voice, & in-person interpretation.
Singapore Translators is powered by the world's biggest team of expert native translators who focus on our customers to translate Thai document to English in Singapore. Also, industries offer technically precise translations that are second to none. Our next-generation cloud-based translation management scheme is what separates Singapore Translators from top language translation services companies for unparalleled Thai localization effectiveness and scalability.
Accurate Thai Translations Only Possible With Singapore Translators
Our highly-trained Thai translators and language matter professionals are knowledgeable to translate English to Thai including a range of business content from manuals to training courses and authorized contracts.
Singapore Translators owns one of the major English-Thai terminology databases with thousands of technical terms in medicine, technology, finance, law, & government. So our Thai document translation makes sure the best linguistic precision. Singapore Translators' cloud-powered translation management system is capable to automatically check for spelling, grammar, & punctuation errors in real-time while our language translation services experts are translating, resulting in significantly improved translation efficiency and scalability.
Hire a Language translator for converting your legal & Other Documents.
We also use machine learning to improve Thai to English document translation memories, so before translated sentences can leverage animatedly for linguistic consistency and cheap localization cost. Our company is top in providing you with a diversity of language solutions such as Chinese to English translation services in Singapore. We offer services in foreign language translation, and foreign language training for new hires, interns and employees.
Why Choose Singapore Translators For Hiring Thai Translators?
Singapore Translators established with an aphorism to give efficient language services/solutions to classified and public sector units. Mainly, the corporation aims to connect foreign language professionals with their potential clients. It serves the project goals, which, at times, is not talented with any language interpreters, translators & trainers.
Expert Thai Translators
We have over 75+ expert translators including Thai translators and interpreters in our language solution squad they chose through our professional panel. They trained in how to get their projects with no compromising with the vision, attitude and expert ethics of our company.
FAQs
Q 1. Can your Thai translator provide accurate translation at an affordable price?
Yes, with the Thai translator at our agency, you can acquire accurate translation at affordable rates. What's even more amazing is that we don't sacrifice the translation quality at all despite our affordable rates.
Q2. Will your Thai translator guarantee the confidentiality of documents?
Yes, because the confidentiality clause in our Thai document translation policy guarantees that your personal information remains private and secure with us. No matter whatever be the situation we will never disclose any information about the customers.
Q 3. How can your Thai translator guarantee the quality of your translations?
Our Thai translator ensures you of the high-quality translation of documents. This is because our translators are highly certified and dedicated to providing high-quality service.
That's why prior to proceeding with translation work, we clear all the basic and essential details from the client so that we can properly meet their translation requirements.
Q 4. What makes you different from other Thai translation providers?
With adequate resources and a team of dedicated translators, we stand out from all other Thai Translation providers for providing high-quality translation at an affordable price.
Q 5. What guarantees does your Thai translator give?
Our Thai translator provides the guarantee of providing the best translation service at a pocket-friendly price. Our translator also ensures that all the officially translated documents will be accepted by almost all the Singapore immigration authorities and can be considered valid identification proof when travelling to a foreign country or Singapore.
Q 6. What are payment methods does your Thai translator gives?
To make it convenient for customers seeking Thai translation services, we offer flexible terms and payment methods, including credit cards, debit cards, and PayPal accounts. You can directly reach us by email at Info@singaporetranslators.com if you have any questions about payment terms and methods.
Q 7. What is the estimated price of Thai translators?
You can get Thai translation services for several documents, so the estimated cost depends entirely on the file you need to get translated. Due to their unique procedures and approaches, each translation may have different pricing. When you get your documents translated, you don't only get words transcribed. Instead, you also require getting it proofread, edited, notarized, etc., and these factors will undoubtedly cause a slight increase in cost.
Depending on the level of urgency, you may be required to pay additional fees. Don't worry. We provide you with good deals on bulk orders. Don't hesitate to get in touch with us via our email address info@singaporetranslators.com for more information on our discounts.
Q 8. How long will your Thai translator take to translate the document?
Usually, we deliver the translated documents as soon as possible. Most of the time, we can deliver the documents well before the deadline indicated in the submission form. Even during the rapid processing, the quality of the translation is never compromised.
Q 9. Does your Thai translator provide hard copies?
Yes, our Thai translator provides the hard copies of the translated document upon the clients' request. We may charge an additional fee for hard copies of Thai-translated documents, and this fee will depend on the number of hard copies you require.
Q 10. Do your Thai translator offer any refund policy?
No, our Thai translator does not provide you with any such refund policy. This means that once you have made the transaction for acquiring translation service from us, we cannot refund the money. Therefore, you should be quite specific about your expectations regarding the Thai translation service you wish to have from us. You can also get your documents rectified from us.