Singapore Translators provide finest thesis editing & proofreading services in Singapore. Our capable thesis editors and proofreaders will check your language to make sure it is free from grammatical errors, spelling mistakes & errors in punctuation. We will eliminate any repetitious, puzzling or superfluous material, leaving your paper clear and easy for your auditor to follow at low thesis editing rates.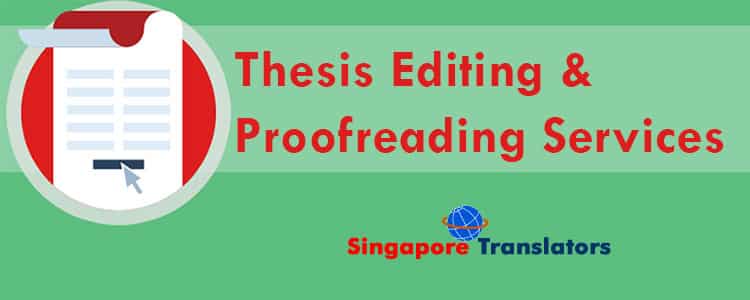 Thesis editing & proofreading services By Singapore Translators Hire Professional Thesis Translators Now
Producing a thesis is such a vast responsibility that when submitting the completed product you want it to be an accurate reflection of all your hard work. English language, spelling & grammatical errors are never wanted, but they are frequently inevitable.
This holds true whether you are a sure English Native speaker or a scholar with English as a second language. If you have already translated your thesis one language to other languages, but you have a little bit doubt about the quality of your thesis, then you can avail Thesis editing & proofreading services of Singapore Translators.  We are the leading Document Translation services provider in Singapore.
Singapore Translators is Singapore's most genuine translation service provider.  We also provide service for Thesis editing & proofreading. Suggested by universities and academics throughout the globe, Singapore Translators offers a specialize Thesis editing & proofreading service for scholar and postgraduate students, in addition to an editing and proofreading service for a range of diverse types of homework. Our world-class, PhD-qualified editors are accessible 24 /7 to meet your time limit.
We constantly deliver on time thesis editing & proofreading services, and we present a 100% satisfaction promise. We offer proofreading services as an optional service with any translation project. Our expert proofreaders organize documents using the "track changes" purpose within Microsoft Word, which lets our customers move effortlessly between changes and accept or abandon any or all modifications presented by the proofreader.
Depending on the extent of your project study, we appoint a squad of qualified linguists and researchers with suitable language combinations and familiarity with your project. This study is tailor-made to meet each unique client's requirements and goals.
Why Thesis editing & proofreading services are required?
Maintaining an educational tone, following an influential and logical writing style, & sticking to strict formatting guidelines are burdensome to a Ph.D. thesis translation. We recognize that editing thousands of words as a whole seems all but impossible. That is why our professional PhDs thesis editors and proofreader provide you with a helping hand with editing and proofreading your thesis.  Our professionals have full command over the English language that makes them professional in executing substantial editing work intensely.
Singaporean thesis editors are simply the most skillful in the business. Each editor Ph.D. is experienced and fluent in the numerous conventions of thesis editing and writing. We have carefully proofreaded and copyedited work for both ourselves and numerous others over numerous years. So we recognize firsthand the 'error blindness' that even the most talented authors face on such rigorous projects.
Our professional academic editors are not only very qualified in the academic world themselves; they have also received exact in-house training covering all aspects of expert academic editing, from suitable conventions of academic language & tone to the in-depth referencing familiarity of all styles, including all arts, science and lawful conventions. Our thorough editing and proofreading and Language translation services ensure your content is error-free and obedient with all style necessities.
Our unrivaled attention to detail leaves no inexactness uncorrected. Also, with a new perspective, we apply specialist thesis editing to make sure all arguments are rationally articulated. We work rapidly and professionally to return a publication-worthy thesis that retains your individual voice. We also provide high-quality Academic Translation services for scholars learning in Singapore.
How we improve your Thesis by Providing Editing and Proofreading Services
We recognize how hard it can be to express your ideas obviously under the pressure of deadlines and when you desire to focus on the information you have learned, rather than verdict structure and paragraph structure. Writing university coursework requires attention to multifaceted sets of rules for presenting research, counting referencing and formatting. Singapore Translators takes the concern out of producing a word ideal thesis for submission, leaving you free to focus on the thrilling stuff: research and ideas.
Our PhD-trained editors are not only professionals at language and configuration; they are also excellent writing coaches. When we check to make sure that your ideas have been obviously expressed, we will keep an eye out for any rational flaws in your case and any claims that might be weak or unproven, and aware you to such troubles. Your editor will remark broadly on your document and offer a letter recommending any changes that need to be made, besides with tips for improving your writing.
Why select Singapore Translators for Editing proofreading Translation Services in Singapore?
Editorial proficiency – Our English language editing is done by subject-matter professionals. We offer multiple-round editing and assist you to respond to and include reviewers' suggestions. We promise our quality or re-edit free of charge.
Interactive management – Our easy and well-organized online workflow management system comprises dashboards and notifications, making it simple for you to track your submission through to the conclusion.
Fast, flexible services – Choose from our standard or fast-track turnaround. Browse our Flexible Language translation services, and get in touch with us if you require help or wish to discuss any specific requirements you might have.
Trusted brand – Singapore Translators has been dedicated to supporting researchers and authors for over five years. Contact our friendly, team for assistance and to answer questions regarding the publishing process, not just your compliance. So don't wait to grab the quality Thesis editing proofreading services by expert editors and proofreaders.
Conclusion
We will make sure that your use of language corrects throughout, that your paragraphs consistently structured and that your tense and sentence structure are suitable. Your document and any references will be formatted to the style suggested by your university or division. All references will be cross-checked, and you will be attentive to any discrepancies or misplaced information, to make sure that the project is error-free.