Are you seeking a professional thesis translation services in Singapore? You've come to the right translation organization. Singapore Translators works with an extensive range of specialized and sworn translators, all of them experienced and qualified to take on your thesis translation in 200+ languages like Malay, Chinese, Korean, Japanese, English, Thai, Spanish, etc.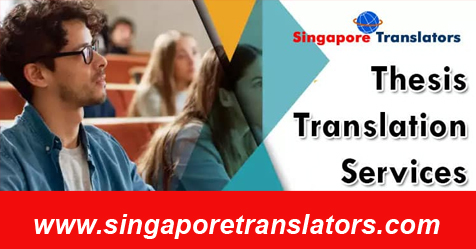 Their extensive knowledge of different fields of study, legal, finance, marketing & sales, expertise, and medicine, makes them appropriate for translation your thesis to any language.
If you desire to be certain that not only the subject & contents of your thesis is translated properly, but also all the time & effort you put into it is reflected while linguistic and cultural subtleties are included into the translation as well, our official translation services Singapore is your top choice. We offer our very miscellaneous services at very reasonable prices.
Online Thesis translation services in Singapore For Students and Writers
The thesis translation requirement is rising with each passing day due to the ever-growing number of natives who are willing to work, or team up on projects in overseas countries. For instance, an American researcher working with his Chinese complement living in China might need getting his thesis translated for the advantage of his associate. This is just one example out of several where a Thesis translation services might be necessary
Thesis translation comes with its individual set of exclusive challenges. Initially, any thesis is generally a difficult document and need the professional translation services supplier to have considerable knowledge of its subject. This ensures that all the exclusive terms and concepts are translated precisely.