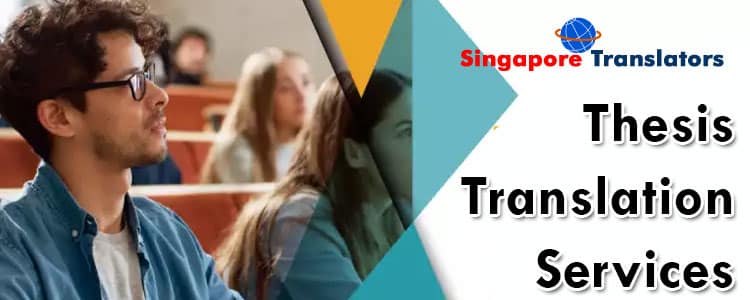 Online Thesis translation services in Singapore For Students and Writers
Thesis translation requirement is rising with each passing day due to the ever growing number of natives who are willing to work, or team up on projects in overseas countries. For instance, an American researcher working with his Chinese complement living in China might need getting his thesis translated for the advantage of his associate. This is just one example out of several where a Thesis translation services might be necessary
Thesis translation comes with its individual set of exclusive challenges. Initially, any thesis is generally a difficult document and need the professional translation services supplier to have considerable knowledge of its subject. This ensures that all the exclusive terms and concepts are translated precisely.
Professional thesis translation services in Singapore rendered to scholars of higher technical learning or universities must stick to stringent standards of quality, accuracy and make sure content is not plagiarized. At fixed charges per word, an expert translator can move "raw" data from one language to another and ease you the annoyance of latent errors that crop up from poor translation. We at Singapore Translators also provide you Thesis editing & proofreading services along with translation services for your thesis.
Certificate Thesis Translation Services in Singapore at Your Finger Tips
Certificate thesis translation for your approval Form offers an official record you submitted your paper and complied with the adjustment set out by your manager or graduate team. The document certifies you have gained and acknowledged some materials convey from a third party source. It also certifies the copy you've submitted is the similar replica accepted by the advisory committee or manager. It is necessary by a post-graduate scholar who enrols for studies offshore.
Offering high-quality translation services for low cost is the single purpose of Singapore Translators. We are here to make the translation procedure simple for both translation buyers and service supplier. We have already offered satisfying thesis translation services in Singapore, and carry on to produce high-quality translations meeting the prospect of our old and new customers time and again.
Singapore Translators assures you the best assignment translation services combined with a low cost as we are an online corporation with access to global translation aptitude. The expert translators working with us are not only dedicated in different languages, but also diverse subject areas. This allows us to select the most appropriate translator in terms of qualifications, in addition to the cost. This results in high quality and cheap translations for our customers.
Why Need Thesis Translation Services?
The thesis is usually given to that individual who is doing their higher studies or graduate. It is usually recognized as a pre-requisite assignment specified to the students belonging to the master degree or PhD study holders. Usually, formal language in addition to technical specification is used in dissertation and thesis. But, since the range of students from other nations come for study, with no thesis translate; it becomes really not possible for them to carry on with their thesis.
We are a dedicated translation supplier who can make you certain about quality online translation services. The experts associated with our group are trained to offer the best quality service in a quick pace.
Nowadays, numerous universities and educational bodies dealing with the thesis study are preferring translation service. We are here to offer professional thesis translation services to all of our clients wish to get expert translation service. The universities will favor not only the translators having a familiarity about the picky language. Rather, it is significant to have good knowledge of different languages.
Our certificate translation services are availed by numerous students in addition to the educational organizations about the nation. We offer emphasis on the accuracy in addition to the correctness of a thesis.
Why Singapore Translators For Thesis Translation Services in Singapore?
Are you seeking a professional thesis translation? You've come to the right translation organization. Singapore Translators works with an extensive range of specialized and sworn translators; all of them experienced and qualified to take on your thesis translation. Their extensive knowledge of different fields of study, legal, finance, marketing & sales, expertise and medicine, makes them appropriate for translation your thesis to any language. If you desire to be certain that not only the subject & contents of your thesis is translated properly, but also all the time & effort you put into it is reflected while linguistic and cultural subtleties are included into the translation as well, our official translation services Singapore is your top choice. We offer our very miscellaneous services at very reasonable prices. Contact us and get a free quote for the translation of your thesis.
Editing Services
As most scientists and researchers utilize English as their main language for sharing data and information, most translation suppliers supply manuscript editing to make sure that scientific and other educational papers are free from grammatical & spelling errors. In doing so, academicians are certain that their ideas are translated and convey obviously.
Best Prices
Due to our big group of expert translators, and Copywriters Singapore, we can decode your text at a sharp rate. The prices further depend on the span of the text, the translation blend, the scheduled delivery date and the level of complexity.
Certified and regular
As a translation organization, we offer certified and regular translations in all translation mixture. Our large group of translators allows us to offer translations in all subject matters.