The importance of transcription services in Singapore has increased due to various reasons. Be it for immigration purposes, business purposes or for educational or legal purposes. The main feature of transcription services is to convert spoken work in the form of audio and video into printed or written words. The spoken words were translated or transcribed into target language which can be read in a logical manner by the target audience. The transcriber Singapore professionals transcripts or translates spoken words in written words.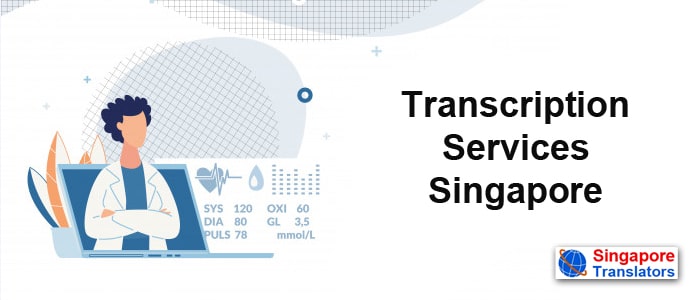 In Singapore, there are many translation companies that offer professional transcription services online. One of the most reputed online translation companies offering accurate and cheap transcribing services is SingaporeTranslators.Com.
In this translation agency, you will get the help of experienced translators who are very professional in translating or transcribing audio and video spoken or recorded voice into written words. Cheap and accurate transcription services are offered by extremely experienced Singapore transcriptionists manually within a short period of time at this incredible transcription agency.
Why Do You Need Transcription Services in Singapore?
Singapore is Asia's biggest epicenter of business and cultural exchange. There are many people who come to Singapore from other countries for business, travel, health check-up, legal purposes or any other important task of their own. They might not know the official languages of Singapore like Tamil, Malay or English. There are also students who come to Singapore for travel or study.
So, in this regard, they need transcription services for transcribing classroom lectures, seminars, etc in to write for from audio or video format.
Moreover, for immigration, legal and business purposes they need transcription services as well as document translation services. If any document in audio or video format is hard for you to understand, its time you take transcription services from professional transcribers and experienced Singapore translators.
Hire a Language translator for converting your legal & Other Documents.
The translation industry in Singapore is very rich and still, it is flourishing. This is because of the translation and transcription services provided by top translation agencies like SingaporeTranslators.Com.
In this translation company, transcription services are provided accurately by Singapore based experienced native translators and professional transcribers. Mainly they provide transcription services in the English language. But, if you want transcription in any other languages, that too can be provided by them.
For example, medical transcription in other languages is provided by professional medical transcribers who are experienced in multilingual transcription. There are so many documents in the form of audios and videos which come to SingaporeTranslators.Com from other countries.
So, our professional translators and experienced transcribers are qualified enough to translate or transcript spoken words into written words in multiple languages. They transcript almost every audio or video document like legal, medical, business, films, promotional videos, educational based seminars and lectures, etc under one roof – only at SingaporeTranslators.Com.
What Are the Reasons Which Makes Our Transcription Services Best in Singapore?
The professionally- trained transcribers and translators strive to deliver nothing but the best of translated and transcribed projects at your service. The transcription services are best in terms of quality and accurate in terms of authenticity.
So, when you pay the transcribers at SingaporeTranslators.Com, you are getting quality transcription services and public notary services in Singapore at best and affordable prices in Singapore.
Hire a Language translator for converting your legal & Other Documents
Moreover, the following reasons described will convince you fully that SingaporeTranslators.Com is the best-chosen company to get authentic and accurate transcription services in Singapore. The described reasons are as follows:
100% Transcription By Human Transcribers and Professional Translators:
At SingaporeTranslators.Com, every audio and video transcription projects are 100% fully handled by human transcribers and translators. In this translation company, transcription services are not done by computer speech recognition. Every transcription work is done by humans by using innovative transcription programs. In this manner, you will get top- quality and authentic transcription results.
Strict Means To Satisfy Our Customers:
The Singapore transcribers and the Singapore translators at SingaporeTranslators.Com have the key objective to satisfy their customers. This is possible only by providing the perfect and accurate transcription services along with extra services of strict checking of quality by editing, proofreading and revision. Moreover, the ex and present customers who have used our transcription services have hailed our Singapore transcription services by giving positive feedbacks in favour of our transcription services. Our customers know that we have the potentiality to satisfy and meet our customers' needs and requirements by providing reliable Singapore transcription services along with certified document translation.
Accurate Transcription From Voice To Text in Multiple Languages With Strict Delivery Plan:
Singapore translators and transcribers provide highly accurate transcription from voice to text on a strict delivery schedule. You can also choose your delivery schedule as per your conveniences like daily, weekly, monthly and annually. The professional and experienced transcriptionists offer transcription services in a secure manner in multiple languages. Moreover, the services are offered in all types of the budget which can suit your pocket.
Transcription Services For Various Projects & Various Uses For Customers:
SingaporeTranslators.Com offers various types of transcription services for students, research scholars, professionals, businessmen's, corporate clients, etc. Transcription services are given for common projects like audio and video e-discovery, interviews by multi- speakers, recordings of academic lectures and seminars, in-depth interviews, administrative transcriptions, document translation, etc. All types of audio and video files clips, recordings, TV, films, etc are accepted for transcription. Transcription is even done for various dialects of multiple global languages and English accents (British English & American English).
Affordable Transcription Cost:
The cost of transcription services at SingaporeTranslators.Com is calculated on the basis of transcription of single audio or video in minutes. There is also extra cost charged depending upon the delivery schedule and add- on services like editing, proofreading and revision. Moreover, the cost will also be lower if you opt for normal delivery and exclude the add-on services.
No 1 Online Translation Services for Document & Legal Translations in Singapore
Conclusion
SingaporeTranslators.Com is the best transcript company in Singapore. You can get authentic and accurate transcription services at cheap prices here. Thus, book your slot of transcription services at SingaporeTranslators.Com fast to get done with your audio and video transcription needs quickly.