We are the famous, quality-focused & time-efficient skilled for Translating Estonian to English in Singapore. We are reasonable and reliable. Our Translation Services in Singapore provide 75+ native translators of the Estonian language, who are well versed to translate Estonian to English.
Every translator specializes in particular fields such as Medical, Financial, Technical, Legal Translation & more. We Offer Estonian Certified Translation Services for
Personal Correspondence
Passport
Immunization Cards
Medical Reports
Court Orders
Technical Manuals
Medical Manuals
Employee Manuals
Divorce Certificates
Death Certificates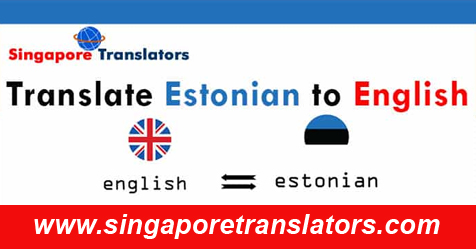 Hire Professional Translators to Translate Estonian to English
The Republic of Estonia has to turn out to be a great economy that has adopts the Euro as its exchange. The previous Soviet state has made itself a financial partner of the European monetary zone, Scandinavian nations & Russia. Its position as a global crossroads, a monetary hub & a tourist destination has seen the needs to Translate Estonian to English steadily rises.
We have a huge team of professional Estonian translators that can efficiently carry out any translation work from a single page to a batch of multi-page papers. Singapore translators provide expert Estonian to English Translation Services.
We offer Language translation services by native–speaking humans. We do not employ any machines or software! Our company present online specialized Estonian to English translation services.
A devoted project manager synchronizes the whole Estonian translation procedure right from the beginning of the interaction to the end & also assigns the project to the most suitable Estonian translator in Singapore based on the context of the document translation services requirement. All work completed by the Estonian translation squad is afterwards proofread by editors to make sure correctness and completeness of the translated substance.
75+ Native Translators To Translate Estonian to English at Singapore Translators
The team at Singapore Translators consists of native-speaking, specialized and knowledgeable translators. They offer quick and well-organized professional Estonian to English translation services. We offer precise translation services round the clock. We have specialized English speaking translators who are knowledgeable in Estonian and expert in different fields like Medical, Legal, Marketing, Technical and more.
Get Fast & Accurate official notarization for ICA, MOM, MFA.
They can work on your translation more precisely. We do not offer a literal translation. We offer logical and contextual conversion like the original text. Our team hires devoted project managers for all Translation Projects at no additional cost. For your peace of mind, we ensure that all the translation projects pass stringent feature checks. 100% client satisfaction is our major achievement!
Our Estonian translators can confirm all translations they have undertaken so you can be certain of the quality of our effort. We also present services for Estonian interpretation, voice-overs, transcriptions, & multilingual search engine optimization. No matter what your Estonian Language requirements are, we can provide them for you. We also provide English to Chinese translation services in Singapore.
ICA Certified Estonian to English Translations Services in Singapore
The vast number of businesses, organizations, and governments that are concerned in expanding the Estonian financial system may mean that you require certified translations for several of the transactions, contracts, and provided that you or your corporation are involved in. A certified Estonian English translator can create legally equivalent translated papers that are officially accepted by the identifying stamp and signature.
You might think that it would be considerably more costly to use a certified Estonian translator, but we can offer this service for only a little extra charge that covers the additional training and official registration that the translator is necessary to undertake to turn into an approved translator. High quality and fast turnaround are hallmarks of our authorized translators & we can arrange for the unique stamped and signed documents to be rapidly forwarded to you where ever you are located in the globe.
Employment
Government transactions
Inheritance documents
Why is Singapore Translators the ideal partner To Translate Estonian to English?
With 20 years' knowledge and a wealth of global references, we are sure that we have excellent insight into our clients' necessities.  We recognize what they want and can see what they don't like in our business.  This is why you get precisely what you want – our objective isn't to force our Translation services on anybody. We also pay particular awareness to ensure that our process is simple and fully clear.  At the same time, our devoted contact persons are there to inform you in detail regarding all matters and listen cautiously to your concerns.
Hire a Language translator for converting your legal & Other Documents.
We present strong assurance, without any prevarication.  We are available and cooperative, whilst our project management and expert, multi-stage proofreading mean that we can guarantee the top quality Translate Estonian to English services. This is all combined with a time limit guarantee and fulfilment guarantee, but without surcharges for some reason at any time! We are working as fast as an international translation organization but with better focus and more affordable prices.
Every year, we complete more than 10,000 flourishing projects for the most famous companies around the globe – we believe that you will soon decide to join them! You can also contact us for Burmese Translation Services Singapore.