"Translate Malay to English in Singapore" with the help of professional language translators. Low-Cost translation services for converting your Malaysian documents like driving license, PR Application Document, Immigration Certificate, and others are available instantly. Our Malay translators for ICA are native-speaking language experts who make sure to translate Malay to the English language with great quality at a very low price.
Singapore Translators works on a triple-layer quality assurance strategy with 500 + certified native professional translators for ICA. Singapore Translators is the perfect solution for all your Malay documents and language translation needs in English and vice versa. A public Notary for legal documents is also available if needed.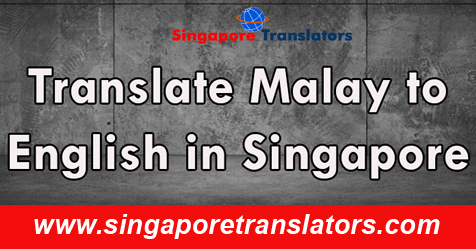 Instant services to translate Malay to English document
Legal Documents
Employee Handbook
Death Certificate
Divorce Certificate
Court Papers
Police Report
Get Fast & Accurate official notarization for ICA, MOM, MFA.
Professional Malayu translators for official English Translation
Technology – The Malaysian to English translation or other languages translation for technical papers like software design documents, user manuals, procedure flow documents, etc., need the rich familiarity of technical translation which, we increase by our trusted team and comprises of valued substance, mechanical, electronics engineers with different other leaders from the business.
Marketing & Advertising – In the age of globalization, we offer Malay translation of tasks like Malay marketing, Malay documentation and promoting creation with a dedicated team of devoted Malay translators

.

Financial – To make sure the exact financial document translation, we have a devoted team of Malay Financial Translators,

Service Managers, who have skilled familiarity with the Malay Financial Services, transactions & market.

Translate Legal Documents From Malay to English – Our devoted team of legal translators accomplished in Malay legal terminologies. They are capable of offering services to translate Malay document to English for patent applications, papers for acquisition and merger contracts, etc.
Malaysian Language – Most Commonly Speaking Language in World
Malay belongs to the Austronesian ancestors of languages. It is mainly used by the Malay populace and those who can belong to other cultural groups but live in central-eastern Sumatra, Peninsular Malaysia, Singapore, the Riau Islands, certain districts of the coast of Borneo, & southern Thailand.
Malay has about 200 million speakers around the globe, making it the tenth most commonly spoken languages. It also creates needs for Malay translations services in a range of language pairs. If you require Translate Malay to English Singapore we at Singapore Translators provide you Singapore certified translation Malay to English with great quality.
When you want to translate between Malayu and English, or English & Malay, you may not recognize where to begin. An easy web search on this subject brings up many services. There are dictionaries and also legal translation services. You may need a Malay to English translation company.
Accurate Malay to English HumanTranslation – Better than Any Software
You may require Malay to English translation services in Singapore. Whatever the case is, learning about accessible services is very important. We are the leading Singapore service provider for precise translation from Malay to English. You can find a dictionary such as this by doing an easy web search for Malay to English translation.
The only disadvantage to these is that it could take a while, & if you're not known with the sentence structure that Malaysians utilize, you might not be translating the words properly. Another service is an automatic translator. These services will let you put text in and will provide you with a string of text back in the language of your preference. The difficulty with this is that they're not always completely accurate. However, our services for translation Malay to English Singapore has always been accurate and to the point.
Hire a Language translator for converting your legal & Other Documents.
Convert Malay to English documents for business & Job
The English language is extensively spoken in many countries around the world. Convert your Malay document to the English language can open lots of doors to myriad business and job possibilities.
However, it is significant to remember that the language, even though it is still Malay, can be a little diverse universally.  Here's when localization comes into play. As every nation has its accents, dialects, & culture, all these things must be taken into consideration. In order to be known in the market, you must translate your website and promotional material text to English from Malay text and other languages.
Online Malaysia to English Translators for official Documents
There are about 77 million speakers of Malay & it is the known official language in Brunei, Indonesia (as Indonesian), Malaysia (also called Malaysian), & Singapore. It is also the familiar minority language in Indonesia (it is the local language in Sumatra and Kalimantan (Borneo), Thailand, & the Philippines (as a trade language with Malaysia & in Bangsamoro Autonomous Region).
If you are seeking at the different countries wherein Malay is an executive language. Also, you will see that these countries are economic powerhouses of South East Asia.
Malay to English Business Translation Services
The number of Malay speakers & the language is spread across the nation witnessing good economic development is contributing to the rising demand for online translation of Malay to English.
As businesses look to stamp their attendance in Malay-speaking markets, they are seeking best-in-class certified translation services in Singapore. If you are one such industry, Singapore Translators must be your first port of call. In Singapore, singaporetranslators.com is a well-acclaimed and reputed company where the translator of Malay to English easily avail.
When you truly desire to learn to translate from Malay to English, or English to Malay you might desire to get a friend that is an expert in both languages to teach you the mechanics of the language. If you're going to do a lot of translating but wants it to be ideal, consider buying Malay to English translate Malaysia services by outsourcing the work to somebody who has experience with both languages.
No 1 Online Translation Services for Document & Legal Translations in Singapore.
There are a lot of sites that offer online Malay to English translation that allows you to appoint people from all around the globe to assist you with online Malay to English translation. Ensure to check out the person you hire has status. So that you don't waste time with people that are just trying to make a fast buck.
 Translate documents from Malay to English Online
To get translate Malay documents into English online, SingaporeTranslators.com is represented by a highly skillful squad of translators that possess proficiency in translating Malay to the English language with great quality.
Most professional translation companies in Singapore that helped many individuals and companies to translate document from Malay to English when needed.