Translate Tagalog To English is quite easy with Singapore translators. If you are looking for a translator for Tagalog to English translation services hire translators now.    We guarantee accuracy, anonymity & affordability. You can also get notary and SAL  services for your Tagalog to English language translation.
Our high-quality translation services are known for their errorless work, fast delivery in budget-friendly prices. Hire certified translators for ICA Tagalog to English documents or vice versa for driving license, birth certificate, marriage certificate, court orders, police report, etc.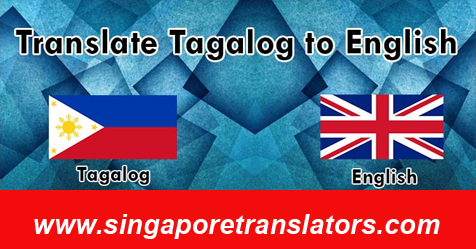 Expert  Translators for Tagalog to English Translation Services
Tagalog (Filipino) is the authorized nationwide language of the Philippines, spoken as a mother tongue by a quarter of the inhabitants & as a second language by almost 50% of the inhabitants. The Tagalog translation team at Singapore Translators has expertise in this language if you are seeking to hire a translator in Singapore for Tagalog to English Translate. you can trust us your eyes closed.
Singapore Translators Tagalog translators are professionals at adapting, revising, reviewing & publishing Tagalog translations in some format that you require. Singapore Translators Tagalog translation services present you decades & millions of words of translation practice.
We translate for a corporation, multinationals, small and medium industry, ensuring expert results with our Tagalog technical translations, Tagalog legal translations, Tagalog marketing translations, Tagalog financial translations, Tagalog medicinal translations, etc.
Our expert team of translators has a huge amount of experience with the Tagalog language. The majority of our translators are local speakers and are able to know different dialects and the frequently subtle differences which occur among regions. Our translation squad can fulfill a precise translation of any source material, even if it is legal or technological in nature.
Get Fast & Accurate official notarization for ICA, MOM, MFA.
Tagalog is also known as Flipino – Philippines Native Language
The most ordinary native language in the Philippines is Tagalog, which is frequently referred to as Filipino. Though not totally synonymous, Filipino is just the name specified to the standard dialect of Tagalog and has been used as a method to create a sense of national pride and uniqueness. Since 1973, the language has been consistent to help with communication problems that sometimes arose due to the vast linguistic variation throughout the islands that make up the nation.
Tagalog is the local language of about two-thirds of the inhabitants of the Philippines, & the other one third speaks it as a second language. Besides English, the Filipino register of Tagalog is the authorized language of the Philippines.
Hire a Language translator for converting your legal & Other Documents.
Quick & Reliable Translation Services by Tagalog Translators
At Singapore Translators, we are pleased to present our customers with a translation with an extremely fast turnaround without compromising the quality and precision. Our group of local speaking translators is fluent in more than 73 diverse languages with well over 2000 language pairs.
All our translations are totally accurate and can be read as if they were composed by an inhabitant legal expert. We are certain of this as the majority of our professional Tagalog translators live in the nation and are native speakers. Even documentation which is lawful or technical in nature such as tax certification, certificates or property issues can be rapidly and accurately translated. We are capable of offering work of the highest quality delivered extremely quickly for an aggressive fixed fee.
Experienced translators for Tagalog to English Translation
Tagalog is not a simple language in which to find local English speakers with a high command of the language to present professional academic translation services. Consequently, our Human Resources Department has worked hard to choose the best Tagalog translators with the high authority of English. They translate into English with a full familiarity of all nuances of the language. Their productivity then edited and proofread by local English speakers according to International Translation Standard EN15038 in order to present a final, English translation that reads as if first written in English.
Our knowledgeable Tagalog translators will translate your material rapidly and expertly so that you can use it to assist your customers, market to more consumers or even just reach out to Tagalog speakers around the world. Our Singaporean Tagalog translators will work with you to make sure that our Tagalog translation services offer perfect results.
 Translate Tagalog To English Services for Any kind of Document
Our linguists are not only professionals in the languages they translate, but also in the dedicated subject material. We offer Tagalog translation services for the following:
Document translation
HR translation
Technical translation
 Certified Company as per ISO standards with Lowest Price & Highest Quality
The overseas language translation services business is competitive, but we have managed to differentiate ourselves in the marketplace. Beyond the pure number of languages we translate and the services we offer. Our professional project managers put us a step ahead of the opposition. Project managers very adept at anticipating troubles with projects before they arise.  And they proactively communicate with both our translators and customers. Our senior project managers frequently average over ten years of knowledge in their positions. You can rest certain that your project is in excellent hands.
Our Translate Tagalog to English Quality Management System has been certified since 2011. We're proud to say we passed our agreement audit with zero nonconformities.  And through the procedure, we've developed a strong team of the most capable translators in their fields. We also stick to the Safe Agreement and offer on-site security to ensure that your data is as safe.
Trust the most excellent translation corporation in the industry with your expert document translation services, and specialized translations today.
Corporate Translation Services
Native Speakers with Expert Knowledge
Flawless Tagalog Translation Services
Conference Marketing and Signage
Contract and Negotiations
FAQs
Q 1. Can your translator Translate Tagalog to English at an affordable price?
Yes, by choosing us as your document translation service provider, you can have peace of mind. As our translator guarantees you of providing quality Tagalog to English translation service at an affordable price. Our translators never sacrifice the translation quality, even at the lowest rate.
Q 2. Can I collect a hard copy of Translation of Tagalog to English from your office?
Yes, you have the option to receive the hard copy of Translation of Tagalog To English from our office.
Q 3. Where can I use these Tagalog to English translation documents?
Yes, the Tagalog to English Translated documents provided by our translators can indeed be used for numerous purposes, including immigration, travel records, and identification proof. Among the varieties of Tagalog to English translation we do are birth certificates, driving licenses, and legal documents; our team always believes in delivering the best results. Each document translation comes with a different purpose. So, before working with us, simply let us know what sort of translation you need, along with basic and additional translation requirements.
Q 4. How your translator of Tagalog to English is different from others?
With our team of translators' commitment and level of dedication, we maintain the biggest advantage over other Tagalog to English translation service providers, delivering high-quality translations at an affordable cost and within the specified deadline.
Q 5. Will my documents of being kept confidential?
Yes, of course, we are committed to keeping your documents confidential. As part of our Tagalog to English document translation services, we require our clients to enter into a confidentiality agreement that guarantees that complete confidentiality will be maintained. Therefore, we protect all our customers' information from unauthorized access and ensure the confidentiality of their documents.
Q 6. How much accuracy do you provide while translate from Tagalog to English?
At Singapore translators, our translators deliver the highest accuracy level no matter from which language you wish to get your documents translated. However, we have professional translators holding expertise in providing more than hundreds of foreign language translations. We ensure to maintain quality and accuracy while delivering the translation work.
Q 7. For how long are these English to Tagalog translated documents valid?
There is no such validity period of the English to Tagalog translated documents provided by our translators. The translated document will only be expired when its original documents get changed or expired. Otherwise, it will never expire.
Q 8. How quickly Tagalog to English translator can translate documents?
Tagalog to English translator works as quickly as possible to complete your translation. We generally adhere to the delivery deadline as stated in your submission form to finish your project. As a translation services Singapore, we take pride in delivering high-quality translation within the deadline despite the tight deadlines.
Q 9. Does your agency notarize Tagalog to English Translated documents?
Yes, our translation agency offers you a notarization service for Tagalog to English Translated documents. But upon the request of the clients seeking such service.
Q 10. Which format can be considered when thinking of Tagalog to English translation service document translations?
In accordance with the clients' requirements, our Tagalog to English translation service provider delivers the document in numerous formats. If you are concerned about the format in which we deliver the translated document, then by choosing us, you can get your translated document in PDF to Word, Excel, Powerpoint, Tiff, HTML, XHTML, and PowerPoint formats. Make sure to inform our translators regarding the format.
Q 11. Does your Tagalog to English translation have any refund policies?
No, our Tagalog to English translator does not provide any refund policy. Once you have paid us translation money, then sadly, we cannot refund it. But yes, if you require any changes in the translated documents, we are always there to assist you with our best translators and resources.