Singapore is the haven for the best Certified translation services ever provided in the world. There are many countries like the USA, UK and other Asian countries like Malaysia that needs quality translation services to translate all types of documents. So, if you are looking for quality and professional translation services in Penang then you will be able to get the best translation services Penang from qualified, native and skilled translators.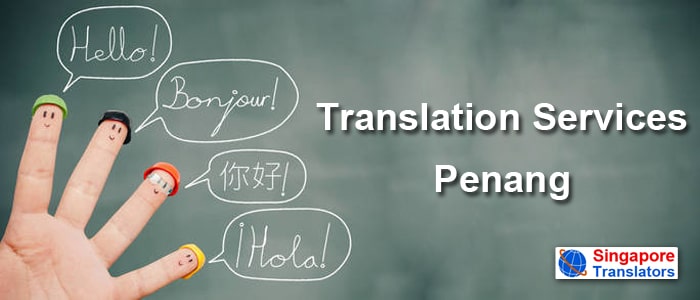 In Singapore, there are many translation companies but none of them can beat the quality of translation services provided at SingaporeTranslators.Com. You can trust this translation company for complete multilingual translation for all types of documents produced in the world.
Therefore, hire qualified and Penang native translators who work closely at SingaporeTranslators
Buying Online Document Translation Services in Penang
If you are looking for Penang translation services online then the best place is SingaporeTranslators.Com. Here you will get quality translation services in Penang from professional translators who are actually the native from Penang and now are based in Singapore working as a professional translator at SingaporeTranslators.Com.
This translation company provides professional Penang translation solutions in multiple languages. It's translation services cover the translation needs of various sectors like legal, educational, business & industrial, media, tourism and other sectors of various clients.
It also covers global multilingual translation needs for various personal needs of its Malaysia clients, especially from Penang. 
The translators at SingaporeTranslators.Com offer translation from local languages of Penang like Malay, Chinese, etc to global languages like English or any other world languages like French, Spanish, Arabic, etc.
Moreover, if you need French or English language translation of various documents in Malay or Chinese, that too is appropriately translated by the Penang translators at SingaporeTranslators.Com.
The professional and native translators working at this esteemed translation service provider provides accurate translated documents within the decided time. They are the best in providing the best translation services for Malaysia people especially the residents of Penang. 
Hire a Language translator for converting your legal & Other Documents.
Why Procure Penang Translation Services from Singapore Translators?
As a dedicated customer looking for quality translation services at best-valued prices, we recommend you to procure or buy translation services only from the professional translators at Singapore Translators.
At this translation company, we take pride in delivering high-quality translation services from professional translators who manages top-level translation task very efficiently. 
It is profitable to procure translation services at SingaporeTranslators.Com since the translators here are very qualified and possess the highest knowledge and skills in the translation industry.
They are also fluent in providing a translation in all the languages of Europe, Asia, Africa, the Middle- East, India and the United States of America. They provide a complete translation solution with strict assurance of quality services to its clients and customers. 
So, for any kind of Penang translation needs like Malaysian birth certificate translation you can consult the translators at SingaporeTranslators.Com.  You can consult with them regarding the services you need along with the best deals and discounts. 
No 1 Online Translation Services for Document & Legal Translations in Singapore.
What Type of Translation & Localization Services Offered at SingaporeTranslators.Com? 
At SingaporeTranslators.Com, you are completely assured that you will get nothing but accurate translation of every type of Penang documents at cheap prices. Below are the lists of document translation and localization services offered at this incredible Singapore based Translation Company. These are:
Translation Training & Guidance:
For any kind of translation advice or training, then the qualified translators will train you and also teach you how to deliver quality document translation to your target audience.
Moreover, if you have translated a document all by yourself and still desire to seek tips, guidance or feedback, then the professional translators are here to provide every help you need to deliver high quality translated document. 
The translators here are able to translate any type of technical documentation in the form of paper, audio, and video. Moreover, there are also subject experts in their respective field. For example, if you have a technical document from the automobile sector to translate from Malay to English.
So, at SingaporeTranslators.Com you will get only those translator's help who can subject matter experts of automobiles and have past relevant experience in carrying out translation tasks in the automobile industry background. In this manner, they accurately translate Malay to English Singapore technical documents for Penang people. 
The translators at SingaporeTranslators.Com are also efficient in offering accurate business translation services. They perfectly translate business documents like subtitles of promotional videos, advertising & marketing materials of a particular service or product, business deal papers, flyers, company handbooks, etc. 
Audio & Video Translation:
The Singapore translators also provide the audio and video translation for the Penang clients. They also provide subtitle translation of audio and video files in the paper. They are experts in providing the translation of audio recordings and video clips in written. 
The professional translators at SingaporeTranslators.Com are also incredible in producing the best quality translation services in areas of desktop publishing. They provide translation in supported languages such as Western-European (FIGS, SCAND), Double-byte character set languages – CJKV and Bi-Directional languages – Arabic, Farsi, Hebrew, etc, Central & East-European (CEE) languages.
Website Content Translation:
If you want to expand your business globally via online, then you can get your company website translated and localized. Most of the customers are internet buffs and they are always searching the internet for new products and services in the global market,
Thus, the translators provide accurate website content translation for gaining new global clients and customers. 
Legal & Certified Translation:
Legally abided documents like court papers, court evidence, wills, power of attorney, marriage certificates and other legal documents are accurately translated by following the legal guidelines of Penang.
Moreover, all these documents are certified and are accepted by many organizations. Even they offer certificated immigration document translation like Singapore pr application translation which is also accepted by Singapore ICA officials and also over 190 embassies from global countries. 
Get Fast & Accurate official notarization for ICA, MOM, MFA.
Conclusion
The certified Penang translation services available at SingaporeTranslators.Com are one of the renowned translation companies. It offers top-quality translation services like an authentic translation with editing, proofreading, and revision for more than a decade to more than 3000+ clients and customers across Malaysia especially Penang.
Thus, hire translators from SingaporeTranslators.Com for best quality translation services for Malaysia especially translation services Penang.