Get your visa translated in just 24 hours at a low translation service rate from Singapore Translators. Hire certified professional translator from SingaporeTranslators.Com for accurate document translation in order to get your Singapore visa. They provide a top-quality translation of those documents which are required to get a visa. We are working over 200 languages for translating your visa from English to Chinese, Malay to English, Spanish to English, etc.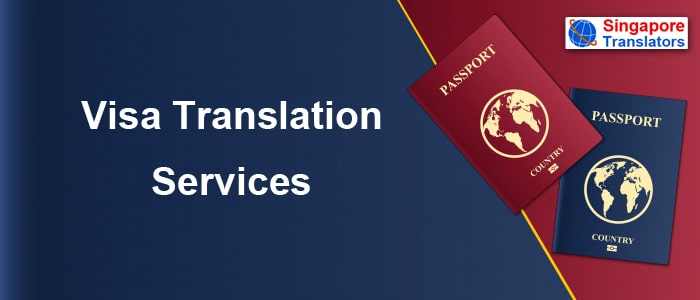 Hire a professional to translate your Visa in English
A large number of people from other countries like the USA, UK, China, Korea, India, etc flock to head towards Singapore for travel, business, higher studies, job or for tourism. It is easier to get a Singapore visa if you submit visa supported translated documents to the immigration officials. If important documents like bank account documents, marriage certificates, etc are in your native language, then you must translate it to that language which is the official language of Singapore.
There are many translation companies in Singapore that provide the best visa translation services. The best one is SingaporeTranslators.Com which is regarded to be the best and the most distinguished to provide world-class translation services all over Singapore. At SingaporeTranslators.Com, you will get professional and native Singapore translators who can provide accurate certified translation services for all types of visa documents. Your visa is confirmed if you get visa translation services from these professional translators.
How to Apply a Singapore Visa Online?
It is easy to apply Singapore visas for all types of online. This can be done in the following procedure:
Download & Fill Up Visa Application Form:  Download the Singapore visa online and write all the required details along with your signature and contact details. Moreover, you also need to write about your purpose of Singapore travel like tourist, business & trade, higher education, job or any other individual reason.
Get Fast & Accurate official notarization for ICA, MOM, MFA.
Submission of Passport, Tickets, etc:  Before you apply for an online Singapore visa, you must make sure that your passport is valid until 6 months from the arrival date in Singapore. Moreover, you must also enclose your confirmed return air ticket. It is also important to mention your full tour itinerary information while applying for a Singapore visa. For visa application, you must also submit certified translated copies of your passport, confirmed copies of your air & hotel tickets.
Write Letters to Singapore Authorities of Embassy & Consulate: It is also important to have a cover letter addressed to the Singapore Embassy or the Consulate General of Singapore. The purpose of writing this letter is to tell about your reason to travel to Singapore including the dates of your stay and travel to Singapore. Another letter is needed to enclose along with other documents is the leave application letter to your company upon the company letter pad.
Attach Proof of Addresses:  If your permanent address is different from the address mentioned in the passport, you must show an authorized residential proof along with the present address. Both the residential proofs are to be attached to each other.
Provide Financial Documents:  Certified income tax papers of the last 3 years and updated bank statements of the last 3 months are also mandatory to apply for those peoples who are applying for a Singapore visa for the first time.
Therefore, these are the mandatory documents that are required to apply for a Singapore visa. Moreover, you must ensure that all these documents must be in English. If not, go for document translation services at any of the renowned translation companies in Singapore. The professional translator will accurately translate all the documents. In Singapore, you can trust all types of accurate document translation services with the most reputed SingaporeTranslators.Com.
How To Translate All The Visa Supported Documents Mentioned Above?
There are various translation agencies in Singapore. The best among them is SingaporeTranslators.Com which offers accurate, flawless, original and timely translation help with its exclusive services.
Hire a Language translator for converting your legal & Other Documents.
If you want to translate all your visa related documents at SingaporeTranslators.Com then you must follow the given steps below, which are:
Visit the online address of SingaporeTranslators.Com – www.singaporetranslators.com.
Upload copies of the documents in PDF, Word files, JPEG, etc in the application form.
After that, the translators will review your original copies of the documents.
After analyzing the total number of documents along with your requirements, they will give you the exact price quote.
Once you confirm the given price quote and give your nod, you will be asked to pay it online by net banking, debit/credit card or e-wallets like PayPal.
Once you make the payment and confirm them, the task of the document translation will be immediately translated by the professional Singapore translators.
After the translation and other services, they will mail you're the translated documents at your email address within the specified time.
What Type of Visa Translation Services Do You Get?
At SingaporeTranslators.Com, you will get Visa translation services in the following translation quality, which are:
Accurate translation with the right tone and appropriate terminologies.
Extra services of editing, proofreading, and revision.
Certified translation with added assistance in notary services.
Affordable prices.
Translation in more than 300+ languages into the English language.