In the case of global promotion of products and services, a company requires the best translation services in Singapore since this is the place to provide accurate translation at cheap prices. Most of the companies need business website translation services, Our language experts ensure you that Website content translation done by us will be accurate.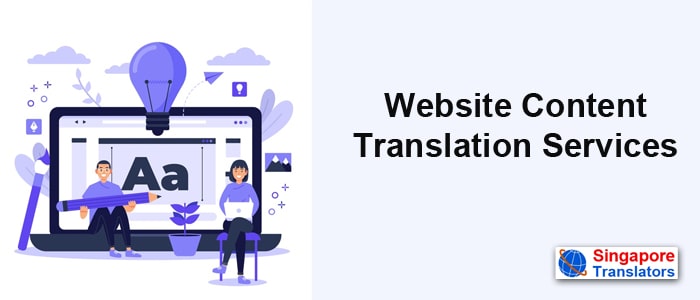 To expand your business globally you just need to translate your company website in multiple languages for promoting your business in multiple countries across the world. 
This is clear to the fact that, for example, a company based out in Italy will have its company website content in the Italian language. This is because it is native to Italy only. On the other hand, it is not understood or accepted by the French people living in France.
In the same manner, Chinese web content will not match with the tone of the language spoken in Singapore or in India. You will only gather online traffic in China. It will not gather page traffic from other countries like Singapore, India, France or Italy because peoples living in these countries do not follow or understand Chinese. 
However, if your company's website is available in various languages like Hindi, Bengali, Italian, English, French, etc then it will gain huge page traffic and proximity from peoples of different nations of the world. This is possible only if you get website content translation and localization services online from the best Singapore-based Translation Company like SingaporeTranslators.Com. 
It will lead to a different state of affairs if your company provides website content in that language which is followed, understood, spoken and read by the target customers. This will change the business of your company due to the online website content translation services.
So, to make your website content reach to global customers, make it multilingual by taking certified Singapore translation services of your company's website content from professional translators at SingaporeTranslators.Com. 
Why Do You Need Website Content Translation Services?
There are various reasons and circumstances under which you need website content translation services for your company website.
Get Fast & Accurate official notarization for ICA, MOM, MFA.
These reasons are described below:
To Make Your Business Global:
You have toiled hard enough to set up a company that offers world-class products and services. Moreover, you have also paid the website designers and developers a lot of money to make a customized website for your company. You have instructed them to deliver the best web design and to create appealing website content describing your company and its offerings.
Moreover, to make your online business presence strong, appropriate content with a strong layout is also made for you. However, there is one thing you are missing out which is having a company website in monolingual instead of multilingual. You must avoid having your company website in a single language and insist on having website content in multiple languages. 
 In this regard, you must make your company website multilingual by obtaining website content translation services from the best translation companies like SingaporeTranslators.Com. This is because if you intend to spread your business in the international market.
When it comes to communicating with global customers, English is not only an appealing language. The sound foundation of your business lies in gaining a strong customer hold across the world by connecting with them with the language they speak and know.
So, it is necessary to reach out to the future global customers and clients by reaching out to them by translating web content in their own language. If your customer base is China, India, Italy, etc then you must translate English to Chinese, Hindi or any other Indian language and Italian respectively. 
To Respect the Customer's Language Preference:
According to a recently conducted research by USA'S Common Sense Advisory Groups in at least 10 countries, it has been revealed that more than 50% of the customers buy from only those business and shopping websites that show product and service information in their native language.
These customers prefer to have knowledge about products and services in their own language rather than having discounts and cheap deals. This is because they are comfortable in buying products and services in their own language.
Hire a Language translator for converting your legal & Other Documents.
Therefore, get cheap and native translators help to translate your company's website content in order to reach your customers faster and gain their trust by speaking their own language. 
What are the Website Content Translation Services Offered at Singapore Translators?
At SingaporeTranslators.Com, you will get professional website content translation services in any language of the world. The professional and experienced translators here offer top-notch quality website content translation and localisation services in Singapore. They also provide urgent translation help at cheap prices which surely grows your business globally. 
Some of the best features of the website content translation services at SingaporeTranslators.Com are:
The translators accurately translate your website content into the target language. They are successful in doing that because they have deep knowledge of the target country's language, culture, market segment, and customer's nature. 

The Singapore translators offer website content translation in all types of format as per customer and client's requirements. They are expert in translating content from MS Word document or in the source code like HTML, PHP, asp, XML, java, etc

The experienced and talented native translators have experience in handling all types of web content translation for various companies. 

The skilled Singapore translators have special sincerity in figuring out which content will be right for your company. In this manner, they have the ability to create the message in such a way that it reaches your clients and customers with 100% acceptance. 

You will get error-free and flawless website content translation done within the deadline at cheap prices. 
Conclusion
Website content translation in multiple languages is very important to spread your business globally. Your company's products and services will also reach out to many global customers in their own language.
No 1 Online Translation Services for Document & Legal Translations in Singapore.
As a result, they will buy your products and services which in turn will be profitable for you as well as your company. Thus, for a successful business venture in global countries, take Singapore language translation services to translate your website content at SingaporeTranslators.Com.