If you are searching for website design services in Singapore then you are landed on the right page. We are a leading web design agency in Singapore that create websites according to your needs at a price that will suit your pocket. At SingaporeTranslators.Com, you will get professional help in website designing, web language translation, and local translation of your website in a quick and flawless manner.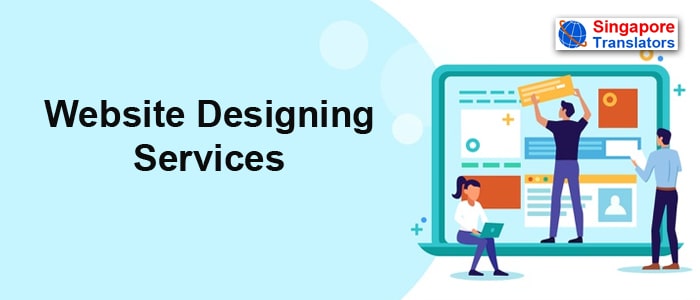 Experienced web designers and native linguists provide the best website designing and translation services in over 200 languages like Malay, Thai, Chinese, Spanish, Japanese, Korean, etc.
Well Known Website Designing Services in Singapore
According to a survey conducted by world statistics, there are 2,405,518,376 internet users all over the world. Out of this, more than 45% of internet users are from Asia. This is because every purchase and business of products and services are done online only. The owners of companies, and heavily depend upon website designing services to grow their business.
In Singapore, you will see that most of the customers and consumers buy products or books for services directly through various websites. This is because they can access the product and service information and other content in the language which is familiar to them. Most customers prefer to buy products and services online if the webpage is written in their mother tongue.
SingaporeTranslators.Com is one such service provider that can create and design websites at cheap prices. Apart from website designing services, if you need to translate your current web page's content into a different language that service is provided by the translators.
Get Fast & Accurate official notarization for ICA, MOM, MFA.
Moreover, they not only offer webpage creation and translation, but they can also offer the creation and translation of the product's promotional documents in print, voice, and video format.
Why Do You Need Website Designing Services & Webpage Translation?
If you have your business online and you desire to expand your business globally and get global customers then you must require or need website designing services and webpage translation. This is greatly needed to connect your products and services to global customers.
There are many businesses that do not have websites to cater to customers belonging to various languages and cultures. This is definitely not the proper way to do business in the global market.
So, to do proper business you must get website designing services from Singapore web designing professionals. If you don't have your company website, you must get one by hiring website designers and professional web developers.  They will create and design a good website to grow your business so that your products and services get maximum attention from global customers.
Moreover, if you already have a website, translate its contents into the languages which are spoken by the target audience.
Best Ways to Get Website Designing & Translation in Singapore
Most of the internet users who love to shop online usually purchase from those sites which inform them about the products and services in their own language. That is the reason why most business owners depend upon website designers and content translation experts to get maximum customer attention.
Hire a Language translator for converting your legal & Other Documents.
There are various translation companies in Singapore that offer translation of webpage. Website content and even create a new website for you. One of the most popular companies to provide such kind of website designing and webpage translation services is the SingaporeTranslators.Com.
What All-Inclusive Services Do You get in Website Designing Services Through Us?
At SingaporeTranslators.Com, you will get the following website designing services, which are as follows:
Translation of Product & Service Information to make it appealing and productive to gain customer's attention.
Translation of company website into the languages spoken by the target audience across the globe.
Creation and translation of company handbooks, product broachers, press releases, human voice translation, sub-title creation of the company's promotional videos, etc.
Creation and translation of designs, company logos, and images.
Localization of currency when the customers want to see the price structure of the products and services in their currency.
Caption and Sub-title translation in promotional and instructional videos for products and services of a company.
Conclusion
Website designing of your company and business organization is very important to grow your business. Moreover, the translation of the web content of your company website is equally important to get the attention of global customers. Thus, get the best services from professional Singapore website designers and content translators to grow your business and reach more customers globally right here in Singapore.