Do you desire to work in one of the world's most expensive city called "Singapore"? If yes then you must get immediate work visa application supported document translation services from experienced certified translators. If you want to work or start a business in Singapore it is necessary to get work visa application translation services before you apply for a work visa from Singapore ICA and embassy officials.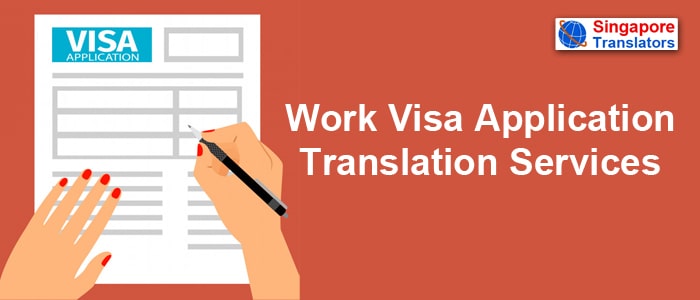 The translation companies like SingaporeTranslators.Com are known to provide the best Singapore translation services for documents related to PR, immigration, work visas, etc. This is the most renowned translation company to provide accurate translation by perfectly maintaining the language tone of both origin and target languages.
Therefore, for any translation needs of documents like work visa and immigration take instant help from the experienced and certified translators at SingaporeTranslators.Com. 
Why Do You Need Singapore Work Visa Application Translation Services?
Singapore is one of the most costly cities which have a developed economy and a cosmopolitan culture.  It has a wide range of job and business opportunities. This is the city that appeals the most when it comes to finding a highly paid job or profitable business opportunities and business investments. 
A large number of global companies have already established their Asian base in Singapore which attracts skilled and qualified professionals across the world. This is the reason why many people from neighboring countries like China, Korea, India, Sri Lanka, etc flock to Singapore for work and business.
So, before you start your journey towards a glorious career and profitable business opportunities in Singapore, it is very important to secure a work visa and get visa translation services from Singapore translators. 
All the foreign people who desire to work in Singapore need to secure a work visa. This is necessary to take up employment in Singapore legally. Work visas are also known as work pass or employment pass.
Get Fast & Accurate official notarization for ICA, MOM, MFA.
So, it is necessary to apply for a working visa or work pass in Singapore by submitting relevant documents.  If the relevant documents are in the English language it is good for you. But if it is in another language like Chinese, Malay, or Tamil then it is very important to take immediate language translation services.
You can check with the immigration officials or go to the recognized Singapore government website to check which documents you need to submit in order to get a work visa.
For example, if the supporting document is passport and if it is not in the English language then you must get Singapore translators' passport translation services at the most dedicated translation company called SingaporeTranslators.Com.
What Work Visa Application Supported Documents Needs Translation Services?
If you are applying for an employment pass or work visa then you need to have a translation for the documents which are not in English. These documents include:
Passport copy. 

Accounting and Corporate Regulatory Authority (ACRA) registered document for business. It includes an updated business profile and your company information. 

Proof of educational qualifications like your degree certificates and mark sheets. 

Applicant's personal information. 

PR certificate. 

Driving Licence. 

Health Records. 

Financial Documents like Bank Statements. 
These are some of the document submission requirements which are followed by countries like China and India. Moreover, for full details, you can always refer to the Singapore government website, ICA and Embassy officials.
If some of the documents like driving license are not in English you must take driving license translations Singapore services online at reputed certified translation agencies like Singapore Translators.
Hire a Language translator for converting your legal & Other Documents.
What are the Important Things to Keep in Mind While Applying Work Visa & Its Translation Services?
It is important to keep in your mind that while applying for work visas you must make sure that the company in Singapore you got job is appropriately registered with the immigration authorities. 
If you are going to Singapore for business expansion then you must apply for an entry pass. You will get the pass only if you fulfill the relevant financial requirements.
This includes a minimum of 30 % stake in a new business company that is registered with the Singapore immigration and embassy authorities. It should be registered within the last 6 months.
If you still haven't yet registered, you have to apply for a pass in the first place. Then you can register your business after receiving the visa. 
What are the Various Translation Services Offered to Translate Work Visa Application?
Being a smart working professional if you intend to apply for a work visa from the Singapore immigration and embassy, you need to fulfill various requirements. The most important necessity is to apply for a work visa with supporting documents that are translated in the English language. You need to translate it for various official and legal reasons.
Moreover, if you submit the translated work visa application documents the visa application process will be fast with no problem at all. In no time you will get your work visa and very soon you will be traveling to Singapore for a new job and a new life. 
Following are the work visa application translation services provided by the certified translators at SingaporeTranslators.Com, which are: 
The Singapore translators at this translation agency offer accurate and authentic translation. You will get your important work visa application related documents translated by the native translators who have the knowledge of both the origin and target language.


Moreover, they will also translate the documents perfectly keeping in mind the language tone. 

In order to maintain the quality of important translated documents like

Singapore pr document translation

, the professional Singapore translators offer free editing and proofreading to make the translated documents error-free and flawless. 

Here you will also get 24*7 translation services at cheap prices. 

All the translated work visa application translated documents are delivered at your email address within the deadline. 
No 1 Online Translation Services for Document & Legal Translations in Singapore.
Conclusion 
Therefore, now that you are informed regarding the guidelines needed to follow for applying work visa application, Moreover, you have also been informed about the translated documents needed to submit in order to get a work visa.
Thus, for accurate and error-free translation of important documents for getting work visas to trust the translation services offered by the professional translators at SingaporeTranslators.Com.