Singapore Translators have a team of native certified Korean Translators For ICA will fulfill quickly and effectively to all your Korean Translation needs. Singapore translators work with 500+ language proficient translators in various areas of specialization like finance, medical, business, academics, etc.
You can translate any of your document by native Korean Translators in Singapore
Corporate Affairs
Marriage Certificate
Advertising & marketing Manuals
College & University Diplomas
Academic Documents
Medical Record
Divorce Certificate
Secondary School Certificates, etc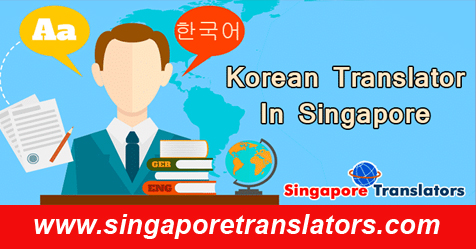 Highest Quality English to Korean and Korean to English Translation Services by Korean Translators
The Korean language is vastly utilized currently by a number of the industry to reach out to specific customers and if the seminar, meeting or training is in Singapore. Korean translation services are in huge demand. There are numerous circumstances and timings of such executive meetings and hence needs prior actions to ensure that the complete thing proceeds with no bother. Korean translators in Singapore are very adept and own advanced degrees that help them deliver excellent professionalism. Be it for a short period or for extended business assignments, the concerned individuals are practiced in translating documents meant for industry, medical, technical, legal and advertising purposes.
There are many online Language translation services accessible now, offering precise Korean translation into English & vice versa. But we all recognize too well how unlucky someone could be when mistranslation happens. This is extremely widespread particularly when other people fall in love with the aesthetics of an exact Korean character and make a decision to have it tattooed lastingly on a very visible part of their body, not even bother to discover what it means first.
Singapore Translators offers you the top language translation quotes, with several outstanding Korean language translators, local and otherwise registered with us. At Singapore Translators, you can get to recognize the cost of your translation project immediately. You just have to choose the desired language pair in the top menu, and our system will immediately calculate for you the most excellent translation rate for your translation work. Our local translators are also capable of providing you English to Chinese translation services in Singapore.
Get Fast & Accurate official notarization for ICA, MOM, MFA.
Why Korean Translation Services Required?
Expert Korean to English translation services by Korean translator in Singapore are usually necessary by organizations that are not based in Korea or are not flowing with the language. Companies that present such services utilize a squad of professional translators. They are good with both speech and writing this language. To make your industry work in Korea, you need to make sure that your communication is clear. With how much simplicity your documentation is understood by your customer determines the level of achievement for the venture.
Singapore Translators provides Korean translations for companies by Korean translators, institutions & governments around the globe. United by a skilled and knowledgeable team of specialized Korean translators.  Our Korean projects carried out with extreme care, dedication to high quality, and completed within budget and the traditional timeline.
With years of knowledge and state-of-the-art technology to handle diverse file types & websites, we will deliver your translations from Korean into English and English into Korean with clearness and precision.
The Korean translator team elected to work on your venture will have knowledge in the subject matter and Industry necessary. We work in numerous sectors including technological, legal, marketing, financial and medical fields. You can also get academic translation services by our expert Singaporean translators.
We Easily Translate You papers from English to Korean and Korean To English
English to Korean is one of the most ordinary language pairs in the globe, & that means volume. The Singapore Translators API makes huge volumes of text in need of translation simple to manage by Korean translators. Using it, we can decode the biggest websites or document servers in immediate, as you make changes or add novel material – with no having to place an exclusive order each time. Just add the English source manuscript to your Content Management System or make your edits and Singapore Translators gets a routine alert of the change – and gets to work immediately.
In a global financial system, the probability is you do business with a Korean-speaking marketplace or business – or will soon. Business needs speed and sensitivity – your clientele won't wait too long before looking for a competitor. Singapore Translators is The best English to Korean specialized translation service on the world. One page of usual text – about 200 words – takes just one hour. We even show you a deadline from the moment the job accepted to your probable delivery time. So go ahead – test us. Our community of over 15,000 expert certified translators around the globe is at your service.
The Fastest Korean Translations on the Market by professional Korean translators
Require Korean translations for insistent business requirements? No problem. Singapore Translators provides fast translation turnaround with our business leading on-demand translation solutions. We're capable to do this by taking benefit of our original live translation solutions that immediately notify our Korean linguists of novel translation requests anytime and anyplace and then allow them to instantly start translating on their mobile devices in addition to desktop computers. No other translation companies come close to what Singapore Translators can do in terms of super-fast Document translation services.
Hire a Language translator for converting your legal & Other Documents.
Why Choose Singapore Translators To Hire Korean Translators in Singapore
Singapore Translators has knowledgeable native Korean translators for all English to Korean translation work. Our translators all specialize in particular industries for translating associated documents. Whether you require historical documents, military papers, websites, technical materials, or anything else we provide all.  We have translators set to provide you with a quick turnaround and mistake-free technical Korean translation. We pleased to translate the smallest bit of text or the major projects with advance and personalized service, tailored to your needs. Besides providing translation services we also provide proofreading and editing services.